Working In The Backroom – Howard Jones | Best Albums You Never Heard
"BAYNH" stands for "Best Albums You Never Heard", a series of posts I'll be writing about the lesser known gems of my favorite musical artists' work. I chose Working In The Backroom by Howard Jones as the first entry. It's an album that was recorded independently and never released by a major label, and yet it's among his finest work. A true anomaly.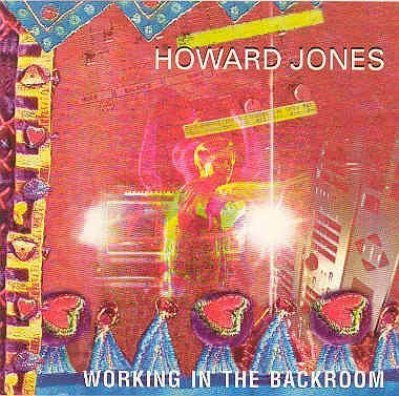 Best Albums You Never Heard –
Working In The Backroom by Howard Jones
Howard Jones, if you're advanced in life enough to remember, put out quite a few hits in the 1980s. He's probably best known for "What Is Love", "No One Is To Blame", and "Everlasting Love".
While he continued to (and still does) produce great music, his style has evolved and changed frequently, so his audience today mostly tends to be devoted fans who stuck around, like me.
Jones recorded 1994's Working In The Backroom, he once told me in an e-mail, in a converted garden shed. His contract was up with Elektra following 1992's In The Running, and he apparently decided to make an album on his own terms.
Working In The Backroom, before Spotify saved us all, was extremely difficult to find and listen to. You either had to pay a significant markup on eBay or you purchased a copy at one of Howard's acoustic shows for $20. Which I did, and have never regretted. Usually an artist's rarities are rare for a reason, but Backroom is most definitely an exception. The songs may seem a bit underdeveloped at times, but they still manage to stand on their own.
Don't expect Working In The Backroom to sound like Dream Into Action. It most assuredly does not. But if you are a fan of Howard Jones, and you appreciate his considerable compositional skills above all else, you will most likely enjoy this record.
Yet inexplicably, it's the forgotten work in Jones's catalogue. It's not even available on Howard's website these days. There isn't even much about it in the liner notes, at least in my copy. The most Howard says is this:
"The collection of songs represents the last 12 months of my musical output. These recordings felt great at the time and did not come under the microscope after the event. Some of the songs may appear in future recordings in an evolved form and some will definitely not. Please excuse some technical imperfections and dodgy tuning. Trade-offs I love 'em."
Similarly, even many of his fans seem unaware that Working In The Backroom exists. You will find all of three reviews for this record on Amazon…but all three are five-star reviews.
One thing that makes Working In The Backroom special is Howard's apparent departure from creating radio-friendly Top 40 hits. This departure is when many artists create their best work (this album might be my favorite example). It's not that the songs aren't accessible, but there's a subdued and darker tone to them – the opposite of his high-charting staples. Not having to produce something to please the suits…and not hearing their disdain for new songs, as Jones did with "No-One Is To Blame" and "Things Can Only Get Better" (true story)…may have helped.
The album opens with "Cathedral of Chutai Excerpt", a moving, church organ-style piece. It lasts just a minute, and then segues into "Cookin' In The Kitchen" and its dark, low bass riff.
"Cookin In The Kitchen" is more social commentary than you're probably used to from Jones…he's made his vegetarian stance known in songs such as "Assault And Battery" from Dream Into Action, but generally he doesn't tread in such waters. Like most of the album, it's less upbeat than typical Jones output, but you might yourself bouncing a little bit to it.
"Over & Above" leans into more of Howard's In The Running era sound…as he moved away from composing for teenagers and more for parents…and it can easily resonate with a father, as it does with me. The words deal with unrealistic expectations sons have of fathers, and Howard sings it with a passionate melody throughout, concluding at the end, "And a man can't understand his father, till he becomes a father too; now his own son's expectation becomes his own heart's burden". Fairly powerful stuff for an artist whose best known lyric is "What is love anyway, does anybody love anybody anyway?"
"You Are Beautiful To Me" is another low-key, sensual piece, again the type you don't typically expect. Had he released this one in the 1980s, the words "you are sexual to me" likely would have damaged his clean-cut image. It might even have gotten him in trouble with the PMRC (which would have, of course, boosted his sales with teenagers).
"Left No Evidence" initially seems one of the weaker cuts on the record, wandering in search of a mood. But it catches on. Howard moves into a bit of a rap in the middle, over a funky bass riff, and then follows with a nifty piano solo…where Howard shows a little bit of virtuosity on the keys that he isn't as known for as he should be. His vocals are reminiscent of Peter Gabriel here…in fact this song, with the flute sound in the breaks, very much resembles a Gabriel composition.
"You Can Say It's All Over" brings a softer tone, beginning with just a synth riff and Howard singing to an ex, apparently, with double tracked vocal harmonies. The song becomes repetitive in a good way, with another piano-based break that backs up Howard singing "And you can say it's all over now" in a fading echo chamber.
Then "Don't Get Me Wrong" happens, again haunting, again repetitive in a captivating way. This one keeps with the darker sound, but a bit more so. The song gets progressively busier, and seems to end quietly before hypnotically easing back again. Despite that there is little in the way of thought-provoking lyrics to ponder here, it might be my favorite track on the record.
The melancholy "Blue" follows, and this one is much closer to the Howard Jones most people know…it could have been a very good outtake from the Cross That Line album. It's a slow ballad with Hammond organ backing, and Howard's trademark vocal sound. The lyrics actually reflect a happier sentiment than the music would suggest…"All of my life I've hungered for you, all my lost days of dreaming are through".
"Egypt Love Trance" is the one song that got panned in the otherwise favorable review of one Amazon user, who complained that it seemed as though Howard made the song on a dare that he couldn't make simple dance club music. I understand the point, but I have no beef with it, other than it's about a minute too long. It's an appropriate sounding, dark electronica piece for the later stages of the album.
"Trance" segues into the album's closing statement (other than the longer edition of "Cathedral of Chutai"), called "Let The Spirit Carry Me". If you've heard "You're The Buddah" from the People album, this song carries a similar lyrical sentiment and musical feel. It's as if this was Howard's experiment into upbeat spirituality before composing "You're The Buddah". Personally, I like "Let The Spirit Carry Me" better.
The song ends abruptly and "Cathedral of Chutai" reprises to beautifully fade the album away.
Again, it's a mystery to me why Working In The Backroom seems to be the forgotten work of HoJo's catalogue. In my humble opinion, the album, even featuring far less of a production effort than most of Howard's work, is at least as high quality output as almost any in his discography.
If you're even a casual HoJo fan, give it a listen on Spotify. And find some way to get your hands on the CD…maybe via eBay, Amazon or by attending one of Howard's acoustic shows. Yes, I know $20 is not cheap, but I don't mind paying that much for a really good CD.
Which Working In The Backroom most definitely is.
Did this post make your day a little bit?

I hope so. If it did, I would really appreciate your support.

When you use this link to shop on Amazon, you'll help subsidize this great website…at no extra charge to you.

Thanks very much…come back soon!
(Note: this post contains affiliate links. If you click on the link and buy the product, the website owner receives a commission at no extra cost to you. Thanks for your support.)