Ballparks
---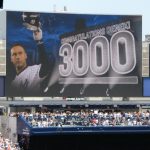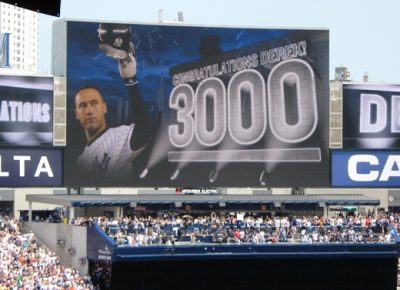 Previously in this narrative, I shared the story of seeking cheap Yankees tickets online for Derek Jeter's 3,000th-hit game at new Yankee Stadium, to no avail.
But despite my lack of success, I decided to get on the Boltbus to New York City and further push my luck. As documented, yours truly at least managed to get to New York City inexpensively, in no small part by avoiding parking at Yankee Stadium.
But the larger problem of needing a ticket to enter remained.
Upon arriving in Manhattan, I decided to try Modell's in Times Square. Modell's and the Yankees have jointly found a way to unload some unsold seats, by offering them at half price on game day. (This tip is included in the Yankee Stadium E-Guide.) They are based on availability, however, meaning my chances of landing a ticket for under $40 were, of course, slim.
As I reached the ticket counter, someone was signing the credit card slip for tickets he had just bought. As soon as the transaction was completed, I asked the gentleman behind the counter, "What's the most inexpensive ticket you've got?"
Before he could answer, the customer informed me: "One hundred and eighty-five dollars."
Well, at least I got a picture.
Yankee Stadium Tightwad Tip #3: The Modell's in Times Square does indeed have Yankees tickets available on game day, even for prime games, but you will not often find the lower priced seats. But, if you do want the premium seats, there will probably still be plenty available, and at half of the extensive price. For that, Modell's is worthwhile.
Plan C now. I took a walk over to 6th Avenue to board the D train, the weekend express train that flies north to the 161st St.-Yankee Stadium station. I exited the subway and there the gorgeous monument to baseball dynasty stood.
Already people were setting up shop…parking signs were being put up, hot dog carts were already peddling, and the beautiful hot morning already had the air of a day of baseball.
The first stop was at the game day window at Gate 4…or more correctly the line for the game day window, which stretched a good half a block to Jerome Avenue. Evaluating the situation, I decided that this was not worth the risk, and that there were other avenues that needed to be exhausted first. Which they would.
By this point hunger was setting in, a condition inexpensively cured with a sandwich and a knish from the Court Deli, a couple of blocks east of the ballpark on 161st.
Somewhere around this time a new camera card became a necessity, and following the directions of some nice Bronx folks, I was able to locate a nearby Target and fix the problem, while finding some less expensive parking I hadn't noticed before. All a plus, at least for my readers…
So while passing the time I took a photo-op at the 153rd Street-Yankee Stadium Metro-North Station, which was built along with the new Yankee Stadium to provide a rail option from northern suburbs. The new station is impressive, with a great view of the Stadium, and is just a short walk through Macombs Dam Park to the House That Jeter Built.
Unfortunately, fans had not yet started arriving on this route. I thought this might be my best chance to find unhardened suburbanites eager to rid themselves of extras, but found only a few folks headed to the game. Still early.
At the bottom of the platform exit stairs were two attractive women representing Stan's, the nearby sports bar that is a favorite of ballgame goers. They handed me a card advertising their specials– $3.00 drafts during the 7th and 8th innings of the game. All well and good, I said (actually I think my exact words were "Woo-hoo!"), but does Stan's have extra tickets?
The ladies wordlessly turned their heads in the direction of a scalper standing right there. Who, of course, seized on the opportunity to skin the vulnerable dreamer alive, showing me a ticket he just happened to have for sale.
The correct date, a decent seat, and he made sure I recognized that this was a valid ticket. The face value was $45. "How much?", I asked, solely to get a sense of the market.
"A buck and a quarter."
For a second I was tempted to pull a dollar bill and a quarter out of my pocket, the same way Mel Gibson does in "Lethal Weapon", acting like an incredibly stupid drug buyer. Instead I just chuckled and walked away over his loud objections: "How much were you expecting to pay?" "It's only gonna be more closer to the stadium!"
Well, at least he was looking out for me. That was thoughtful of him.
Ballpark E-Guides Tightwad Tip #4: Try to find someone looking to get rid of extras before you patronize scalpers. Scalping is illegal in most states, so you shouldn't be doing it anyway, but people with extras are far less likely to gouge you.
The scalpers in NYC especially are professionals, they do this every night, and they know exactly what they can get for a ticket from an eager fan. Someone with an extra usually just doesn't want to eat it, so offer a fair price for it…don't insult them. They may be doing you a big favor.
Now at least I knew where the market stood: three times above face value, and not likely to go down before the game started.
The next order of business was to do a lap around the Stadium, every so often shouting "anyone got an extra?" in as inoffensive a manner as I can manage to folks beginning to pour in. No luck. But I did find some free street parking nearby. (Shared in the E-Guide!)
About this time I met up with my good friend Gary Herman, he of Royalty Tours USA. Gary has seen an average of 350 sporting events a year for many years now, and he documents his experiences on his blog, including sharing some helpful tips that have found their way into E-Guides.
If there's a Guinness record for this kind of thing, Gary has to be a candidate, and most amazingly of all, he pulls all this off while working a full time job and not being independently wealthy.
By this time, somehow, the game day window crowd was separated from the exchange window, and now the line was down to only about 20 people. Gary stood with me in line, both of us knowing that it was a long shot for me to get a ticket. Gary promised me he could get a ticket for me next time if I need it. I didn't doubt that.
I arrived at the window in short order, and asked the agent what the most inexpensive ticket was. Brief punching of keys on the computer. "I have a wheelchair seating ticket, on top of the batter's eye in center field. One hundred and twenty-five dollars."
Before I could begin working on Plan D, Gary taps on the window and pesters the agent a bit. "I just saw two kids leaving with 30-dollar tickets. You don't have anything?"
The agent tries again. The clouds part. The sun shines through. Choirs sing. "OK, this just came up. Standing room, upper level in the left field corner. Thirty dollars."
I am ecstatic. I gleefully hand over the credit card, take the ticket, sign the receipt, thank the agent profusely, and Gary and I leave the window and head for the food joints on 161st, ear-to-ear grin on my face. I've won.
Nothing could go wrong now…right?
Uh-oh…what's with the ominous tone at the end of what should have been a triumphant victory for the tireless author of Ballpark E-Guides? Did Kurt get carsick? A hangnail? Second thoughts? What could have gone wrong?
Click here for the third and final episode of Kurt's Derek Jeter Day Adventure!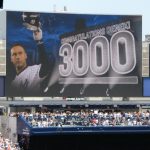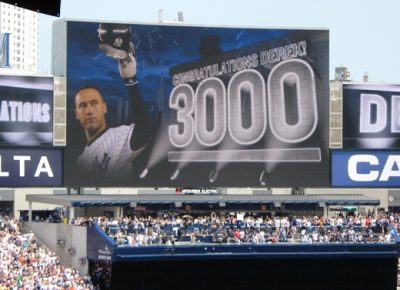 In Part 2 of this mini-series, yours truly shared how I managed to somehow secure a $30 ticket for the July 9 game at new Yankee Stadium, just hours before gametime, on a day with higher demand than many playoff games. As miraculous as it was, it turned out things weren't so rosy after all.
After landing a ticket with what could only be described as ridiculous luck, Gary and I took a walk over to the nearby McDonald's to meet up with both Michael Casiano (the King of Royalty Tours) and Gary's cousin Andy, who was celebrating his birthday with a Yankees game.
We blended in with the pre-game crowd, buying water bottles and picking up sandwiches at the takeout restaurants. With the ticket quest apparently over, I could finally relax, and soak in the scene of hundreds of fans clad in Yankees gear and of outside vendors selling snacks and drinks.
Ballpark E-Guides Tightwad Tip #5: Before Yankees games, there is (or used to be, anyway) a gentleman who sells very large and ice cold bottles of water on 161st Street east of the Stadium, for $1 each. You can't miss him; listen for the "one-dollar ice cold water, one dollar water", punctuated with a periodic "Why you pay five dollar inside!" It's baseball at its best.
And yes, you can bring them into the Stadium (so long as they are sealed), and save mucho cash.
About an hour before the game, we head towards the ballpark, with Gary promising to take me through the Royalty entrance and avoid the mob scene at the gates. Having written the book on how to get around the Stadium, I knew about this, but in fact I'd forgotten about it.
We reach the double secret entrance, and sure enough there is no line at all. The Ticket Scanner Guy scans Gary's and Andy's tickets and sends them through. Then he scans mine.
Beep-beep-beep! Invalid barcode.
He tries again. Beep-beep-beep! Nope.
Scanner Guy looks at the ticket, and then shows me that it's for the September 22 game, the makeup game for the Friday game that was rained out. Someone behind me shouts, "Oh boy, one of those guys!"
Scanner Guy tells me to take it back to the box office. Gary, witnessing this from the good side of the gate, has a look of distressed shock on his face. I tell him not to worry, even though I expect I'm probably really screwed now.
Heading back to the box office, I'm asking for Divine Help now, because my company's reputation could be on the line here. "God, I know there are bigger problems in the world, so it's okay if I don't make it inside. But any help from up there would really be appreciated!"
I arrive at the ticket agent's window and explain. I deliberately am as nice as can be, knowing that this was just a mistake.
The ticket agent already knows, apologizes and gives me a refund. I somehow work up the nerve to ask if there is anything now. The ticket agent punches it up, and amazingly, finds another standing room ticket, this time on the lower level, for $60. I hand over my credit card.
And then, in a moment of chutzpah that I am not often known for, I change my mind, ask for my credit card back, and request that the agent keep checking for something under my rigid $40 price. The agent promises to keep trying and asks me to wait against the wall.
Twenty minutes pass. On the television in the office, the starting lineups are announced. I can hear the crowd at the announcement of Jeter's name. The national anthem is played.
I stand and wait, along with several others, wondering if they are in my boat and I'll end up in a bidding war that I would surely lose. Other agents–who had previously been shouting that $375 tickets were all they had–begin to pull down the shades on their windows. The game is now absolutely, unquestionably, really, really Sold Out.
My agent gets up and walks away. I am actually worried now that this doesn't cause the agent heart trouble, because I understand it was just a mistake and I knew going in that this was a very long shot.
Five more minutes pass. The agent returns and motions for me to come to the window.
"OK. I've got a standing room, field level on the third base side. Looks like someone just turned this in on StubHub." I prepare for the price and wonder what I am going to do.
And the agent says: "No charge."
I can't believe it. "Really?" I nearly shriek. "Yeah", the agent says. "I screwed up, and you've been really patient about it, so no charge." I thank the agent profusely, and stick my hand as far as I can underneath the tray so he can give me five on my fingers, which gets a smile.
Ballpark E-Guides doesn't deal in intangibles. An E-Guide isn't going to tell you how to suck up to your boss or befriend someone you ordinarily wouldn't because he has season tickets. But this is something I should share. If a ticket operator or agent makes a mistake, by all means try to stay cool and be as understanding as you can.
Many New Yorkers might have loudly fumed obscenities at this agent, not because they are bad people but because they live in an expensive city filled with scam artists, and they often have to be on guard about being ripped off.
If you can manage to hold it together and not get upset, a person used to the opposite reaction may just go the extra mile for you. Or the extra ten miles.
I have done it again. Every single stupid, arrogant, unreasonable gamble has paid off. I head over to the nearest gate now, hearing that the game has begun. I scan the ticket at the turnstile.
Beep-beep-beep! Invalid barcode. I try again. Beep-beep-beep!
The usher tells me to try at the next gate over, but given recent experience I know this won't work. The ticket's been used or something and the barcode has been voided. If there was any doubt before, there can't be any left that I'm done now.
I head back to the agent's window and explain what happened. The agent laughs in disbelief, takes the ticket and walks away.
Five more minutes pass. The agent returns and says "The ticket is still valid, it should be good, all I can tell you is try again."
I walk over to the same gate again, and try to scan the ticket.
Beep-beep-beep! Denied.
Again, the usher tells me to try the next gate over. At this point, I have nothing to lose, and I move over one turnstile. Another usher looks at my ticket and says "this is standing room". He scans the ticket with his handheld scanner. Beep!
"Go ahead."
I float into Yankee Stadium, and make it to a standing room spot just in time to see Derek Jeter crack a base hit into left field for hit number 2,999, and share in the moment with delirious Yankees fans.
I found Gary later and shared the whole story. He was, as he said in his blog post about the day, impressed.
After all of this, it turns out I would be handed one more piece of good luck: it turns out Derek Jeter hits Tampa Bay pitching pretty well. He not only clouted a mammoth shot for his 3,000th hit on the first pitch of the next at-bat, he went 5-for-5…scoring number 3,001, 3,002, and 3,003—which turned out to be the game winner. I thought he might hit 4,000 that day.
Well done, Captain.
I went to New York City on July 9 with a modest goal: to demonstrate the money-saving benefits of a Yankee Stadium E-Guide to potential customers and hopefully gather some pictures and helpful tips. I came back to South Jersey someone overwhelmed by an astonishing lesson in faith, patience, and perseverance. Everything imaginable seemed to go wrong—and somehow turned out right.
If you had told me the night before, the hour before, or even the minute before I walked through the gate that I would not only make it inside Yankee Stadium on that day of all days, but that I would do so for free, I would have pronounced you certifiable. I still would. I still can't believe it.
In the ninth inning, Mariano Rivera comes running in to Metallica's "Enter Sandman"—another Hall of Famer, another great tradition—and shuts out the lights on the Tampa Bay Rays. Yankees win.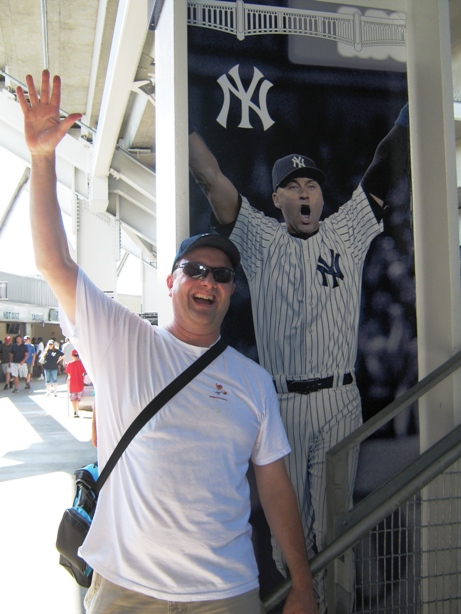 And Ol' Blue Eyes' voice booms through the PA singing "New York, New York". As Sinatra sings, I suddenly realize that, for one day at least in New York City, I have Made It There.
Damn, I love baseball.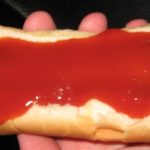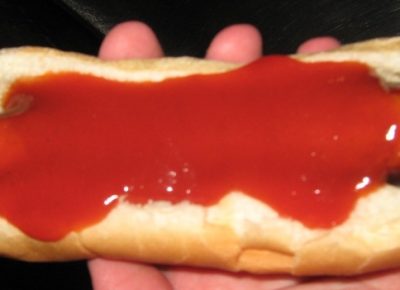 There is no pre-game party in baseball like the Miller Park tailgating. It's not even close.
There's a decent amount of grilling in the parking lot of Guaranteed Rate Field in Chicago, and things seem to be growing at Citizens Bank Park in Philadelphia a bit. But nowhere is the tailgating every bit a baseball institution as natural grass the way it is at a Brewers game.
If you're headed to Milwaukee to see the Brewers, you should take part in it, because walking through the huge parking lots, the smell of coal and brats is going to make you ravenous.
So as a public service, I'm offering five important tips for tailgaters at Miller Park. If I miss an important one, by all means contact me and let me know, but these five should at least help you avoid a tailgating fail.
Don't pay ballpark prices for Brewers tailgating equipment!
Order your essential Brewers items before you go at Amazon.com, pay far less than you would at the ballpark, AND get free shipping on orders over $25…click here!
Miller Park Tailgating, Tip #1: Boil Your Brats Beforehand. The Miller Park lots open three hours before game time, which is a good amount of time for tailgating, but not a lot if you're cooking raw meat on the grill that took you a few minutes to fire up.
So get your Usinger's or Johnsonville brats beforehand, and boil them in beer and water the night before—a beer for every two brats, with maybe some onion and red pepper for extra taste. It takes a while—I've read an hour, but I've cooked sausages in 20 minutes, so decide for yourself.
Once you've boiled the brats to a gray color, all that will be needed is to brown them on the grill at the ballpark, which takes significantly less time in an environment where people will be finding bricks appetizing.
In fact, prepare everything you can the night before, like slicing cheese and putting food into containers or footballs in the car. Hey, I told you Brewers fans take this seriously. Being prepared for a Brewers tailgate takes some work.
Miller Park Tailgating, Tip #2: Bring Secret Stadium Sauce. OK, not everyone loves the most popular condiment in Milwaukee. It's not even necessarily for you. You can bring sauerkraut, Kopp's deli mustard, even ketchup, but a nearby tailgater might have forgotten the Secret Stadium Sauce, or you may come across a first-time visitor to Miller Park who wants to know what the fuss is about with the Sauce.
Secret Stadium Sauce is usually available in most supermarkets in the Milwaukee area; it's also available in the Team Shop, which opens when the parking lots do in case of an emergency. You can also order it on Amazon.
Don't know what the Secret Stadium Sauce is? Check it out here.
Miller Park Tailgating, Tip #3: Arrive EARLY. I've already said that Brewers fans take their tailgating seriously, and that the lots open three hours before game time. Add the two together and the sum is a long line of cars in line at most of the gates, especially for the cheaper lots. These are people itching to get their tent and grill set up and will arrive an hour before the lots open to be the first ones in.
Most people don't pre-pay to get in to the lots, so attendants are making change for most of them. Bring a book to read if you must while you're waiting, but try to get to Miller at least a half an hour before the lots open.
Miller Park Tailgating, Tip #4: Drink Miller Products, But Don't Imbibe Too Much After The First Hour. Many Brewers fans insist on Miller products vs. the Budweiser Empire that has helped fund 11 World Series titles for the division rival Cardinals. I at least would recommend taking a step up to Leinenkugel's, a Chippewa Falls brewery that is now distributed by Miller. Needless to say, have plenty of ice.
But whatever your preference, make sure that you get the majority of beer consumption out of the way early. The parking lots at Miller have an ample amount of port-a-potties to accommodate tailgaters' needs, but once that parking lot is filled with beer drinkers an hour before the game, lines will form.
And waiting in line for relief after four beers can make a minute seem like an hour. We've all been there. Don't be at Level Ten with three other people just as full in front of you.
Miller Park Tailgating, Tip #5: Put A Window Flag On Your Car. This is a common tradition at Brewers games. Not only will it help you find your car (which, if you need help with, maybe you shouldn't be driving), but you can also let people know that you're a proud fan of the Timbler-Rattlers, Harley-Davidson, or Matt Kenseth. (I know that last one is obscure. Matt Kenseth is a NASCAR driver from Wisconsin. Yes, NASCAR's still around.)
Needless to say, it should be unique…it's okay to have a Brewers flag, of course, but that won't necessarily make you stand out in the Miller Park parking lot.
Those are the five Miller Park tailgating tips that I consider most important, although obviously there's other things to know…like that the Brewers will provide a taxicab ride home if you've had too much to drink, or that AAA of Wisconsin will give you a free tow if you can't get your car started, or that you need to be careful leaving because people leave disposable grills everywhere.
Join the party in the parking lot; in Milwaukee, a ballgame is an all-day celebration.
(Note: this article contains affiliate links. If you use an affiliate link to make a purchase, Ballpark E-Guides earns a commission, at no extra cost to you. Thanks for your support!)