News
---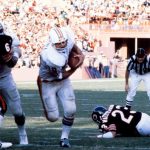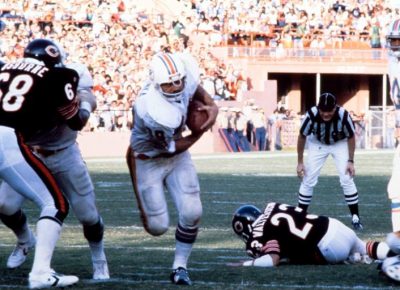 For the debut issue of MiamiMan Magazine in April of 2022, the editors let me cover Super Bowl MVP Larry Csonka, the legendary fullback and key piece of the back-to-back Super Bowl Champion Dolphins. Zonk was very nice to me and had some great stories to share. You can see the PDF of the magazine article here, or see the article on MiamiMan's website.
Zonk
He was a legendary fullback and one of the most important players on a Miami Dolphins team that stood on top of the football world two years in a row. To this day, the Perfect 1972 team still stands alone.
To this day, Miami is the only NFL city whose team has gone a full season with a zero in the loss or tie columns.
Somewhere, probably in the clouds today, is an Akron area juvenile court judge and junior high principal we should thank for pointing a tough young kid in the right direction…back onto the football field, and on track to carry the ball for that perfect squad.
"I watched my older brother play," Larry Csonka remembers. "and I went to a high school football game on a Friday night. There was probably three or four thousand people there, which was an immense crowd, I'd never seen anything like that growing up, a country kid on a farm. To play under the lights, I thought that was big time!
"I was sent down to the bench by my father, he sent a dollar down to my brother because he made a great catch. I got to go down by the bench and hand him the dollar, and I just marveled at the sidelines, I was just in awe of the whole thing. I couldn't wait to get old enough to play."
That is, until he was actually getting hit. "I went out for football in seventh grade, didn't know anything about it, got knocked down a lot, and quit."
Shortly after quitting, the kid from Stow, Ohio got into a bit of trouble, and was put before a forward-thinking judge who possibly saw his potential as a superstar fullback.
"The juvenile court judge told me that I needed to report to my principal every day.  He would be responsible for me. Mr. Saltis made me write reports on football", Csonka says with a laugh. "I started to understand the game and got back into it, otherwise I might not have ever played again."
Every superstar player in sports history probably has a story of when their path to stardom came close to being derailed. Larry Csonka knows full well how important all of the ingredients are not just to an individual's success, but to a team's success.
We'll come back to that.
In case you're too young to remember Larry Csonka, or you need a refresher on what your parents told you, here's a bit about why he was adored by the football loving faithful here.
In just eight seasons as a Dolphin, he rushed for 6,737 yards and 53 touchdowns…both still team records to this day. He averaged over five yards a carry in 1971 and 1972, and in 1979, as a power running back at the age of 32, he rushed for 837 yards and 12 touchdowns.
He also was, obviously, a key player on the unbeatable 1972 team, gaining 1,117 yards and averaging 5.2 yards a carry. The following season he was a Super Bowl MVP, rushing for 145 yards and two touchdowns against the Vikings. Read that again…Zonk ran for 145 yards against a defense good enough to be in the Super Bowl.
A player known for his legendary toughness, and sometimes carrying several defenders with him into the end zone, is quick to credit another man for his drive on the field…another legend in Miami, otherwise known as the winningest coach in football history.
"The competitiveness of it grew on me a little later, and then meeting a guy named Don Shula in the pros rejuvenated that feeling I had when I was a boy. After going through junior high, high school, college and being on some winning teams, I was motivated by that, but I still hadn't become possessed by it. When you play for Shula, you either become possessed or you play for another team.
Csonka tells a story about Shula's motivational skills that isn't surprising.
"I got hit one time and was laying on the sidelines, and he ran up to me and said, 'You can't be hurt!' It made me so mad I forgot I was hurt, I jumped up to grab him, and he took off!" Csonka remembers with a laugh. "He said, 'I knew if I made you mad enough you'd forget you were hurt!'"
"He had a real chip on his shoulder about being unprepared, he wanted to anticipate everything that could be anticipated. In other words, total concentration, total commitment to the win.
"Now, that sounds easy, and all of us want to do it, and that sounds fine to go to a Boy Scout meeting and stand out and get your honorary badge, that's great. But when you do it 17 or 18 times in a row, it's hard to keep that up. And he would mandate that, he would demand that, and he would raise hell if he thought you were screwing around in practice and not paying attention.
"Two and a half hours, a couple of times a day – that's five hours a day, and you're talking about six weeks of intense concentration in training camp. It's pretty hard to keep that up, on that plane, but with him behind you, we were motivated to stay on that plane."
Zonk remembers that Don Shula pushed for absolutely every edge on a football field…including having a team train in the July Miami heat to prepare for hot days. After an embarrassing Super Bowl loss to the Cowboys, the coach made the team use the loss as motivation.
It worked out literally perfectly.
"Getting that far in '71, and then getting your ass handed to you in the Super Bowl was embarrassing. But Shula said to us after that game, 'I want you to remember this moment, because we're gonna use this as a basis to make even more sacrifices next year.'
"He didn't say what our objective was going to be. What he said was, we're gonna treat every game like it's the Super Bowl. That way we can't ever relax. By the time we get to the Super Bowl, we'll be able to make sure that we do it one more time.
"Those words rang true, that was a great prediction after a terrible loss."
Indeed, as the football world remembers, the Miami Dolphins made winning quite the habit in 1972. The backfield of that team contributed to the obsession…the interchangeable squad of Csonka, Jim Kiick, and Mercury Morris made opposing defensive coordinators want to put 15 players on the field. It was an idea Shula had once he believed Morris could take the punishment.
"Coach Shula decided to talk with the offensive line coach to see if we had the offensive linemen that could get to the outside. And we did. Larry Little, a huge big man, who was super fast in the 40, so we could get somebody out there to block for Merc, and we could have that outside threat."
"It gave us a three-dimensional backfield, and that made a difference. That was one of the contributing factors to going undefeated."
The Dolphins' backfield was so strong that even losing a Hall of Fame quarterback in the fifth game didn't stop the victory train. But Csonka is quick to point out that absolutely everyone on the team made contributions to a season still unmatched in NFL history…starting with Kiick and Morris.
"In order to do that," Csonka reflects about the interchangeable backfield, "you have to have the talent to do that, but you also have to have the personalities to do that. Jim Kiick and Mercury Morris were two unique personalities, but the great common thing between them was the mutual respect of each other, one realized the other had talent that he didn't, and they both recognized that fact, and were all right with that.
He continues: "If any one ingredient doesn't mix with the other ingredients, then you're gonna have that kind of animosity that'll grow to be a cancer and it'll keep you from attaining a perfect season. There's a reason there's only one team that's ever done that.  We had the best blend of players and coaches."
"When you look at it, you take any one player, if you take Bob Griese, starting quarterback, Earl Morrall, the substitute quarterback, all made contributions. Charlie Babb, special teams, rookie player, got in there, made a big play, blocked a punt. You take Charlie out of that game, we lose that game.
"As a rookie playing on special teams, only got on the field a few times, but he got on there just enough to make a difference in us going undefeated or losing one game.
"That's how finite it gets."
Zonk is, at least partially, so fondly remembered in South Florida for an unfortunate reason. He represents a successful era for a team that hasn't won a playoff game in over two decades. Young Miami football fans aren't even accustomed to frequent playoff runs these days, much less three straight Super Bowl appearances.
Read some of the blog posts on his website about the team in recent years, and it's apparent that like the rest of the city, he becomes frustrated with the Dolphins' shortcomings. He's still supportive, but it's clear that it's no easier for him to watch sometimes than for the rest of us.
Csonka confesses to not being able to apply his understanding of the game in his playing days to the game of today. But he does think there's one constant in winning football that the Dolphins need to embrace to get back on top again. When asked that question, he begins his answer with one word: unity.
"If you get a strong head coach that believes in a certain way to do it, and you can get a cast of players that believe in him, I don't think that formula's changed that much.
"Is it Don Shula reborn again? I don't know, but I think it starts with that. I think it starts with a strong coaching staff and the dedication of the players, and finding 40 or 50 players that really, truly want to win, and they'll make whatever sacrifices that are necessary in order to obtain that."
That said, he does make occasional public appearance to talk about the glory days.
"We get a few fans, that might go back and remember, and some of the young folks that have heard things from their parents or grandparents, or perhaps even great grandparents," he says with a laugh. "What I do is reminisce about the championships and how we got there, Coach Shula, the colorful, fun parts of the game that you still see on Sunday are fun to talk about. Sports humor is really what it's about, it's a good time, not any deep message or anything
The Perfect Season, justifiably, is still today a great source of gratification for the Hall of Fame fullback.
"More than personal pride, it's fun to feel a team pride in being part of that. I'm sure there are other people that have made it to the top of Everest and stood there and felt that exhilaration of being on top of the mountain. But to be able to stand on top of the mountain, and know there's an entire team standing there with you and you're all part of that, is just another benefit.
"When the '72 team gets together, those that are still standing and walking around, there's a great camaraderie, and there's a constant feeling when eyes meet, nothing has to be said.
"The fans that were there, again, that are still standing, when we see them, it's a celebration that's very unique. They can't wait to tell us about it, we can't wait to hear about it. It's a celebration that goes on and it's just as enthusiastic today as the day it happened."
Zonk also has a sense of gratitude towards one other group of people: The Super Bowl XLII-winning New York Giants.
"I'm indebted to my teammate at Syracuse, Tom Coughlin, the head coach of the Giants, and Eli Manning. I am still their biggest fan!"
Head On
MiamiMan loves success stories and views behind the scenes, especially when it comes to legendary sports achievements…and the Perfect Season certainly qualifies.
Larry Csonka's coming book, Head On, shares tales behind his and the Dolphins success in that era. It includes flashbacks of his nearly quitting football, his occasionally rocky relationship with Don Shula, and his palling around with the likes of Burt Reynolds, Lee Majors, Elvis Presley and others during and after the Dolphins' high-flying run.
But Csonka also shares some wild stories beyond the bright lights of the football field…such as his confronting thieves with a sawed-off shotgun, being adrift in gale force winds in the Bering Sea, and taking sniper fire in the midst of a USO tour.
As Csonka was quoted in Life magazine back in 1972, "No matter what your style, you have to take a beating." Indeed, from the sound of it, the book describes a life of an athlete who took the hits on and off the field, and keeps moving forward.
Head On is slated for release on October 4, 2022. You can pre-order it on the Amazon and Barnes & Noble websites, and from the publisher, BenBella Books.
The Last Frontier
Visit Larry Csonka's website and you'll see a selection of videos of him and Audrey Bradshaw, his lovely longtime partner, catching fish in the midst of beautiful Alaskan backgrounds.
Many of the videos are from his surprise hit show, "North To Alaska", which enjoyed a successful run until its retirement in 2013. "North To Alaska" was everything an outdoor life show should be…a former star athlete enjoying retirement by becoming just like one of the rest of us again. He and Audrey catch fish together, visit beautiful lodges in remote areas of a remote state, and share the greatness of outdoor life in the last frontier. It all makes for enjoyable, leisurely, and educational television.
What makes "North To Alaska" special enough to have enjoyed a 16-year run is that Zonk, a man who made a considerable mark on a football field, is there as a hunting and fishing enthusiast, not a former star athlete. It's because he has just as much enthusiasm for Alaskan life as he did for football.
"Through my entire career, starting in high school or junior high, I aspired to get to Alaska by hook or crook. I got sidetracked into the NFL, and some ten years after the NFL, I finally got a chance. Starting with ESPN and our sponsors NAPA and STIHL, we put together an outdoor adventure, fishing, hunting series. Audrey and I moved north and bought a place in Anchorage and then Wasilla. We were residents of Alaska for some 20 years, and still go back for a month and a half each year.
"I think from the time I was probably 11 years old, I just wanted to go to Alaska because I figured that was the last place you could experience things like Daniel Boone and Davy Crockett did.
"What a great way to do it, getting paid to do it. By the time the series ended, it was doing quite well. By the time it was in its 16th year, we had been a lot of places that most people don't get to see in the state of Alaska."
The popularity of a retired football star, even a Hall of Famer and Super Bowl MVP, isn't enough to carry a low-quality show for a decade and a half. The appeal of "North To Alaska" may be that Zonk shows us all that it doesn't take piles of money or fame to enjoy the good life. He's the ultimate everyman with a genuine love for the outdoors, and it works.
A Bird On The Cover
Larry Csonka made the cover of Sports Illustrated a few times in his career, but easily the best known cover shot features him and backfield teammate Jim Kiick…in a pose that featured Csonka giving a not-so-subtle middle finger. What makes the photo so priceless is the snickering look on Zonk's face. You can easily find a copy of it on eBay if you're interested.
Intentional? Not on Csonka's part, at least as far as the photo actually making the cover. He's not sure about the Sports Illustrated folks, though.
"We shot probably 200 photos that day of all the different kinds of poses. We had a couple of photos we just wanted for us to be funny, so we did that, and somehow that photo got in with the others and somehow inadvertently got put on the cover. I received very nasty letters from irate nuns for about five years after that!
"I sometimes wonder if that wasn't done on purpose, but it wasn't meant to be on the cover, it was meant for our own personal thing. So after that, I didn't do that anymore. I certainly apologized, but at the same time, it was supposed to be private and it didn't turn out that way."
"But I'll tell you what, a lot of people kept that issue!"
Going Out On Top
Csonka broke away from the NFL to play in the ill-fated World Football League with the Memphis Southmen, and then played a couple of seasons with the Giants before returning to play with the Dolphins in 1979. He was hired by the Dolphins to be a blocking back for Delvin Williams, but when Delvin performed below expectations, they gave Zonk the ball…and he carried it for 837 yards and 12 touchdowns, a performance that won Zonk the Comeback Player of The Year award.
"I came back to be a blocking back for Miami. I became the guy running the ball. I think on one occasion, I carried it 40 times in a game, and at 32 years old, whatever I was at the time, I don't recall, I didn't need to be carrying the ball 40 times a game.
"That's very much a young man's game, a power running game, and you have to have great offensive linemen, which I had in '72 and '73.
The end of Larry Csonka's NFL career came shortly afterward, with Don Shula making the decision for him.
"I made the decision to hold out, unless I got paid a whole lot of money to run the ball, I was still pretty healthy. But instead, I held out and Shula got mad and fired me."
He has no regrets. "I wasn't mad that he fired me. I was at a point in my career where I was glad  he said I was through. That gave me all the pushing I needed.
"At 33 years old, it's time to retire, particularly for a power running back."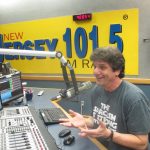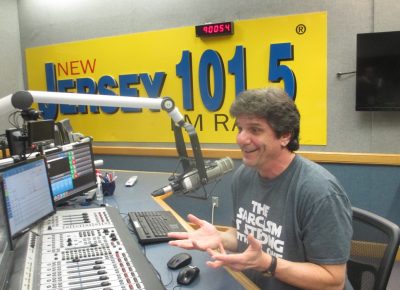 I met Steve Trevelise many years ago at a bar, and years later he featured me on his NJ 101.5 show to talk ballparks. He represents the good side of Jersey.
I interviewed him for the Spring 2018 issue of JerseyMan; you can read the article on their website here or view the magazine article here.
Proud To Be New Jersey
Union City man Steve Trevelise's Jersey accent has been heard by New Jersey and Philadelphia residents for many years. And he has no desire to be anywhere else.
Shortly following the 7:00 PM news break, a brief snippet of Blondie's "Union City Blue" plays. It's soon accompanied by Steve Trevelise's enthusiastic voice bidding NJ 101.5 listeners another great evening.
Trev then spends four hours jabbering "about things that drive me crazy", with equally passionate Garden State natives on the phone lines. Fortunately there's no shortage of topics. Our politicians alone are a bottomless source of insanity.
At week's end, the seasoned veteran of the airwaves crosses the Delaware and pulls an overnight at WIP, talking Philly sports from 2:00-5:00 AM each Saturday. From the perspective of a Giants fan. Somehow, he manages to emerge from the studio free of visible blood stains.
Growing up in New Jersey has a way of preparing people for uncomfortable situations. As a Union City native, Steve Trevelise knows timidity doesn't fly here. But it's the rare caller to his show that hangs up seething. Trevelise is a genuinely nice guy, who articulates his opinion in a thoughtful way.
Say for example, his take on the NFL anthem controversy.
"The whole protest was ill-conceived. It was a bad idea. If you look at the greatest civil rights marches, Martin Luther King, the march on Washington, it's all about the cause. By taking a knee for the national anthem, the players confuse the issue. Now they spend more time explaining: 'We're not disrespecting the military.'
"If they had said, 'in every NFL city on Saturday night, we're gonna hold a rally. We're gonna have celebrities go on, have players talk about the cause, we're gonna sell tickets for 50 bucks. We're gonna take that money and put it into a pool, and then for every case of police brutality or racial inequality you bring to us, that we examine and see that this is real, we will use that money to fight for you.'
"Now you've done something, and it's away from the game. As opposed to football players taking a knee…it is disrespectful, and that's where it gets lost."
After Trev tells you what he thinks, call in and have at it with him…without fear of typical ratings-driven condescension.
"It's really hard to get people to call a radio station. How often do you call a radio station? If you listen to my show, there's an intimacy, like a ball-busting. We go back and forth, it's a camaraderie. That, I think, is what makes it work.
"I would never degrade a listener or call him names, because we're all hanging out, we're all friends, and I appreciate the fact that you took the time to call my show. I don't come off as 'I know more than you do.' I come off as 'I believe this, tell me why I should, tell me why I shouldn't.' And then the caller calls and says 'you rock' or 'you suck.'"
Ideology aside, the lifelong Giants fan is happy for the long-suffering Eagles faithful.
"I have a relationship with Eagles fans unlike any other Giants fan, because I talk to them every week. For years I've been hearing the anxiety in their voices, the frustration of the waiting. I sincerely congratulate them, especially when it's so easy to root for this team with all their back stories.
"Of course next year, the rivalry picks up where it left off."
As Jersey as Steve Trevelise is, he's anything but the rude, surly stereotype. But he understands why we all get a little aggravated sometimes. He did spend years reading the traffic reports.
Longtime Philly radio listeners are familiar with Steve Trevelise. He's a longtime area presence who's done traffic and sports updates for Howard Eskin, Tom Joyner, Gina Preston, Nancy Glass, and Glen Kalina among others, before landing at NJ 101.5 in 2011. He's the kind of guy that never hurt anyone's Arbitron showing.
Most memorably, he was a reporter on the Howard Stern Show on WYSP, as Stern directed nonstop scorched-earth vitriol at WMMR morning rival John DeBella. You may remember the stark contrast of Trevelise's friendly tone, smoothly delivering sports updates following thunderous segments of Stern ferocity. He might have been the perfect announcer to interrupt the War of The Worlds broadcast.
Trevelise describes his WYSP years as being a "local presence" for a New York-based show. He remembers initial resistance to bringing Stern to Philly…not because of the daily controversy, but out of concern that Howard was too New York for Philadelphia.
He recalls how Stern turned that into an advantage: he appealed to our city's love of a street fighting underdog.
"What made Howard work in Philadelphia, was getting Howard to talk about Philadelphia. It wasn't 'eh, Philadelphia, second class citizens'. He found a tool to make Philadelphia work. That tool was The Zookeeper, 'we are at war with the Zookeeper'. Philly could buy into that. And then it became, 'how's he going to torture DeBella today?'
"What's funny about it is, eventually DeBella comes to work at WYSP!"
Trevelise has been a fan of Stern since the WNBC years. "The great thing about Howard was that he was so controversial, but he was entertaining, and he's real. I got paid to listen to the Howard Stern show. Something would happen during the day, and it'd be like, 'I can't wait to go to work tomorrow and see what Howard's gonna say about this.'
"And I love when I'm on the radio at night, and something will happen and I'll be talking about it, and people go, 'I couldn't wait to hear what you had to say about this!'"
In an era of satellite radio and syndicated stars, radio is still local. It's more than just traffic and weather, but as it turns out, that's a pretty big part of it.
As a former director for Shadow Traffic and later Clear Channel traffic for Philly stations, Trevelise never ran out of work. But since those days, things have gotten pretty congested in the Jersey suburbs, too. After decades of migration from New York and Philadelphia, there's now a need for an entire state to have its own traffic problems accounted for.
"I remember from giving traffic reports in the old days, New Jersey was always the afterthought. Philadelphia traffic, here's all the roads in Delaware County, then New Jersey: 42, Turnpike, there you go. Here's all the New York roads, then New Jersey: Turnpike, Parkway, and we'd go off. Every 15 minutes, you can turn on New Jersey 101.5 and you're going to get the traffic report for exactly where you are. I-287, Route 9, Route 35, the Parkway, whatever."
But daily traffic info is nothing compared to a Jersey-centric station's impact in a storm that devastated our famous coastline.
"Hurricane Sandy galvanized 101.5 with listeners. I've never in my life, including during the Stern show, seen anything like it. I was on the air the night Sandy happened, and I remember Christie came in for 'Ask The Governor'. They were telling him don't come in, and he said no, this is the place where I can reach everybody. Because everybody was listening.
"Christie comes in at 7:00, I follow him at eight and I was supposed to be there until midnight. Ray Rossi was there at the time, he was gonna follow me. At about ten or eleven, we lose the transmitter. So now we had nothing but the Internet, and we have to stay on because we're online. At 3:00, we lose the phones. Ray and I are talking recipes for tomato sauce. We literally had nothing. But people are continuing to call in, because they're getting us.
"For the next three or four months, we had people with no power, literally listening to us with batteries in the radio. Imagine, in 2012, you're a radio station and you're the only game in town. There's no television, there's no Internet, there is nothing else but you.
"To this day people thank me. They say hey man, thank you for getting me through Sandy. They still remember."
People tune in to NJ 101.5 for traffic and weather. They stick around for ball-busting camaraderie with Jersey lifers like Steve Trevelise. To him, it's a communal thing.
"We're the only radio station that, when you turn us on, you're hearing people talking the way you do, talking about things that you care about, in the state that you live in. This is ours, it's not New York, it's not Philadelphia.
"101.5 is New Jersey. I am New Jersey. I was born in Union City, I've lived all over the state, I would never move. I genuinely love it here. There is a realism, an honesty about New Jersey, and that's what I bring to my show.
"If someone said to me, what do you want to do, I couldn't write this better. I'm proud that I get to talk about a place that I love, in front of children who I love. And that they get to see it."
The Comedy Stylings of Steve Trevelise
In addition to his radio career, Trevelise has dabbled in comedy, performing as an opening act for the likes of Robert Klein, Pat Cooper and Bill Hicks.
His first standup act was opening for Gabe Kaplan, of Welcome Back Kotter fame. "Remember the end of Welcome Back Kotter, when he'd tell the joke? That was his act!"
Trevelise became successful enough in the comedy world to open two of his own comedy clubs. The Coffee-Dot-Comedy Club in Sea Isle City was a success…it featured dishes named after radio stars and $1 a minute Internet service in the days before wi-fi. Later he took over the comedy club in the Cherry Hill Crowne Plaza, Rascals, and renamed it Sarcasm.
It was successful for about five years, but as Trevelise says, it's tough when you're living on the door. "I went through something like seven general managers in five years. I got guys sending fruit baskets to the comics, I got guys trying to charge me rent," he says with a chuckle.
But he's still doing standup comedy events, and now he brings his radio friends along. "I'll go out and put shows together and do like corporate fundraising, as well as doing road shows. I take Dennis and Judi out on the road, and also Bill Spadea, and so the 101.5 guys are all able to entertain people, which is great."
If you'd like to Steve and his gang of NJ 101.5 radio costars at an event, you can check Trevelise's page on the radio station's website.
Or you can friend him on Facebook for updates…he readily accepts most friend requests, but you have to catch him when he's sitting at 4,999.
"Your limit is 5,000. Anyone who tries to friend me, they kick it back."