Best Albums You Never Heard
---
Tears For Fears's Raoul and the Kings of Spain easily makes my list of Best Albums You Never Heard. It was their least successful studio album commercially, for a variety of reasons, yet it contains some of the finest work released under the TFF name, IMHO. Hope you enjoy my thoughts about it, and give the record a try if indeed you've never heard it.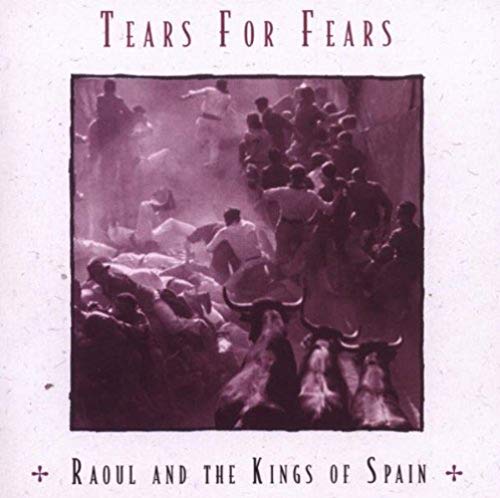 Raoul And The Kings of Spain – The Best Tears For Fears Album You've Never Heard
So I did a search for "What's the best Tears For Fears album?", and apparently I'm in a very small minority in thinking Raoul and the Kings of Spain deserves the honor.
"Ranker" puts it dead last of the six official non-compilation releases, resulting from fan voting on the matter. Jeff Fiedler at "Discog Fever" gives it a D+, his lowest rating of all the Tears For Fears records. Fiedler even gives Saturnine, Martial and Lunatic, a mostly unmemorable collection of B-sides, a B- rating, so that's how little he thinks of Raoul.
If you think album sales reflect public opinion, Raoul and the Kings of Spain is at the bottom of that food chain too. (There's plenty of other factors involved in record sales, of course, which is pretty much why I'm writing this series of posts). The album topped out at #79 in America, and was the first Tears For Fears studio release to earn no metal-based certifications.
So you might be able to, as I did, find the CD cheaply at your nearest used record store. I may have bought it thinking something like, it's four bucks, how bad could it be? I took a minimal risk and got a hell of a bang for my buck.
First, a bit of background on TFF's history prior to this record, then I'll share what I think makes it great.
After the enormous…and for once in this industry, well deserved…success of 1985's Songs From The Big Chair, it was four long years before we heard a follow-up from Tears For Fears. That's a long enough time to make adolescents who loved a few hit songs forget about an artist, but 1989's The Seeds of Love was a solid effort, spawning quite a few of the band's best known songs, including "Woman In Chains", "Sowing The Seeds of Love", and "Advice For The Young At Heart". It went as high as #8 on the U.S. album charts and made it to platinum status.
However, while The Seeds of Love is a great record, it lacks the cohesiveness of Songs From The Big Chair, if you'll permit me to sound like a music critic snob for a second. Several songs, like "Badman's Song" and "Year of The Knife", don't seem to really fit into the record overall. This is a small criticism I have of otherwise excellent Elemental album too.
I have a point here, I think. It's that Roland Orzabal and Curt Smith don't seem to be quite in sync as a songwriting tandem on Seeds of Love, with a clear direction on where to take the album. And indeed, the two parted ways (that old "artistic differences" bit) after this record.
(By the way, I'm well aware of my namesake being a key member of the group. Curt with a "C" is far more talented than I am, however, so people rarely get us confused.)
Anyway, Orzabal, who owns most of the songwriting credit for TFF's best known works, released two records under the Tears For Fears moniker, Elemental in 1993 and Raoul and the Kings of Spain in 1995. But again, there was another four year layoff before Elemental appeared, which is often too long for a pop artist especially to stay at least commercially successful.
This is another important point. Dark Side of The Moon would likely have been Pink Floyd's apex had they not released The Wall. But had there been a four year layoff between Dark Side and Wish You Were Here, and then another four years before Animals, would The Wall have been so warmly received or even heard by many? It's doubtful. They might not have even had a recording contract by that point, at least with a big money outfit willing to spend promotional dollars.
So by the time Raoul and the Kings of Spain was released, the music-buying masses had either forgotten about Tears For Fears, unjustifiably considered them in artistic decline, or possibly even considered the band to be an eighties flash in the pan. They weren't, unfortunately, prolific enough to establish the type of following that results in every new release topping the charts. It had, after all, been a decade since Songs From The Big Chair, and we'd only heard two albums since.
Add to all of this the band's record label switch (from Mercury to Sony) just before the release of Raoul, which will often disrupt promotional efforts, and the end result is one of the Best Albums You Never Heard.
Raoul and the Kings of Spain, according to Roland, isn't technically a concept album. But it sounds very much like one, especially with the second half of the album starting with "Los Reyes Catolicos" and ending with the reprise of the same song. The songs reflect a similar theme of familial relationships, and they seamlessly blend into one another, more effectively than on most Tears For Fears albums.
In other words, in this writer's opinion anyway, it's the first TFF record since Songs From The Big Chair to feature that "cohesion" again…all of the songs seem to actually fit on the record. There isn't any song on it that veers away wildly from the overall sound.
There are so many outstanding hooks on Raoul and the Kings of Spain. Every song has a grabber moment to me. But a few really stand out and make me think Roland Orzabal is one of Planet Earth's great composers.
In "Falling Down", there's the wailing guitar backing as Roland sings "falling down, falling down" towards the end of the song. It grows increasingly chaotic and heavier before reaching a sustained, bending high note. The song then goes quiet, ending with the simple guitar riff that it started with. It's Beatle-esque musical genius.
There's the mellow guitar phrasing in "Secrets", with a lead that, like most of the guitar solos on this record, blends beautifully back into the song. Roland made a video for this one, and it's an obvious single, but for whatever reason it never picked up steam. Speaking of the Beatles, if someone told you it was Ringo playing the drums on this one, you'd easily believe it.
"Me and My Big Ideas" brings back the soulful voice of Oleta Adams, who graced us all with her vocals on The Seeds of Love. This is one of her better performances with Tears For Fears, and that isn't a knock on her outstanding performance on Seeds. The mellow mood of "Me And My Big Ideas" works perfectly with the haunting "Los Reyes Catolicos" reprise closing the album.
That's just a small few. But there are no weak cuts on this record.
It's hard for me to pick a favorite song, but "I Choose You" might be it. It's a highly emotional piece based around resounding piano chords and slow acoustic guitar. I have listened to Raoul dozens of times, and I still get chills at the piano part backing the second verse, and the increasing volume of the piano and violins as the song climaxes. Orzabal is so good at emotional music, and this one could have been another huge hit if TFF was at their 1985 level of popularity.
In addition to all of the musical hooks, there's Orzabal's powerful voice. He is underrated as a singer, not just because of the full impact he can bring to a vocal part, but also his versatility. I'm speaking for myself here, but as a "casual fan", I literally didn't know for years that this album didn't feature Curt Smith. The changing vocal tones in "Falling Down" is a great example. It's easy to think it's two singers.
Roland sings passionately throughout the disc, starting with the opening title cut. He goes full boar deep in certain moments, and soft and gentle in others, often effortlessly making the transition in the same song. Many of the hooks on Raoul, such as his howling in the opening track, come from the vocals. The melody lines add just as much drama as the guitar hooks.
Last but not least, the musicianship on Raoul isn't shabby either. The endings of "Falling Down" and "Don't Drink The Water" are great examples…there's some great work on all of the instruments going on, especially as the songs build up to a crescendo. Gail Ann Dorsey contributes superb bass lines, and Alan Griffiths performs marvelously sharing the guitar playing…and songwriting…duties with Roland. (More about Griffiths when I write about Tomcats Screaming Outside.) It's a truly collaborative effort.
Without Curt Smith, Raoul and the Kings of Spain may not be an "official" Tears For Fears record in many fans' eyes. I get that. But the album is Roland Orzabal at his songwriting, singing, and performing best, with a backing group that is more than equal to the task. Had Raoul been released in 1986, I'm certain it would have easily achieved multiple platinum status.
Before I lucked into finding this record…and I kid you not, the first I'd heard of it was seeing it in a used record store…I was a casual fan at best, who liked Tears For Fears enough to own Songs From The Big Chair and a greatest hits compilation. Raoul and the Kings of Spain made me a far more appreciative admirer of their work, and I now own and love every Tears For Fears studio record…including Roland's Tomcats Screaming Outside solo effort. But Raoul is still my favorite. It's that good.
If you are a Tears For Fears fan at any level, if you even liked them enough to own Songs From The Big Chair or The Seeds of Love or even a Greatest Hits compilation, get this record. You won't be sorry.
Did this post make your day a little bit?

I hope so. If it did, I would really appreciate your support.

When you use this link to shop on Amazon, you'll help subsidize this great website…at no extra charge to you.

Thanks very much…come back soon!
This post contains affiliate links. If you click on the links and then make a purchase, the site owner earns a commission at no extra cost to you. Thanks for your support.
Photo credit: kellyv on Best Running / CC BY-ND
Photo credit: kellyv on Best Running / CC BY-ND
Photo credit: Raph_PH on Best Running / CC BY
Photo credit: Raph_PH on Best Running