The Resilient Reading Terminal Market
The Reading Terminal Market in Philadelphia had its struggles in 2020, so JerseyMan and I gave it some well-deserved props for the January 2021 issue. You can see it on JerseyMan's website here, or see the magazine article here.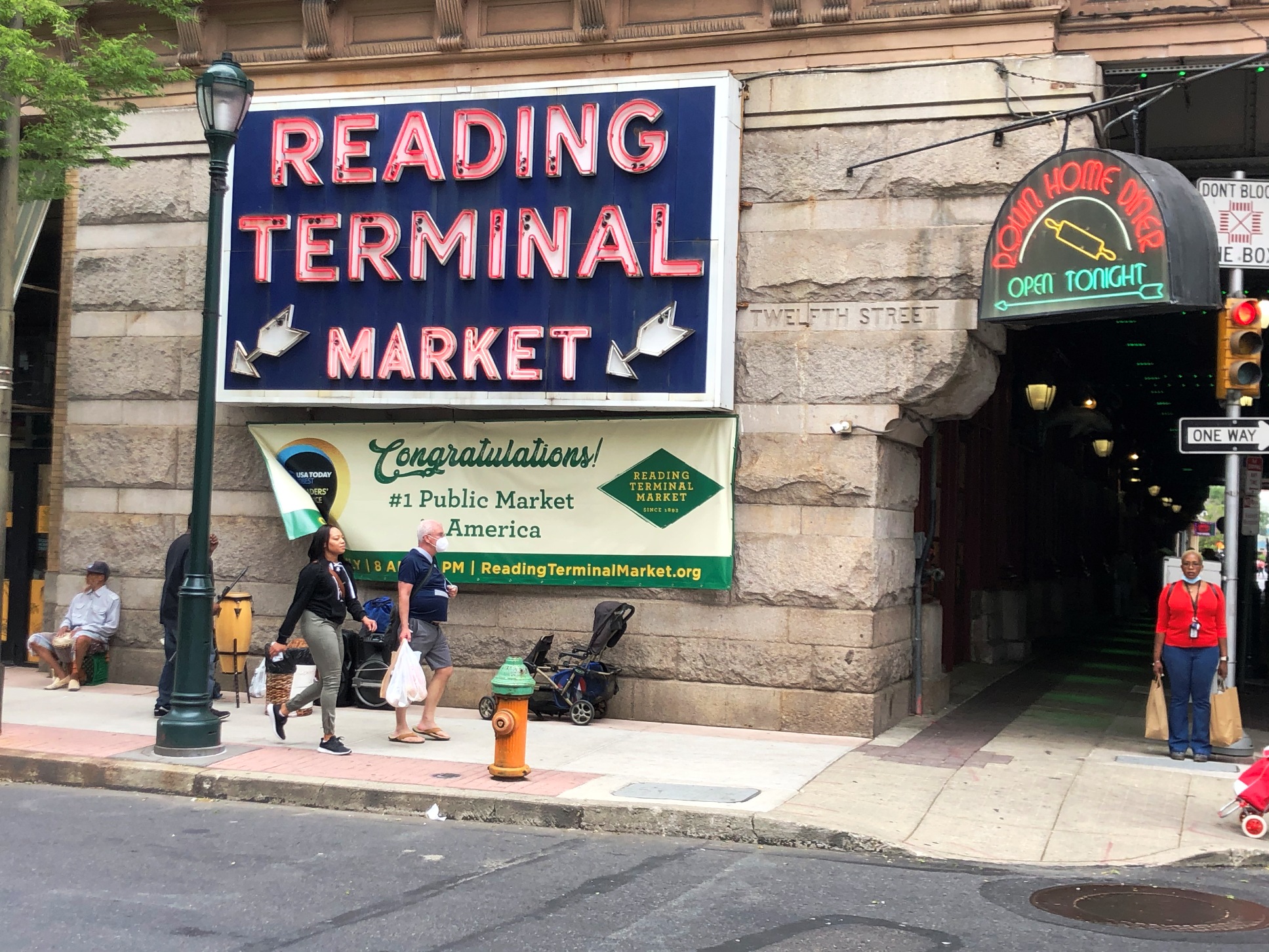 The Resilient Terminal Market
The Reading Terminal Market was hit hard by the pandemic, losing over half its foot traffic throughout the tourist season in 2020. The merchants, locals, and even some outsiders came together to help keep the lights on, but the quality of the goods is ultimately what keeps the Market going.
A visit to the Reading Terminal Market is well worth any travel expense and hassle, but it always presents an exasperating conundrum:
"What the hell am I gonna eat?"
Human stomachs are insufficiently sized enough that in every trip to Philly's venerable marketplace, it's impossible not to miss out on something amazing. It's particularly rough for tourists, who may only manage one or two visits.
The Market sometimes seems to cause more culinary heartache than pleasure. Sure, have one or three of Beiler's doughnuts…but unless you have a committed sweet tooth, that means foregoing Dutch Eating Place apple dumplings, Flying Monkey whoopie pies, or Termini Bros. torrones.
If you've ever experienced this distress, you're not alone.
You'd think the Market's general manager would have sound advice for this situation, but unfortunately Conor Murphy isn't much help. Murphy visits the Market every day, and even he struggles mightily with the question.
"There's just so many great sandwich options," he says. "You've got a fantastic sandwich at Smucker's, DiNic's is obviously incredible. I'm an unapologetic carnivore, but there's great sandwiches too at Luhv Vegan. Whether you want a chicken sandwich or a beef sandwich or a fresh deli sandwich…Hatville Deli does a great job…there's just too many choices almost.
"It can be a challenge sometimes to choose your lunch. Phenomenal options, the classic Philadelphia specials, and also obviously great healthy options too."
London Faust is the digital media manager at Bellevue Communications, the firm that manages the Market's PR. She is a bit more willing to risk choosing a go-to vendor; she recommends Olympia Gyro.
"It's well balanced and a good bang for your buck," she shares. "Their gyros are really good and fresh, and don't fill you up to the point where you're so uncomfortably full, but they also have the biggest, freshest salads I've ever seen."
Okay, that helps a bit. Murphy also offers a small but valuable piece of advice: Don't look over your shoulder.
"Sometimes if you're standing at DiNic's, and then you look over your shoulder and you see Hershel's, well then suddenly the decision just became much harder. You go to Olympia where London likes to go, and you turn over your shoulder and there's Kamal's.
"You kind of have to come in with your blinkers on almost. Make your decision and get it done. Because if you turn your shoulder, you might have to change your mind."
This extreme gastronomic agitation is the true appeal of the Reading Terminal Market. For locals, the substantial selection of food staples keeps one returning, again and again. For frustrated tourists, it may inspire a better-planned return visit to Philadelphia. The Market is equal parts tourist attraction and favorite local destination, and it does both very, very well.
That balance has been key to its survival in the toughest of times. Which 2020 unquestionably was.
Throughout the history of the Reading Terminal Market, it seems to have been positioned to survive world instability. That doesn't just include a depression and two world wars. The Market has weathered other storms too, like the decline of the railroad industry.
The "Reading Terminal" part of the name comes from its location, as a key hub for the Reading Railroad. The rise of the automobile drove the Railroad into bankruptcy by 1971. The Reading Company remained overseeing the Market, but they instituted higher rents for already struggling merchants, driving many of them away.
Decline and crumbling infrastructure continued until the Convention Center Authority purchased the Market in 1990. With that deal came $30 million of public funding for upgrades. To secure that kind of cash, you've probably got some clout with the locals.
So where does a worldwide pandemic rank among the tribulations the Market's endured in its 128 years?
It's probably top three.
"The Market has been through a lot," Murphy says. "But I'm looking back through history, talking to different merchants and historians, and there's a general sense that this is certainly up there with those past experiences.
"Usually from April through Thanksgiving, food and beverage options around the city get a lot of foot traffic. On a Friday or Saturday the Market would have anything from 35-40,000 people a day coming through. This year, it was anything from 55-60% drop in those numbers."
The difficulty of social distancing in a tight city venue doesn't help. "As an old train station, you can imagine the building is equipped for lots of people coming through," Murphy adds.
Like every establishment in the country, the merchants have had to adapt to survive. But just as every difficult period in our history has revealed the strength of the Market, the challenging times caused folks to rally behind Philadelphia's favorite food destination.
Even from as far as Boston.
As efforts grew to help the Market stay operational, including adding a GoFundMe page, it attracted the attention of Dave Portnoy, founder of Barstool Sports. Despite being a Beantown area native, Portnoy is a Philly food enthusiast and passionate about supporting the cause. He arranged for Penn National, the owner of Barstool Sports, to donate $100 for every $100 deposit made by fans in the Barstool Sportsbook app.
It was a significant factor in the GoFundMe campaign's success, which has totaled $211,597 as this sentence was written, contributed by 4,773 Market fans. The funds will be enormously helpful for day-to-day operations.
"Since the beginning of the pandemic," Murphy explains, "we've offered support to merchants in the form of rent deferments. One of the other things that we do a lot is events, and we are able to cover a lot of our costs through some of those events. So without the events, and with some deferments in place for merchants, we wanted to make sure we were able to remain available and open seven days a week.
"Simple things, being able to pay utility bills, and all the extra sanitation costs that we now have to keep customers safe."
Murphy is overwhelmingly appreciative at the reminder of how beloved the Market and its peddlers really are.
"The Market has such an incredible presence for everyone that lives in the city," he says. "Some of the personal stories were really, really fantastic. I think ultimately the Market is here because of Philadelphia, and because of the loyalty that shoppers have to us."
Speaking of what he calls the camaraderie and spirit of the Market, you can hear the emotion in Murphy's voice.
"With the essential service designation for public markets…nobody at the Market had to be told what that meant. They all just love to serve people. They fundamentally understand what it means to serve customers.
"I grew up in a small business in Ireland. People who run small businesses, they'll always be my first heroes. They're just fantastic people, you know, they really are. Small business is so, so important, especially now.
"I moved here six and a half years ago, and it's amazing to see how people have been so supportive. It's fantastic to see Philadelphians wanting to support the Market so much."
Faust shares Murphy's reverence for the outpouring of civic pride. "The Market's really a family," she adds, "and it's really heartwarming to see everybody support each other."
While 2020 was as tough on our favorite marketplace as it was on everyone, the difficulties may ultimately become growth opportunities. Murphy says merchants have greatly improved their ability to take online orders and deliver the goods for hungry fans. The virus may have revealed how much these iconic vendors underestimated their popularity outside of the building.
"We have worked really hard to get people onto delivery platforms. We've got a great partner, Mercato, that helps us on the food delivery side. Then the lunch counter merchants, trying to pivot their businesses to delivery apps, the Caviars and the Doordashes of this world."
Murphy admits, however, that the ability to order delivery from so many wonderful vendors can't match actually visiting a Market so abounding with edible excellence that you can't even look over your shoulder. That exasperating whirlwind moment of indecision between Carmen's and Keven Parker's is the Reading Terminal Market at its alluring best.
"Pandemics end," Murphy reflects, "and I think there is some light at the end of the tunnel with all the great news recently about vaccines. The best experience of the Reading Terminal Market is to come and visit us yourself. Ultimately, what we love to see here is people come through our doors to visit, because it is such a great food experience."
That it is, even if it's a torturous dilemma to choose from dozens of world-class eateries. Fortunately, Murphy is confident we'll have many more opportunities to experience it all.
"There's obviously a very clear love for the Market. That love has been built over 128 years, and our plan is to build it for 128 more."
And Down Home Diner's scrapple alone could keep us coming back until 2149.
Did this post make your day a little bit?

I hope so. If it did, I would really appreciate your support.

When you use this link to shop on Amazon, you'll help subsidize this great website…at no extra charge to you.

Thanks very much…come back soon!
The Market Sampling Tour
The Taste of Philly Food Tour people can help you a tiny bit with the agonizing challenge of what to get at the Market. You can book an inexpensive tour of the Market on Taste of Philly Food Tour's website, although as of this writing tours are still suspended.
Author Carolyn Wyman runs the site and tour, and she knows a bit about food in our fair city. She's the author of The Great Philly Cheesesteak Book, the definitive guide to classic vendors of Philly's signature sandwich. The very well done book even mentions 2004 presidential candidate John Kerry's costly cheesesteak faux pas.
The tour is not actually through Philadelphia but is simply a tour of the Market itself; Carolyn or one of her friends leads visitors through the Market and shares stories of its history…along with, of course, tastings.
According to Wyman, samples that patrons get to try (based on group size and dietary issues) can include:
– A piece of a Miller's Twist pretzel
– Scrapple from Down Home Diner or Dutch Eating Place
– Snapping turtle soup from Pearl's Oyster Bar
– Butter cake from the Flying Monkey Bakery
– Jewish apple cake from Hershel's deli
– Butterscotch vanilla ice cream from Bassett's
– Wilbur Buds and Goldenberg Peanut Chews from the PA General Store.
Wyman adds, "The tour definitely includes ideas on other great foods and best finds in the Market…the most popular donut at Beiler's, the unique Philly cream cheese cheesesteak at Carmen's, the summer-only lemon cooler cake at Termini's etc."
Certainly enough to assist in that blasted decision process, and samples are small enough that you'll still have room to order a full version of what you liked the most.
The Market's website calls it "fun history that has nothing to do with government". Something to consider for the next field trip with the kids.
A True National Treasure
The Market has made a few appearances in American cinema, most notably in the 2004 hit National Treasure.
You may remember the scene: Abigail (Diane Kruger) and Riley (Justin Bartha) temporarily escape from villain Ian Howe's (Sean Bean) henchmen in the Market, and Abigail temporarily hides behind the counter of Martin's Quality Meats. The woman working behind the counter, after initially informing Abigail that she doesn't belong there if she's not a steak, lets her stay believing that she's running from her ex-husband.
The movie crew brought in close to 50 extras to pose as customers (the woman behind the counter was an actress named Sharon Wilkins) and spent 14 hours on two Sundays filming the scene. Gabrielle Giunta, daughter of Martin's owner Martin Giunta, told JerseyMan about it.
"The market was closed on Sundays, and they asked us to open and set the case on a Sunday to do the filming. The producer put an actress behind the counter for 'customer service' and they had to film the scene a bunch to get it right.
"A lot of people did ask us about that in passing – was pretty cool as a kid to hear people ask my dad about being in National Treasure."
The chase scene, like the rest of the movie, turned out superbly. But the movie makers seriously screwed the pooch on feeding the crew. They brought in a trailer from an outside caterer, rather than letting the crew dine on the countless offerings from the Market itself.
If you've never seen the movie, you can view the scene on YouTube. (But check out the whole movie…it's good.)
Bringing The Market To You
As Conor Murphy points out, the Market has partnered with Mercato, the online grocery delivery service. Thanks in part to the pandemic, you can now order food from most any Reading Terminal Market merchant, and have it delivered within a reasonable radius.
Be warned; the process of choosing isn't any easier…but at least you can take some time to think about it. The merchants' logos are featured in a rotating slider, enabling you to choose one and view their delivery offerings. Order a blackened chicken platter from Beck's Cajun Café, a vegetable lasagna from By George, and a pound of smoked wings from Dienner's. Add three chocolate swirl banana puddings from Sweet Nina's for dessert, and you've got a few days' worth of fantastic food in the comfort of your own digs.
It's not cheap; the shopping excursion just described will set you back just over $75 if you're sending it to Turnersville. But it spares you the gas, tolls, parking, and travel time, and Mercato will bring the fabulous flavors of the Market to your front door. Mercato offers discounted delivery when you join their Green service.
It's a great way to experience the Market without leaving your home, which, as we've all recently learned, is something that could afflict anyone.
Philbert, The Reading Terminal Market Mascot
If you've visited the Market, you may or may not have noticed Philbert, the life-sized pig statue that sits on a box of coins in the center of the market. Philbert is named for Filbert Street, one of the streets adjoining the Market.
Philbert was sculpted by Eric Berg, who passed away of heart disease in May of 2020, at the age of 74. Other Berg structures in the city include the Drexel dragon, the panda at the Children's Hospital, and the African Warthog at the Philadelphia Zoo. You can view his impressive body of work here.
In addition to being a popular Market meeting spot, Philbert is in fact a piggy bank; visitors can drop coins in its mouth, which eventually lands in the glass box on which Philbert sits. The money in the box is then donated to a different charitable organization each month, as determined by the Philly Food Trust.
You can rub his snout for good luck too, as many do; maybe it will help you make that all-important food choice at the market.
Source: Atlas Obscura