Crowdfunding – The Kindness of Strangers
Crowdfunding sites like GoFundMe, Kickstarter and Indiegogo make a substantial profit helping ordinary Joes raise money for causes. JerseyMan asked me to cover them for the December 2016 issue; you can view the PDF of the article here.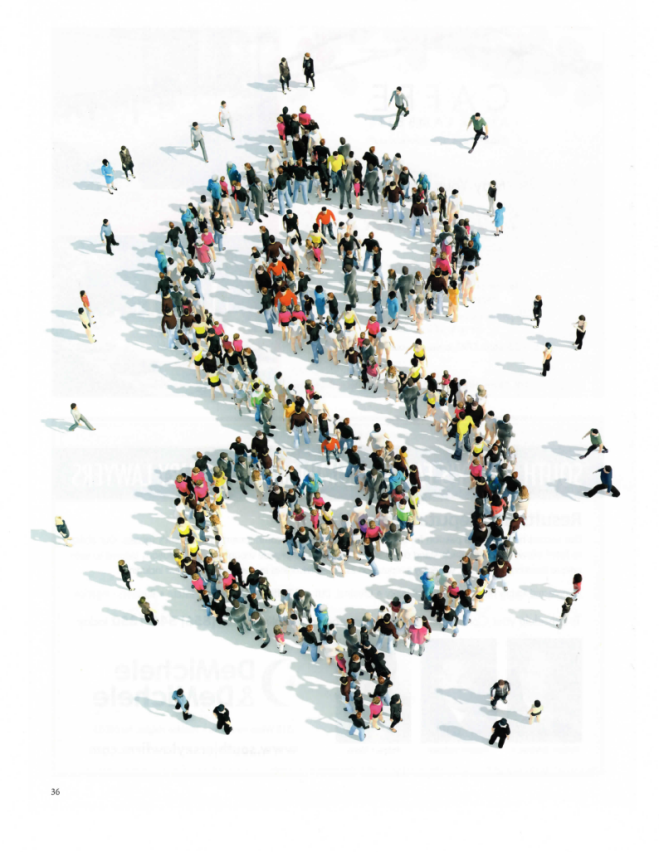 Crowdfunding – The Kindness of Strangers
Crowdfunding sites like GoFundMe, Kickstarter, and Indiegogo have helped thousands of causes…and it's turned out to be an extremely lucrative business model.
Not very long ago, arranging a benefit involved considerable footwork.
You organized a golf tournament or pancake breakfast to raise money for the ailing and downtrodden. Or sold candy bars to pay for your kid's Little League uniforms. Or peddled raffle tickets that people bought with internal groans, knowing they weren't going to win the cruise.
It was difficult enough fundraising for people with genuine, maybe even life-threatening needs. Everyone wants to help the sick child. Try inviting folks to an overpriced spaghetti dinner to subsidize your drifter nephew's musical career.
Today, if you have enough Facebook friends, you can raise money to help a blind man keep a retiring seeing eye dog, lessen the medical bills of Boston Marathon bombing victims, or finance the first new season of Mystery Science Theater 3000 in almost 20 years. All without leaving your doorstep.
It's called "crowdfunding", and it's booming.
Out of dozens of crowdfunding sites, GoFundMe is arguably the biggest household name…it was valued at around $600 million when the founders sold it in June of 2015.
Like most such outfits, GoFundMe collects a portion of each donation, usually 5%, as the fee for its services, plus a payment processing fee of about 3%. For the $7.8 million (and counting) raised for victims of the Orlando nightclub shooting alone, GoFundMe took in a cool $624,000 in fees for one campaign.
GoFundMe is not a philanthropic entity. Nor does it pretend to be. It is a profit-driven company; the majority of donations are not tax-deductible.
If users and donors have a problem with this, most of them haven't said so. Probably because it works: the profit motive benefits the philanthropists. It's in GoFundMe's interest to increase donation amounts. That they do very well.
GoFundMe has an easy-to-use interface to create a page and tell one's story, the ability to easily share it on social media, and a secure donor payment system. They offer a primer with fact-based advice, like how sharing a campaign on Facebook increases donations by 350%. If your tale is particularly touching, GoFundMe will feature it on the front page, to be viewed by thousands of altruistic-feeling types.
GoFundMe is phenomenally successful because of the stories themselves…like making a home accessible for an Annapolis woman who defeated Hodgkin's twice, only to become paralyzed by treatments. Or finding a residence for the homeless Boston man who discovered a bag containing $42,000 and returned it to its owner. Or enabling an 89-year-old Chicago gentleman to finally retire from selling popsicles on the streets. Anytime you think the world is full of selfishness and greed, visit GoFundMe and see countless stories of tragedy, inspiration, and astounding human generosity.
However fabulously wealthy that makes the owners of GoFundMe, 8% of donations going to expenses is better than most philanthropic organizations manage. According to Charity Watch, American Red Cross uses 10% of donations for overhead, while the ACLU sets aside a full 24%…which is still good enough for an A- rating. Few well-known charities operate at less than 8%.
GoFundMe's focus is generally helping the less fortunate, but if you are looking to finance your new invention or book project, Kickstarter is more up your alley.
Aspiring entrepreneurs approaching venture capitalists may make for entertaining television, but there's a reason ABC's hit show is called "Shark Tank".
In the show, naïve hopefuls strut into a room of wealthy businessmen to menacing music, as if they have no inkling of the psychological carnage in store for them. Mere minutes after executing an entertaining introduction of their product, resourceful inventors flail helplessly as the Sharks pounce on their weaknesses and one by one bow out of supporting their lifelong dream.
Imagine bypassing hat in hand encounters with tycoons whose only interest is becoming wealthier, and going directly to the masses to evaluate the market instead…which would probably show you whether a product will sell better than even the owner of QVC could.
Thanks to Kickstarter, it's now just as easy to ask 1,000 people to contribute $25 to your project as it is to ask one person to contribute $25,000. All you need to reach that niche market is a description of your ultra-cool product with a few videos, and maybe some sweet perks for larger donors. Set a goal; if you reach it, the demand is probably there. What could be more free market capitalism?
Kickstarter shows that there can be an audience for almost anything one enjoys creating, no matter how off the reservation it may seem. One current project is an album of jazz interpretations of Nintendo NES video game themes. Before you ask what kind of nostalgic screwball pines for a jazz version of Legend of Zelda music, you should know that that campaign has raised $7,725 as of this writing, and is under $1,000 away from being fully funded. Yes, someone wants that.
Enabling dreams helps Kickstarter do pretty well with their bottom line too. At any moment, a visitor can view how much money has been committed to projects and how many projects have been successfully funded in the company's history. As this sentence was written, those numbers are $2,707,572,645 and 114,642, respectively. Not bad for a company that employs just 115 people.
While GoFundMe allows users to keep all of the donations received whether a goal is reached or not, Kickstarter requires users to reach their stated goal or collect nothing. Kickstarter stresses that this is a good thing…it attaches motivation to get to the finish line when one is facing a fruitless campaign otherwise. And as a Kickstarter rep explains, "not reaching your goal can be very useful information."
Kickstarter also deliberately avoids the type of charitable fundraisers that appear on GoFundMe…a potential donor could be conflicted seeing a disaster relief campaign next to a film idea they like. Indiegogo, which bills itself as "the largest global crowdfunding and fundraising site online", doesn't seem to mind this.
Does GoFundMe's keeping a twentieth of what you raised for the cancer patient trouble you? If your cause is a charitable one, Generosity by Indiegogo collects only payment processing fees and charges no other fees. Your only challenge to keep that 5% is convincing your Facebook audience that Indiegogo is as reputable as GoFundMe, which isn't difficult.
Otherwise, Indiegogo's focus is entrepreneurial ideas. But unlike Kickstarter, Indiegogo isn't "all or nothing"; should a goal be reached, users collect all of it minus a 4% fee, as opposed to 5% on Kickstarter. Users can also cut their losses…should the goal not be reached, they can keep what they have raised, this time for a 9% fee. The pressure is still there, but it isn't as great…and might not be as motivational.
That doesn't stop people from using Indiegogo, partly because of other advantages the company offers. Indiegogo, for example, allows a campaign to continue raising money after its end date. According to John Vaskis, Indiegogo's head of Hardware, Technology and Design Outreach, "Entrepreneurs can raise more money on Indiegogo than anywhere else, because we are the only platform that provides pre-sales and retail options even after their crowdfunding campaigns end."
One great example of this is Solar Roadways – yes, roads made from solar panels that melt snow and are lit with LEDs. Even in the face of some scientifically-based skepticism, Solar Roadways has raised over $2.2 million, and is now an ongoing "InDemand" Indiegogo campaign.
Should that one work out nationally, it would probably be worth Indiegogo's four percent cut.
Crowdfunding eliminates a great deal of fundraising stress…not just by avoiding face-to-face rejection from humans with a lifetime of practice saying no, but also eliminating the fatigue from repeating a troubling story or elevator pitch.
When Tina Ottaviano of Mantua Township learned that her son Braison was diagnosed with a brain tumor (which has since, thankfully, stabilized – Braison is doing quite well), she set up a webpage through CaringBridge.org to tell his story and raise money for treatments. CaringBridge is not a crowdfunding site per se, but they do link journals to GoFundMe pages if users desire.
"As much as I appreciated people asking me about Braison," she says, "it was draining on me. Sometimes I just didn't want to talk about it."
With CaringBridge, Ottaviano could "just give people the link, which would send email notifications when I made an update. Then people would tell other people, etc. I set up an external fund account to help raise money with all the costs.
"It was very successful."
It takes a special kind of personality trait to coax hard-earned money from people, even for an undeniably worthy cause, that many of us lack. We're too proud to ask without offering a chance to win a ski resort vacation in return. We're all aware how irritating telemarketers are.
Sites like GoFundMe, Kickstarter and Indiegogo almost effortlessly target the audience for raising needed dough, and they enable a campaigner to agonize over the story just once.
Their balance sheets reflect a spectacularly grateful world.
Did this read about crowdfunding make your day a little bit?

I hope so. If it did, I would really appreciate your support.

When you use this link to shop on Amazon, you'll help subsidize this great website…at no extra charge to you.

Thanks very much…come back soon!
The "Benefit Corporation" And Crowdfunding

Remember when President George W. Bush ran as the "compassionate conservative"? The term implied that conservative = heartless. It was Dubya's outreach to that "middle ground" voter. It might have been disingenuous or paradoxical, but the compassionate conservative did win two terms as president.
Similarly, the term "corporation" doesn't have a great connotation these days; the words "corporate America" are usually enough to create those visions…a heartless board of directors caring only about stock prices and paying CEOs multi-million dollar bonuses after laying off hundreds of employees.
Kickstarter recently submitted the paperwork to become a "Benefit Corporation", a seemingly paradoxical appellation that actually has some literal meaning. A Benefit Corporation is a real type of business, not just a feel-good phrase to direct attention away from the size of the profits. A Benefit Corporation must not only abide by laws of corporations, but must also follow standards based on the common good.
According to Wikipedia, a Benefit Corporation must consider the impact of its decisions not just for the stockholders but also the society and the environment. How that is determined varies by state but is usually judged by an independent third party.
As Kickstarter notes on its website: "Benefit Corporations are for-profit companies that are obligated to consider the impact of their decisions on society, not only shareholders. Radically, positive impact on society becomes part of a Benefit Corporation's legally defined goals."
GoFundMe and Indiegogo haven't made the jump yet to following a stricter standard for the public good. But the move of states to create additional statutes is increasing.
A Glimpse Into The Future
With all of the advances in technology in the last 20 years, imagine what life will be like 20 years from now. Indiegogo can give you at least a potential idea with some of the ongoing projects featured in their tech section:
Moka 360 – The Moka 360 is the "world's smallest 360 camera". It is a camera that looks to be about two inches square, and it can take a full 360 video of its surroundings at the touch of a button. It has a magnet and can be mounted onto any metal surface, and can stream live video to your tablet. Private detectives will love this one. Current amount raised: $88,668.
Fizzics Waytap – This one's already available…John Vaskis at Indiegogo mentioned it to me: "I own one and love it", he says. It's a device that takes bottled or can beer and uses sound waves (!) to create "from the tap" style beer, with a nice foamy head and much denser bubbles. The company says that the foam "creates a seal for the body of the beer, locking in the carbonation so the flavor stays fresh from the first sip to the last." Current amount raised: $1,180,444.
Acton Blink eBoard – Remember the hoverboards from Back To The Future II? That might not be very far away. The Acton Blink is an electric skateboard…it can go 22 miles per charge and has 4-wheel drive for hill climbing power. The Blink is actually designed for commuters…it's got bright wheels to enable you to "stand out in style". Ever go 23 MPH on a skateboard? The Acton can do it. Current amount raised: $409,031.
Travelmate Robot Suitcase – Wouldn't you love to use the Force to move your luggage through the airport instead of dragging it? The Travelmate suitcase can cruise along and follow you wherever you go. It can move at a clip of 6.75 MPH, which is probably faster than most people can walk, and it's smart enough to avoid tripping people in the airport. The best part? You can put another bag on top of it. Current amount raised: $8,361.
Silent Partner – You knew this one would top a million bucks raised. It's a smartpatch that quiets snoring by creating a "quiet zone" around the snorer: it senses the snoring sound and creates a counter sound to cancel the snore sound. There is a physics name for that phenomenon – destructive interference. The company calls it "subwavelength active noise cancellation". Current amount raised: $1,424,086.
There's a whole plethora of cool products like this…you can check them out in the "Tech" section of Indiegogo's website.
Photo credit: Forsaken Fotos on Best Running / CC BY
Photo credit: Cinetics on Best Running / CC BY
Photo credit: juhansonin on Best Running / CC BY
Photo credit: TravelBakerCounty on Best Running / CC BY-ND
Crowdfunding dollar sign photo courtesy of JerseyMan Magazine.
Fizzics Waytap photo courtesy of Fizzics Waytap.