MiamiMan
---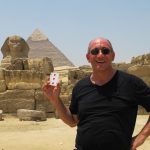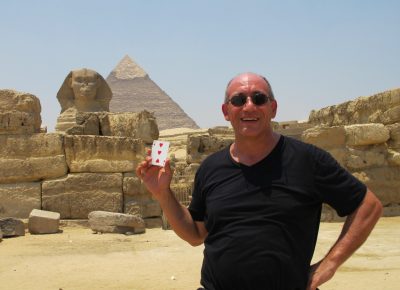 I was given the privilege of interviewing Mio Rodriguez, a magician and mentalist of very high caliber in the Miami area, for the relatively new MiamiMan Magazine. You can view the magazine on MiamiMan's website here, or have a look at the PDF of the article here.
The Magic of Mio
Magic By Mio is a close-up magic and mentalism act that is mind-boggling enough to spread the word…even among some of the biggest stars in the world.
Mio Rodriguez is surprisingly polite while he makes your head explode.
Throughout our discussion, he repeatedly called this simple scribe "sir", and thanked me for the interview in a truly sincere tone. He even threw in a brief performance free of charge.
Mio is unfailingly gracious and genuine…which, when you think about it, is an odd quality for someone whose career is about deception.
It's a key component of not just his considerable lifelong success, but also being repeatedly invited to entertain some of the most well-known humans on Planet Earth.
Just for the record though, he's really, really good at magic and mentalism too.
During the interview, he divined a digit I had mentally chosen from an eight-digit number on my phone's calculator, and followed up by intuiting what I had just searched for on Wikipedia, guiding me with skilled patter.
It's all tricks of course, but I was duly impressed…and couldn't wait to play the recording for my children.
I'm not the only one.
Mio performs astounding card magic and confounding mind-reading tricks, both at an exceptionally high level. His goal is always to bring out the wonder we had as kids.
"I'll do close-up magic, cards and coins in the cocktail hour, followed by a mentalism show after dinner. People come to me and say, 'You know, the magic with cards was amazing. We didn't see any sleight of hand, we just figured that's how you did it.
"'But the mentalism…were you really reading our minds?'
"Mentalism is the new magic for adults," Mio says. "They think they know how the card trick was done, but when it comes to mentalism, there's still that childlike wonder…'How the heck did he know what we're thinking?'
Mio's Magic and Mentalism Show is well known today…not just in Miami, but in the highly exclusive celebrity world.
The list of names Mio has dazzled includes not just Miami's own Dan Marino, Shaquille O'Neal, Wayne Huizenga, and Don Shula. You can view many more on his website…Stallone, DeNiro, Jordan, Gretzky, and countless others.
It started with Marino, though. Or more correctly Mrs. Marino.
"His wife saw me at someone's party," Mio remembers about a fateful moment, "and she has me at a birthday party for Dan at the Signature Grand.
"He liked what I did, and he said, 'I want you to come to my celebrity golf tournament.'"
At that tournament, Mio says, "I met Mario Lemieux, he said, 'Wow, I love your stuff. Can you do my celebrity golf tournament in Pittsburgh?' One of his guests was Michael Jordan."
And so on.
Mio has plenty of amusing stories about entertaining celebrities. He remembers a Christmas gathering with Pat Riley's Heat:
"Riley had seen me at a party, and he wants me to come to the Heat's Christmas party. He liked it so much he hired me for 12 parties in a row.
"For the last four years I did the party, LeBron was there. The first three years, other players would bring me over: 'LeBron, you gotta see this!' He would be like, I don't like magic, I don't wanna watch. The fourth year, finally he goes, okay, let's see what you got.
"I do my favorite effect, a signed card to a wallet. When I bring his signed card out of the sealed envelope, he was like, 'oh my God, that's too much.'
"I go, let's do one more. I have an invisible deck in my hand. I throw it to him and say, take a card out invisibly, turn it upside down, and throw it back. He throws the invisible deck, when I catch it, there's a deck in my hand. I go, 'I caught a pass from LeBron James! Sir, what card did you put in upside down?'
"At this point, Pat Riley's come over. LeBron says the king of spades. I spread open the deck and there's a card upside down. When I turn it over, it's the king of spades.
"And Pat Riley goes, 'You got the King with the King!'"
It's a fallacy that anyone is born to do anything, especially in entertainment. It discounts the deliberate intention to excel at a craft, and the persistence to convince others that your skills are worth a look.
Mio's had life experiences pointing him to a career in magic, including coming from a show business family and performing in front of Mrs. Dan Marino. But he's worked at it plenty, and he's made his own breaks.
"My father was a professional costume designer and my mother was a dancer. In fact they met doing a show together. My father's great love was magic, and although he wasn't a professional, he was a very good magician. He would sit me on his lap and teach me magic with cards. When we would go to magic shows, he would tell me how things were being done.
"I just thought everybody's dad knew, I didn't know I was getting privileged information! I knew a few great card tricks, fun at a party or whatever, but I never thought of it as a career."
But then one of those fateful nudges happened.
"A magician just happened to move in next door, who made a living at close-up magic. I'm like, 'Wow, you can make a living?'
"He showed me an effect, and it turned out to be one my dad had taught me. I grabbed the deck and showed him my version, and he showed me his other version. Because I had some knowledge, he started sharing with me like I was a magician. He said, if you learn these seven basic moves of sleight of hand, you could be a magician.
"I studied and practiced, hours and hours a day for months and months. After about a year, I decided I was gonna try to make the transition and be a magician. I moved from Dallas to Florida in 1990.
"My friend was doing magic in restaurants; restaurant jobs are the basic fundamental stepping stone, the bottom rung of the ladder. I would come in Wednesday, Friday and Saturday, and go from table to table for a small salary and tips.
"Once I got those first jobs, I built off of those, then I started calling entertainment agents. I said, listen, I work at this restaurant, come in and have dinner, watch what I do and see if you like me. If you do, you can hire me for your private and corporate parties."
A performer never knows when momentum is going to kick in. But years of hard work and making connections finally turned into "overnight success".
"I gave my cards out for the first four or five years. Then one day I got a phone call: 'I had your card for three years, we have a party.' Then the next day I got a call, and then the next thing I knew I'm getting calls three, four, five times a week. All of a sudden business just exploded."
"I've been working full-time for 32 years now. We've had a really great year here this year. People are coming back out of Covid, and it's been some record numbers."
Not bad for someone who started with a few card tricks at parties.
As much as he enjoys the travel and performance life, Mio is planted in South Florida. It is, he says, a great place for a magician to call home.
"There's a lot of corporations, conferences, and also parties, bar mitzvahs, all kinds of events. People come here and want to do something fun. Florida has a lot of people that have the ability and desire to have these parties, and they want great entertainment.
"I love Florida, the sporting activities, the fishing and the water activities. Even though it's hot in the summer, the weather is overall fantastic. You're not locked in. There's so many opportunities here. It's just a fun place to live."
It's an admirable lifestyle Mio's carved out in the Magic City. He does quite well performing at corporate events, celebrity parties, and on cruise ships. His well-honed act sends him across the country…including Las Vegas, where magicians can be easily hired without travel expenses.
His lovely assistant…his wife Rhonda…performs a much more important function for Magic By Mio, Inc. than getting sawed in half. She handles Mio's promotion, marketing, contracts, and the rest of the business end, so Mio can focus on staying on top of his game.
"It's helped bring our business up," Mio gratefully acknowledges. "She sends out all these email blasts and marketing that remind people of us, and they call us back, it just makes everything much more professional to have her.
"One job leads to another, because word of mouth is my strongest method of promotion. I don't advertise. With the website there's SEO, that's the only thing I pay for.
"Things are newer, but back in the day, it was all word of mouth. And it still is."
Those who have witnessed The Magic of Mio would agree. Just ask Pat Riley.
If You're Interested…
MiamiMan probably doesn't need to point out that if Mio is good enough to work the Heat's Christmas party for over a decade, that his skills are exceptional enough to perform at a corporate event.
But he's very easy to get a hold of, in case you're interested…there is a contact form on his website, and his direct cell phone number is prominently displayed online as well.
You should probably contact him well ahead of time, though. Mio estimates that he performs about 145 shows a year, and many of those gigs put him on flights. The list of cities where he performs include Chicago, New York, Los Angeles, San Francisco, Washington, and many others, and his list of corporate clients includes IBM, Citibank, AT&T, UPS, Walgreen's and many, many more.
You get it; Mio is in high demand…for his skills obviously, but also for his professionalism.
"For corporate, you want a really top rate entertainer who's sophisticated. There's a lot of CEOs, high level people, they're spending a lot of money, and they don't want anything hokey. They want to make sure they have a sophisticated entertainer who's on a higher level, because they're often wanting to impress other people.
"That's what they get from me, and that's one of the reasons I'm busy with so many corporate events, because once they find that out, the word also travels as well.
"I'm able to take care of their clients a professional, sophisticated, classy way, and that's what they look for."
As (Almost) Seen On TV
Mio Rodriguez just missed…twice…on capturing nationwide audiences on a level where he could add a "notoriety fee" to his performance price. He auditioned for both America's Got Talent and Penn & Teller's Fool Us shows, and just missed making it to the show both times…for reasons that had nothing to do with any lack of ability or skill.
"On America's Got Talent, they called me up and wanted me to come on the show. I was doing mentalism in the audition, and they told me, 'You don't even have to wait in line. We want you to come audition for us.'
"We rehearsed in the morning, and I had two or three mentalism effects that were ready to go, but the producer or the director at the time had never heard of mentalism, and he kept skipping me. They just didn't really understand what mentalism was. Now, of course they do, they've had mentalists get to the finals.
"What they actually ended up doing was choosing another magician who wasn't very good. He was triple-X'ed off. I guess they needed, I don't know, some humor on the show. It really upset me to the point where I didn't try to get back on it.
His exclusion from Penn & Teller's Fool Us is even more inexplicable.
"Penn & Teller, before they had their show, they were at one of those conventions in Vegas, and they saw me do some moves with the cards. They said, man, that's the best we've ever seen. We want to film you, because we're doing a documentary about the convention.
"They never did do that show, but in the meantime, I auditioned for Fool Us. They said, here's the date of filming, make sure your calendar is open.
"But in the end, they never called me back."
It's unfortunate that America hasn't had a chance to see Mio's act on television. Mio has had audience members tell him that he's as good as David Blaine. And more personable.
Women in Magic (Yes, They Exist!)
Have you ever given any thought to why you have seen so few female magicians? In fact, you may not have even given it thought…in terms of magic performance, you might simply be accustomed to women in sexy clothing, climbing into a box to get sawed in half.
There is a post on Mio's website about this phenomenon and how magic is one of the rare fields that has not yet been fully infiltrated by the fairer sex. In it, he references the iconic "We've got a witch!" scene from Monty Python & The Holy Grail. As humorous as the scene is, Mio says, "its implications are quite horrifying."
"Throughout history, up until the 18th century in fact, accusing women of practicing witchcraft and heretical sorcery was often a near-instant death sentence."
In modern times, Mio notes that "many parents and relatives make assumptions about the interests children will take up based on gender. Men are encouraged to pursue fields like sports and sciences based on gifts like athletic equipment, chemistry sets and magic sets. Women, less so."
But Mio says this is changing, and points out an inspiring success story in particular.
"I have a good friend who is a magician, and he gave his niece a magic book when she was 13. She loved it, she started learning magic, and she declared at a young age, I'm gonna have a show in Vegas when I grow up, I'm gonna be a woman magician who has a show in Vegas. Lo and behold, she just celebrated her 500th show last week.
"Her name is Jen Kramer, and she's one of the few women magicians right now that have a big show in Las Vegas. She basically created that for herself, she manifested that by saying, yes, I'm gonna be a magician, I'm gonna have my own room in Las Vegas."
"That's the kind of orientation, goal setting and tenacity that it takes for a woman, let alone a man, to do that."
You can learn more about Jen Kramer at her website.