Nationals Park
---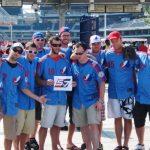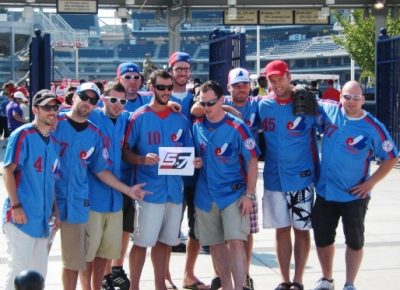 Like most baseball fans, I didn't know the full story of what happened to the Montreal Expos. When I read a bit about it, it turned out to be very different than what I thought.
In May of 2004 I took a long weekend and made a trip to Montreal, to see a game at Olympic Stadium before the Expos moved to Washington to become the Nationals.
I had a very enjoyable time in Montreal. First there was the very pleasant ride on I-87 through parts of New York state that people don't know about, and the even more enjoyable ride home on 9N. And Montreal is a neat city—there is Mount Royal and its terrific view of the skyline, the smoked beef sandwich from Schwartz's, the fine public transit system, and the incredible Notre Dame Basilica cathedral, a church so stunningly beautiful that I did not bother trying to do it justice with photos.
So being in a city that I held in fairly high regard, it was sad to see how interest in baseball was barely moving the needle. The game I attended was against the Cardinals, and it drew a crowd of about 5,000—probably 2,000 of which were Cards fans. The Expos won an exciting contest with the help of star shortstop Jose Vidro, and I remember hearing a radio show afterward with the host expressing hope against hope that the city could keep its baseball team.
The Expos' departure from Montreal is often summarily dismissed as being the result of the city being obsessed with its hockey team and just not caring about baseball. I thought this myself before taking an interest in the subject recently, and not only was I completely wrong, I'm firmly of the opinion that the second largest city in Canada deserves a baseball team.
Baseball in Montreal drew some nice crowds once—the Expos even outdrew the Yankees for a couple of seasons in the 1980s. The team was competitive in those years, almost reaching the World Series in 1981 and falling a game or two short of winning the NL East in a couple of other campaigns. The Expos finished second in 1980 and in 1993 to Phillies teams that happened to be loaded.
In 1994, however, the Expos front office had assembled the best team that Montreal had seen yet. This team featured Larry Walker, Marquis Grissom, Moises Alou and Ken Hill, and they had some pretty good arms on the mound, too: names like John Wetteland, Jeff Fassero, and a guy by the name of Pedro Martinez. By August, the Expos were leading the National League East with a 74-40 record. And we all know what happened then.
The strike of 1994, that killed the rest of the season and the World Series, instilled great anger in baseball fans everywhere, and it showed in the attendance in 1995. But it was particularly hard on Expos fans, who had possibly been rooting for the best team that had ever been fielded in their city. (Larry Walker believes unequivocally to this day that the Expos would have won the World Series.)
The Expos were drawing 34,000 a game at the time, not spectacular for a contending team, but certainly better than any attendance average figure the Rays have ever managed. And this in Stade Olympique, one of the most unappealing venues in baseball.
The strike was the first of several blows that would eventually drive the Expos out of town.
After a season that had given more hope to Expos fans than any season ever had only to deprive them of an ending, Expos' owner Claude Brochu ordered GM Kevin Malone to slash the payroll, and the Expos started their next season without Walker, Hill, Wetteland and Grissom.
Depleted and discouraged, the Expos finished last in 1995. Soon afterwards, Alou, Fassero and  Martinez would also be gone.
If you've ever been a fan of a team that has a fire sale after a winning season, you know what it does to attendance. Fans really, really hate that. For a team to lose two-thirds of its gate is not unusual. Imagine the effect on fans when the best team that the town had ever seen has been gutted. To add insult to injury, the fire sale happened in 1995…after the Blue Jays had won back-to-back titles, establishing them as Canada's premier MLB team. It is something like the Red Sox having broken their long-standing curse a year after the Cubs fell just short of breaking theirs.
The Expos never recovered. Jeffrey Loria, arguably the most unpopular baseball team owner in history (and that's saying something), purchased the team in 1999 and instantly became reviled with fans by not renewing the team's television and English-speaking radio contracts. From what I've read, the terms of the deal Loria wanted were such that their broadcast stations walked away from the table without even bothering to negotiate.
As a result, if you were an English-speaking Expos fan, your options to find out what happened in last night's game were to go to the ballpark or read about it on the Internet or the paper. This isn't something fans today are willing to tolerate, and nor should they.
Following this, Loria had the nerve to try to secure funding from the city for a new ballpark. Labatt Park had some interesting innovations…it wasn't designed by HOK, so there were some new ideas…and for a while the team looked like it could get its wish. But eventually the premier of the province of Quebec, Lucien Bouchard, decided that he couldn't in good conscience spend taxpayer money to build a new stadium in a city where hospitals were closing.
In retrospect, if Montreal baseball had been revived, the tax revenues the team brought in could have saved some hospitals, but the Expos couldn't justify that with the attendance at the time.
The death of the ballpark deal probably convinced Expos fans that baseball in Montreal was now on life support.
Animosity towards the ownership—which eventually became Major League Baseball, so that Loria could buy a team in a city that would gladly spend taxpayer money for a ballpark for him—reached the point that by 2004 they were showing up in record low numbers, and 3,000-5,000 per game was common.
After being insulted and taken for granted on so many levels, Montrealers may have been wishing the Expos and Major League Baseball good riddance by then, but one could hardly blame them.
They had endured greed destroying their most promising season, along with ownership that was willing to sell off the team's biggest stars and not allow fans to watch games on television or listen on the radio, and refuse to even try to negotiate with a city on new ballpark financing, which might have been possible had Loria been willing.
The blame for the Expos' departure belongs not on Montreal fans as a group or Montreal as a sports market. Not in the slightest. A combination of factors that would have destroyed fan support in any city conspired to victimize a market that, until August of 1994, had been building a strong baseball tradition.
The strike of 1994 angered a lot of baseball fans, but ultimately the biggest victims were the fans in Montreal. It set the wheels in motion for the sad, drawn out ending, the only upside of which has been the return of baseball to Washington, D.C.
Perhaps baseball will have an opportunity to return to the great city of Montreal; I hope so. As I hope I've illustrated here, to say the market won't support baseball isn't true.
Did this post make your day a little bit?

I hope so. If it did, I would really appreciate your support.

When you use this link to shop on Amazon, you'll help subsidize this great website…at no extra charge to you.

Thanks very much…come back soon!
(Note: this article contains affiliate links. If you use an affiliate link to make a purchase, Ballpark E-Guides earns a commission, at no extra cost to you. Thanks for your support!)