Nationals Park
---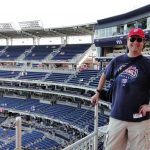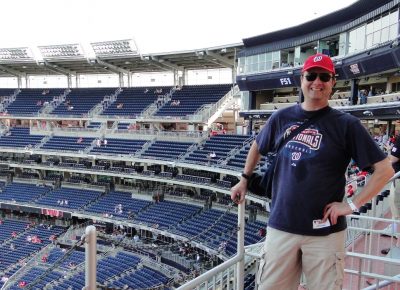 So you want to visit Nationals Park? You came to the right place my friend…this complete Nationals Park guide will tell you everything you need to know, especially about how to save money at Nationals games, from tickets to transportation to food.
I've even broken it down into parts, so you won't want to break me into parts:
Finding Cheap Nationals Tickets
Choosing A Seat At Nationals Park
The Best And Other Ways To Get To Nationals Park
Nationals Park Food
Bringing The Kids
Nationals Park Accessibility
The President's Race and Other Stuff
Stop paying ballpark prices for your Nationals gear, carry-in bags, and souvenirs!

Order your essential Nats game items before you go at Amazon.com, pay far less than you would at the game, AND get free shipping on orders over $25…
OK then, let's get you started with some killer Nationals Park tips!
Nationals Park Guide, Part 1 – Finding Cheap Nationals Tickets
Finding cheap Nationals tickets – or at least finding the best deal – is all about choosing the right avenue for buying them.
Say you're looking for a high demand game…such as Opening Day, July 4th, or when the Yankees, Phillies, or Orioles are in town on a weekend. Your best bet is usually to pay face value for tickets, either through the Nationals website or their box office.
So do this right now: subscribe to the Nationals e-mail newsletter here.
The Nats will make you aware of ticket deals, pre-sales, fan club memberships, giveaway nights, etc. It's a very easy way to score much better deals on Nationals tickets.
Here's just a few things the newsletter has informed me about: free tickets for military members; the very cool NatsPass; Value Days with discounts on everything for families; sweet deals for group tickets; you get it. It never hurts to check your newsletter.
If you're confident the game won't sell out, visit the box office on game day and save considerable cash avoiding online fees.
For low demand games – weeknight games, April games, etc. – you can often save on face price through a third party, like StubHub or SeatGeek. I'm a big fan of SeatGeek, and they're an affiliate of mine, so if you want to add them to your ticket searches, be sure to use this link. (And thanks for your support!)
One caveat though. Don't buy from third parties before tickets go on sale to the public. The only seats available will be from people that have bought from pre-sales, and prices could be ridiculously inflated. Your best bet with third parties is to generally wait until game day a few hours before the game.
As for scalpers, you can usually find quite a few of them, especially on Half Street leading to the ballpark from the Metro station. Check out this bit from my buddy Andrew Van Cleve about haggling with scalpers…he's the best at it.
And if you're considering trying Craigslist for tickets, check out my advice here about that.
Here's a great Tightwad Tip…as of this writing, the Nats still offer a limited amount of $5 tickets at the box office, on game day, for almost every game. The seating is in Sections 401-402, among the worst seats, but you should be able to move to a better upper level seat. Nationals Park also has some of the better standing room in baseball. (More about that in a minute.)
Five dollar tickets can't be beat, especially in an expensive town like D.C.!
So remember, subscribe to the newsletter, check SeatGeek, and use the box office instead of the website if you can.
Nationals Park Guide, Part 2 – Choosing A Great Seat
There's a wide variety of seating sections and prices at Nationals Park. I have provided helpful advice elsewhere on this site…check out this about the cheap seats, or this post about expensive seats, or this post about what to avoid and the great standing room.
But for here and now, I'll just break it down into budget levels.
Really expensive seats at Nats Park include the Delta Club seats behind home plate, PNC Club seats behind them, and the recliners in the Dugout Club that you need to lose a lot of money in a casino to get.
All of these include access to really fancy clubs and great food, in-seat wait service, all of which is nice. In my opinion, though, they're overpriced for any team, and if you're looking to score a seat in these sections try looking elsewhere, even though technically the Nats don't allow resales of premium seats. If you can score a deal, it's worth it, especially with parking thrown in.
The mid-range priced seats at Nationals Park include Infield Club on the mezzanine level, and most of the field level seating, especially in the infield.
Given D.C. weather in the summer, I would choose having access to a climate-controlled club to field level seats if you're comparing similar costs. It gets very hot in this place. Plus the Infield Club features great eats with shorter lines, such as brick oven Enzo's pizza, sushi, a carvery etc., all with places to sit and enjoy.
But seating on the field level does offer some fine views, and this is a place where you'll want to stay low. If you can score tickets in, say, Sections 118 or 127, you can almost reach into a premium seat holder's lap and grab a hunk of "complimentary" grub that they paid twice the price for. (Don't actually do this.)
Low budget seating includes outer mezzanine seats, upper deck (Gallery) seats, scoreboard porch seats, etc. There's a large number of cheap seats here, but most of them aren't great.
The outer mezzanine seats aren't bad for the price and offer decent shade for afternoon games, but you need to make a trek up or down to find any concessions, so just be aware of that and grab your grub before you sit.
In the upper deck, the 300 level seats cost significantly more than the 400 seats, but they're worth it. The 400 level here is sky high, and it also involves much more climbing of steps.
That said, I prefer 400 level seating to outfield seating…especially the Right Field Terrace and sections in front of the scoreboard, both of which are very far from the action. The lower level outfield seats under the right field overhang are probably the worst seats in the ballpark, except in the rain…you will have no view of the scoreboard or fly balls.
One cool thing about upper outfield seating, though, is that it's close to the upper level outfield concourse that is among the best in baseball…there's a couple of bars (with drink specials even), and eateries like the Shake Shack and a BBQ joint that shouldn't be missed. If you're a ballgame socializer, it's not a bad spot.
Finally, there's lots of quality standing room at Nationals Park, should your seat not meet your dreams. In the upper outfield level especially, there are counters to rest your elbows and your grub, mist spraying fans, even some stools if you're early enough.
If you're on a strict budget, try the aforementioned $5 ticket and stake out a spot.
Nationals Park Guide, Part 3 – Fastest, Cheapest, and Some Unusual Ways to Get to Nationals Park
Driving to Nationals Park isn't the worst as big city ballparks go, but it's expensive, and chances are you'll be sitting in traffic if you don't arrive early. Most people recommend the Metro, but we'll cover all the bases here. (Check out this post if you're coming from Baltimore.)
The Navy Yard – Ballpark station on the Green Line of the Metro (officially the WMATA, but it's the Metro to everyone here) is just steps away from the ballpark. It's also a neat approach, probably by design, with the inside of the ballpark in full view from Half Street and a plethora of cheap vendors lining the path to the entrance. It's baseball as it should be.
You'll need a "SmarTrip" card both to ride the trains and pay for parking at a station. Needless to say, have enough value on it for the trip back, rather than wait in line behind folks who can't figure out the machine. (There's always one.) Parking at Metro stations is relatively inexpensive and free on weekends.
If you're planning to drive to the game, let me start with this key suggestion: book your parking beforehand with ParkWhiz.
Book your ideal Nationals Park parking spot ahead of time…with my friends at ParkWhiz!

Click the ParkWhiz logo and find great deals on Nationals game parking!
OK, now then. The Nationals provide directions from every direction on their website, along with this nice interactive map to help you get to the game easily.
Currently the Nats run seven official lots: the Geico (formerly "B" before the B people pulled out) and C lots attached to the ballpark, which are ultra-convenient and ultra-expensive; Lots L and H a block away on Half Street which cost almost as much; and the more distant T, U, and W lots east of the ballpark. You can buy parking passes through the Nats, but you'll pay a fee for that. Check your third parties; you might find a deal.
The W lot is the cheapest, most tailgate friendly, and one of the easiest to exit back onto the highway, but it's a good hike away.
There are a few independent lots too. The former HH lot some blocks north on South Capitol is still there last I checked, and it's among the cheapest you'll find. Long walk, though…longer than the W Lot even.
The best deal for something less than a half mile away is probably off of Tingey Street east of the ballpark. Just east of Lot W are more cheap lots, but they're also a lengthy walk.
Want to try free street parking? Don't. Or at least, I highly recommend against it. The city of Washington works hard to ensure you pay out the wazoo for meters during games.
This website, by the way, is all about what you didn't think of – Here's a few cool and unusual ways to get to a Nats game:
The D.C. Circulator bus is a cheaper way to travel around the city; great if you're making a day around town. The Circulator's Blue Route stops at the Navy Yard/Ballpark Station entrance. The Blue Route (but only the Blue Route) extends service on game days.
The Ballpark Bus is a shuttle service that carries Nats fans west of D.C. to weekend games. The buses will run if there is enough demand–and there usually is–and the stations are local establishments like Tavern 64 in Reston, making it easy to enjoy a pre- or post-game meal.
The Ugly Mug is a tavern on 8th Street about a mile from the ballpark. They will run you to the game in a golf cart with a proof of purchase, and they have game day specials. Parking is not free or easy to come by, though, so this is best for folks wanting a meal and a drink before or after the game.
There is a specific location for Lyft and Uber riders, on the west curb of New Jersey Avenue between M and N Street. Ride sharing is expensive here, especially with surge pricing. If you can get someone to go in with you on the cost, though, it might work for you, and you won't have to worry about service being available after the game…like you sometimes will with Metro.
You can even take a water taxi from Alexandria or nearby docks, courtesy of the Potomac Riverboat Company. The price for two is reasonable…about what it costs to park at the game. If you print out the ticket online, parking at the Chadwicks Restaurant is free.
Should you decide to bicycle to Nationals Park, the Nationals actually have a bicycle valet in Garage C. It starts two hours before gametime and closes one hour after the last pitch. The Riverwalk along both banks of the Anacostia makes for a swell bike ride, but I have read about some incidents, so keep your wits about you. I'm told it's very cool lit up at night, if you're comfortable cycling then.
Finally, you can borrow a bicycle from Capital Bikeshare; there are several stations near the ballpark, including right across the street.
Nationals Park Guide, Part 4: Food + Drink
Since the Nationals Park food menu changes so frequently, I'm just going to cover my favorite mainstays here. You can read about nacho choices here, or some other things to try here. But here's the truly good stuff:
The Budweiser Brewhouse is the restaurant behind the red seats in left center field. It has indoor and outdoor seating, and it's best to go either just after the gates open or around the fifth inning if you want a seat.
The Brewhouse sells quality food like steak salad or jerk chicken at ballpark prices. The menu changes a lot, and there's usually something unusual. It all can be washed down with Bud-owned microbrews like Goose Island and Shock Top. Upstairs is the Bud Light Loft, with a full bar, misting fans, and a bird's eye view of the game from left center.
The Chili Half-Smoke from Ben's Chili Bowl is a spicy sausage, with Ben's special recipe chili piled on, along with cheese, chopped onions and yellow mustard. It's a truly amazeballs chili dog, just grab some napkins and maybe a spoon for the abundant chili. Ben's also has chili cheese fries, and they don't skimp on the chili or cheese.
While we're talking encased meat, Haute Dogs & Fries has some truly innovative offerings of gourmet beef dogs on New England rolls, including the Haute dog with brown onion relish, mayonnaise and celery salt, and a Banh Mi dog with jalapeno, carrots, cucumber slaw, cilantro and sriracha mayo. That's just some examples…they might be different when you visit.
I've loved me some smothered tater tots at See. You. Tater., named for Bob Carpenter's signature home run call. Get a bowl of tots covered with Buffalo chicken and blue cheese, crab meat and crab queso, or whatever else they may be offering.
Steak Of The Union stands still manage to hang around Nats Park, selling the classic Philly cheesesteaks, and they keep it simple: just beef, onions, peppers and Cheez Whiz. Or get some cheesesteak nachos. I would get a fork for the spillage either way.
For pizza, Enzo's serves up decent pizza in my opinion, at least by ballpark standards, with thin crust and ample pepperoni. It's greasy stuff though…pat it with a napkin if you care about that.
The Scoreboard Pavilion in right field is home to some cool spots:
The Shake Shack is a Citi Field staple (there's one in Philly now too) but it is equally popular here; lines get very long for the Shackburger, a fresh beef patty topped with lettuce, cheese, tomato and Shack Sauce on a potato roll. There's also milkshakes excellent enough to have a separate line, and I can vouch for the quality of the fries too.
But if you like fries, Box Frites (another Citi Field delicacy, SMH) is it…crispy boardwalk-style fries with several dipping sauces that change periodically. You might find smoky bacon or black pepper parm sauce or something like that. Try the garlic parmesan fries…you'll thank me.
The Old Hickory BBQ Grill is fairly new, but Nationals Park's BBQ has always rocked it. Old Hickory has smoked hot sausage with slaw and BBQ sauce, pulled pork and brisket sandwiches, and pulled pork nachos with house made chips.
You also have some healthy choices of course:
There's a Field of Greens stand with mushroom burgers, salads, wraps, and hummus; it's a good spot for vegan sorts. They also have a Gluten Free Grill in the center field plaza, featuring hot dogs with gluten-free rolls, burritos and pizza; Nats Park has a larger selection than most ballparks with GF stuff.
Finally, if you want something different for dessert, try Leilani's Shaved Ice or Dolci Gelati…Dolci has gelato in multiple cool flavors like "Stracciatella".
I'm really just scratching the surface here; Nationals Park has a seriously long menu. But I still want to talk about beer and drinks very briefly.
You can find some excellent brews at District Drafts from local breweries like Atlas, DC Brau, Mad Fox and others. Atlas created a special brew sold only at the ballpark called 1500 South Cap Lager, named for the address of Nationals Park.
Or try the Devil's Backbone offerings at their lodge in the upper left field corner. They've developed a brew exclusively for Nats Park called "Earned Run Ale"…a light IPA with a lemon and grapefruit taste to it.
For other mixed drinks, there's some cool offerings at Distilleries of the DMV and District Coolers spots. Or at any of the bars around the concourse and in the clubs.
Thanks for sticking with me; here's some Tightwad Tips for Nationals Park food…
$ – You can bring your own food into Nationals Park; they allow a 16*16*8 bag (no backpacks). Coming from the train station, there's a bunch of vendors with hot dogs, peanuts, bottled water etc. I always fill up a goody bag with a big bag of peanuts and a few big waters for less than $10. Well worth it.
$ – If you're ordering tickets through the Nationals website, you can add concession credit to your ticket, and they'll give you a few extra bucks' worth. Not big savings, but there's no reason not to use it.
$ – In the upper outfield concourse behind the Big Board, the bar features a Happy Hour with discounted beers ($5 as of this writing) that ends 45 minutes before game time. Well worth getting to the ballpark early, even if it's Budweiser products.
Nationals Park Guide, Part 5: Bringing The Kids
I've dedicated a separate post to bringing the kids to a Nats game, but here's a few things worth knowing.
The Family Fun Area has simulated pitching and batting cages, a nice kids' playground area with a jungle gym, a picnic area, photo booths and penny press machines. The racing presidents greet fans here and pose for photos.
Kids can run the bases after Sunday games, and if you enter the kids in the Jr. Nats MVP Club, they'll get front of the line privileges for this (and believe me, that's worth the price). Kids club membership also includes team store discounts, a lanyard, and lots of other cool stuff. Definitely look into it for your offspring.
You can get your kid tagged at Guest Services just inside the center field gate, in case he decides to migrate. If it's the kid's first game, ask for a certificate.
Recently the Nats added a nursing lounge on the first base side, a private area with comfy chairs, a play area for toddlers, and TVs for busy moms to watch the game. My wife tested it out (she was legitimate) and had nothing but nice things to say about it.
Nationals Park Guide, Part 6: Accessibility
There are handicapped seating areas all over the park, with folding chairs included. There are also plenty of elevators to get to the upper level, and you'll need them. You can also borrow a wheelchair at the Guest Services locations.
The Ballpark Metro Station is fully accessible, with a brand new elevator. Should you require the elevators elsewhere on the Metro, check WMATA's website before you go, since they do have occasional issues with them.
You can drop off people by car at most entrances, but after the game, they can only be picked up from South Capitol Street on the first-base side. There are no curbs between O and P Streets on South Capitol, but there is a walkway on South Capitol to ease crossing the street.
Nationals Park Guide, Part 7: The President's Race And Other Stuff
The President's Race in the middle of the fourth inning (and the 13th, if the game goes that long) is always entertaining, although it was a little more fun when Teddy Roosevelt never won for various reasons. Teddy's long losing streak finally ended in 2012, not coincidentally the first year the Nationals won the NL East. (Check out this excellent blog about the President's Race.)
Remember, once the visiting team is finished batting in the top of the fourth, get your camera/phone out to video the event.
Throughout the season the Nationals have theme nights, like "Pups In The Park", "Stitch N' Pitch", LGBTQ "Nats Night OUT", or Georgetown cupcake night among many others. Special nights are listed on the Nats website, and they'll be in your newsletter.
Before Sunday games, two Nationals players will sign autographs for about 20 minutes, so get a voucher at Section 103 (free) and arrive early.
There is a cool cheer for when the Nats score: a group behind home plate in the upper level chants "N-A-T-S Nats Nats Nats Woo!", and repeats it twice for two runs, three times for three runs, etc. The words are now displayed behind Section 313, but it's grown to other parts of the ballpark and it's unique to D.C.
Finally, I can't think of a ballpark I've been to with nicer staff than at Nationals Park, and I expect it's part of their training. Everyone is extremely courteous and friendly and willing to help with any sort of need; and they're plentiful to boot. Kudos to the Nats for this.
Visiting Washington, DC for a Nationals game? Get 4-star hotels at 2-star prices from my friends at Hotwire!

Click here to book your DC stay today!
There you are my friend…your complete, detailed Nationals Park guide, for fans who do live baseball right. I hope this helps you save some money and enjoy a much better experience; thanks for reading and supporting my sponsors!
(Note: this article contains affiliate links. If you use an affiliate link to make a purchase, this website earns a commission, at no extra cost to you. Thanks for your support!)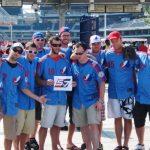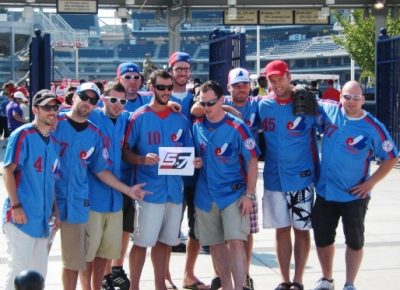 Like most baseball fans, I didn't know the full story of what happened to the Montreal Expos. When I read a bit about it, it turned out to be very different than what I thought.
In May of 2004 I took a long weekend and made a trip to Montreal, to see a game at Olympic Stadium before the Expos moved to Washington to become the Nationals.
I had a very enjoyable time in Montreal. First there was the very pleasant ride on I-87 through parts of New York state that people don't know about, and the even more enjoyable ride home on 9N. And Montreal is a neat city—there is Mount Royal and its terrific view of the skyline, the smoked beef sandwich from Schwartz's, the fine public transit system, and the incredible Notre Dame Basilica cathedral, a church so stunningly beautiful that I did not bother trying to do it justice with photos.
So being in a city that I held in fairly high regard, it was sad to see how interest in baseball was barely moving the needle. The game I attended was against the Cardinals, and it drew a crowd of about 5,000—probably 2,000 of which were Cards fans. The Expos won an exciting contest with the help of star shortstop Jose Vidro, and I remember hearing a radio show afterward with the host expressing hope against hope that the city could keep its baseball team.
The Expos' departure from Montreal is often summarily dismissed as being the result of the city being obsessed with its hockey team and just not caring about baseball. I thought this myself before taking an interest in the subject recently, and not only was I completely wrong, I'm firmly of the opinion that the second largest city in Canada deserves a baseball team.
Baseball in Montreal drew some nice crowds once—the Expos even outdrew the Yankees for a couple of seasons in the 1980s. The team was competitive in those years, almost reaching the World Series in 1981 and falling a game or two short of winning the NL East in a couple of other campaigns. The Expos finished second in 1980 and in 1993 to Phillies teams that happened to be loaded.
In 1994, however, the Expos front office had assembled the best team that Montreal had seen yet. This team featured Larry Walker, Marquis Grissom, Moises Alou and Ken Hill, and they had some pretty good arms on the mound, too: names like John Wetteland, Jeff Fassero, and a guy by the name of Pedro Martinez. By August, the Expos were leading the National League East with a 74-40 record. And we all know what happened then.
The strike of 1994, that killed the rest of the season and the World Series, instilled great anger in baseball fans everywhere, and it showed in the attendance in 1995. But it was particularly hard on Expos fans, who had possibly been rooting for the best team that had ever been fielded in their city. (Larry Walker believes unequivocally to this day that the Expos would have won the World Series.)
The Expos were drawing 34,000 a game at the time, not spectacular for a contending team, but certainly better than any attendance average figure the Rays have ever managed. And this in Stade Olympique, one of the most unappealing venues in baseball.
The strike was the first of several blows that would eventually drive the Expos out of town.
After a season that had given more hope to Expos fans than any season ever had only to deprive them of an ending, Expos' owner Claude Brochu ordered GM Kevin Malone to slash the payroll, and the Expos started their next season without Walker, Hill, Wetteland and Grissom.
Depleted and discouraged, the Expos finished last in 1995. Soon afterwards, Alou, Fassero and  Martinez would also be gone.
If you've ever been a fan of a team that has a fire sale after a winning season, you know what it does to attendance. Fans really, really hate that. For a team to lose two-thirds of its gate is not unusual. Imagine the effect on fans when the best team that the town had ever seen has been gutted. To add insult to injury, the fire sale happened in 1995…after the Blue Jays had won back-to-back titles, establishing them as Canada's premier MLB team. It is something like the Red Sox having broken their long-standing curse a year after the Cubs fell just short of breaking theirs.
The Expos never recovered. Jeffrey Loria, arguably the most unpopular baseball team owner in history (and that's saying something), purchased the team in 1999 and instantly became reviled with fans by not renewing the team's television and English-speaking radio contracts. From what I've read, the terms of the deal Loria wanted were such that their broadcast stations walked away from the table without even bothering to negotiate.
As a result, if you were an English-speaking Expos fan, your options to find out what happened in last night's game were to go to the ballpark or read about it on the Internet or the paper. This isn't something fans today are willing to tolerate, and nor should they.
Following this, Loria had the nerve to try to secure funding from the city for a new ballpark. Labatt Park had some interesting innovations…it wasn't designed by HOK, so there were some new ideas…and for a while the team looked like it could get its wish. But eventually the premier of the province of Quebec, Lucien Bouchard, decided that he couldn't in good conscience spend taxpayer money to build a new stadium in a city where hospitals were closing.
In retrospect, if Montreal baseball had been revived, the tax revenues the team brought in could have saved some hospitals, but the Expos couldn't justify that with the attendance at the time.
The death of the ballpark deal probably convinced Expos fans that baseball in Montreal was now on life support.
Animosity towards the ownership—which eventually became Major League Baseball, so that Loria could buy a team in a city that would gladly spend taxpayer money for a ballpark for him—reached the point that by 2004 they were showing up in record low numbers, and 3,000-5,000 per game was common.
After being insulted and taken for granted on so many levels, Montrealers may have been wishing the Expos and Major League Baseball good riddance by then, but one could hardly blame them.
They had endured greed destroying their most promising season, along with ownership that was willing to sell off the team's biggest stars and not allow fans to watch games on television or listen on the radio, and refuse to even try to negotiate with a city on new ballpark financing, which might have been possible had Loria been willing.
The blame for the Expos' departure belongs not on Montreal fans as a group or Montreal as a sports market. Not in the slightest. A combination of factors that would have destroyed fan support in any city conspired to victimize a market that, until August of 1994, had been building a strong baseball tradition.
The strike of 1994 angered a lot of baseball fans, but ultimately the biggest victims were the fans in Montreal. It set the wheels in motion for the sad, drawn out ending, the only upside of which has been the return of baseball to Washington, D.C.
Perhaps baseball will have an opportunity to return to the great city of Montreal; I hope so. As I hope I've illustrated here, to say the market won't support baseball isn't true.
Did this post make your day a little bit?

I hope so. If it did, I would really appreciate your support.

When you use this link to shop on Amazon, you'll help subsidize this great website…at no extra charge to you.

Thanks very much…come back soon!
(Note: this article contains affiliate links. If you use an affiliate link to make a purchase, Ballpark E-Guides earns a commission, at no extra cost to you. Thanks for your support!)