Derek Jeter's 3,000th Hit – An Unlikely Witness, Part 3
In Part 2 of this mini-series, yours truly shared how I managed to somehow secure a $30 ticket for the July 9 game at new Yankee Stadium, just hours before gametime, on a day with higher demand than many playoff games. As miraculous as it was, it turned out things weren't so rosy after all.
After landing a ticket with what could only be described as ridiculous luck, Gary and I took a walk over to the nearby McDonald's to meet up with both Michael Casiano (the King of Royalty Tours) and Gary's cousin Andy, who was celebrating his birthday with a Yankees game.
We blended in with the pre-game crowd, buying water bottles and picking up sandwiches at the takeout restaurants. With the ticket quest apparently over, I could finally relax, and soak in the scene of hundreds of fans clad in Yankees gear and of outside vendors selling snacks and drinks.
Ballpark E-Guides Tightwad Tip #5: Before Yankees games, there is (or used to be, anyway) a gentleman who sells very large and ice cold bottles of water on 161st Street east of the Stadium, for $1 each. You can't miss him; listen for the "one-dollar ice cold water, one dollar water", punctuated with a periodic "Why you pay five dollar inside!" It's baseball at its best.
And yes, you can bring them into the Stadium (so long as they are sealed), and save mucho cash.
About an hour before the game, we head towards the ballpark, with Gary promising to take me through the Royalty entrance and avoid the mob scene at the gates. Having written the book on how to get around the Stadium, I knew about this, but in fact I'd forgotten about it.
We reach the double secret entrance, and sure enough there is no line at all. The Ticket Scanner Guy scans Gary's and Andy's tickets and sends them through. Then he scans mine.
Beep-beep-beep! Invalid barcode.
He tries again. Beep-beep-beep! Nope.
Scanner Guy looks at the ticket, and then shows me that it's for the September 22 game, the makeup game for the Friday game that was rained out. Someone behind me shouts, "Oh boy, one of those guys!"
Scanner Guy tells me to take it back to the box office. Gary, witnessing this from the good side of the gate, has a look of distressed shock on his face. I tell him not to worry, even though I expect I'm probably really screwed now.
Heading back to the box office, I'm asking for Divine Help now, because my company's reputation could be on the line here. "God, I know there are bigger problems in the world, so it's okay if I don't make it inside. But any help from up there would really be appreciated!"
I arrive at the ticket agent's window and explain. I deliberately am as nice as can be, knowing that this was just a mistake.
The ticket agent already knows, apologizes and gives me a refund. I somehow work up the nerve to ask if there is anything now. The ticket agent punches it up, and amazingly, finds another standing room ticket, this time on the lower level, for $60. I hand over my credit card.
And then, in a moment of chutzpah that I am not often known for, I change my mind, ask for my credit card back, and request that the agent keep checking for something under my rigid $40 price. The agent promises to keep trying and asks me to wait against the wall.
Twenty minutes pass. On the television in the office, the starting lineups are announced. I can hear the crowd at the announcement of Jeter's name. The national anthem is played.
I stand and wait, along with several others, wondering if they are in my boat and I'll end up in a bidding war that I would surely lose. Other agents–who had previously been shouting that $375 tickets were all they had–begin to pull down the shades on their windows. The game is now absolutely, unquestionably, really, really Sold Out.
My agent gets up and walks away. I am actually worried now that this doesn't cause the agent heart trouble, because I understand it was just a mistake and I knew going in that this was a very long shot.
Five more minutes pass. The agent returns and motions for me to come to the window.
"OK. I've got a standing room, field level on the third base side. Looks like someone just turned this in on StubHub." I prepare for the price and wonder what I am going to do.
And the agent says: "No charge."
I can't believe it. "Really?" I nearly shriek. "Yeah", the agent says. "I screwed up, and you've been really patient about it, so no charge." I thank the agent profusely, and stick my hand as far as I can underneath the tray so he can give me five on my fingers, which gets a smile.
Ballpark E-Guides doesn't deal in intangibles. An E-Guide isn't going to tell you how to suck up to your boss or befriend someone you ordinarily wouldn't because he has season tickets. But this is something I should share. If a ticket operator or agent makes a mistake, by all means try to stay cool and be as understanding as you can.
Many New Yorkers might have loudly fumed obscenities at this agent, not because they are bad people but because they live in an expensive city filled with scam artists, and they often have to be on guard about being ripped off.
If you can manage to hold it together and not get upset, a person used to the opposite reaction may just go the extra mile for you. Or the extra ten miles.
I have done it again. Every single stupid, arrogant, unreasonable gamble has paid off. I head over to the nearest gate now, hearing that the game has begun. I scan the ticket at the turnstile.
Beep-beep-beep! Invalid barcode. I try again. Beep-beep-beep!
The usher tells me to try at the next gate over, but given recent experience I know this won't work. The ticket's been used or something and the barcode has been voided. If there was any doubt before, there can't be any left that I'm done now.
I head back to the agent's window and explain what happened. The agent laughs in disbelief, takes the ticket and walks away.
Five more minutes pass. The agent returns and says "The ticket is still valid, it should be good, all I can tell you is try again."
I walk over to the same gate again, and try to scan the ticket.
Beep-beep-beep! Denied.
Again, the usher tells me to try the next gate over. At this point, I have nothing to lose, and I move over one turnstile. Another usher looks at my ticket and says "this is standing room". He scans the ticket with his handheld scanner. Beep!
"Go ahead."
I float into Yankee Stadium, and make it to a standing room spot just in time to see Derek Jeter crack a base hit into left field for hit number 2,999, and share in the moment with delirious Yankees fans.
I found Gary later and shared the whole story. He was, as he said in his blog post about the day, impressed.
After all of this, it turns out I would be handed one more piece of good luck: it turns out Derek Jeter hits Tampa Bay pitching pretty well. He not only clouted a mammoth shot for his 3,000th hit on the first pitch of the next at-bat, he went 5-for-5…scoring number 3,001, 3,002, and 3,003—which turned out to be the game winner. I thought he might hit 4,000 that day.
Well done, Captain.
I went to New York City on July 9 with a modest goal: to demonstrate the money-saving benefits of a Yankee Stadium E-Guide to potential customers and hopefully gather some pictures and helpful tips. I came back to South Jersey someone overwhelmed by an astonishing lesson in faith, patience, and perseverance. Everything imaginable seemed to go wrong—and somehow turned out right.
If you had told me the night before, the hour before, or even the minute before I walked through the gate that I would not only make it inside Yankee Stadium on that day of all days, but that I would do so for free, I would have pronounced you certifiable. I still would. I still can't believe it.
In the ninth inning, Mariano Rivera comes running in to Metallica's "Enter Sandman"—another Hall of Famer, another great tradition—and shuts out the lights on the Tampa Bay Rays. Yankees win.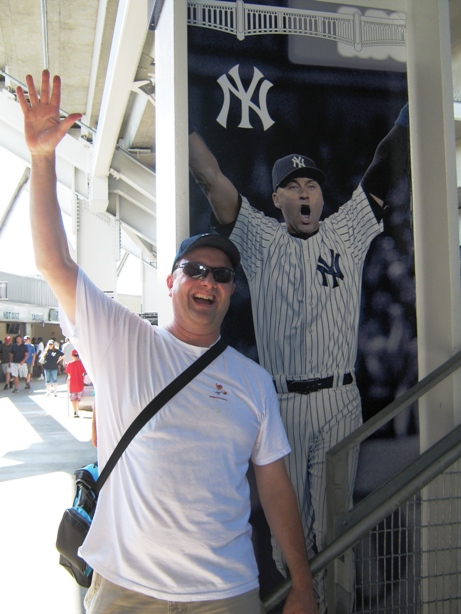 And Ol' Blue Eyes' voice booms through the PA singing "New York, New York". As Sinatra sings, I suddenly realize that, for one day at least in New York City, I have Made It There.
Damn, I love baseball.