Tag Archives:
fenway park food menu
---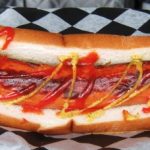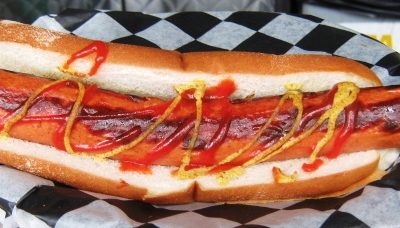 Here it is, Red Sox fans and Fenway visitors: your complete guide to the Fenway Park food menu!
The culinary highlights at Fenway Park aren't as fancy schmancy as at most ballparks, but it's greatly improved from years past. Honestly though, their food guide doesn't offer up much info about it.
Someone needed to step up and address this, and I'm just the guy for the job.
I've talked about Fenway Park food elsewhere, including about lobster stuff, the Fenway Frank, and the outside sausages, but this is your complete, all-inclusive, full Monty, whole shebang… (GET ON WITH IT!).
Here's your table of contents in case you want to skip anything. (But don't, there's great photos!)
The Fenway Park Food Main Street
A Big Concourse With A Big Food Court
A Night Out At The Sam Deck
Behold The Fenway Frank + Monster Dogs
In Massachusetts, We Eat Lobstah.
Burgers + Other Sandwiches
Do Red Sox Fans Eat Pizza?
Healthy, Kosher, and Gluten-Free Fenway Eats
Fenway Park Desserts
Bring Your Own Grub
Lansdowne Sausages – A Baseball Tradition
Some Fenway Park Food Tightwad Tips
The Fenway Park Food Main Street
Jersey Street, formerly Yawkey Way, is a street that runs east of Fenway; the Red Sox close it off on game days so that fans can enjoy an experience similar to Eutaw Street in Baltimore.
It's definitely where you want to enter the ballpark to try the better Fenway Park grub, such as…
El Tiante serves up Cuban sandwiches (ham, pork, pickles, cheese and mustard) and the possible excitement of meeting Luis Tiant, the star pitcher from the 1970s Sox teams. Tiant is sometimes there to sign autographs, but I've not yet seen him, so I wouldn't buy a Red Sox ticket just for that.
If you don't want to wait in line here, you can get a Cuban in the Big Concourse. El Tiante also carries Italian and spicy sausages. I've seen Al Fresco sweet apple chicken sausages and jerk chicken sandwiches on the menu too.
The Fish Shack is the spot for fried seafood appetizers, like clams calamari (with jalapenos), fish and chips with a side of tartar sauce that Homer Simpson would approve of, and a fish sandwich (flounder I believe). They have surf and turf kabobs here, clam chowdah, and an impressive and expensive lobster roll that you can order hot or cold. (More about the Lobster Roll in a bit.)
Yankee Lobster (!) is the purveyor of the seafood items; I'm not sure who thought it was a good idea to have anything "Yankee" at Fenway Park. But anyway, with their addition comes rotating items on the menu, so you could see things like lobster mac and cheese here as well. If you want seafood at a Red Sox game, check out the Fish Shack first.
Taste of Boston is a pretty cool idea. Each month of the season, two local favorites from Boston set up shop here. Taste of Boston has featured Mei Mei (bacon fried rice and cheesy nachos), Roxy's Grilled Cheese (Green Muenster Melts) and Jake's Boss BBQ (ribs and pulled pork sandwiches).
If you're visiting Boston for a game at Fenway and want to try something popular and local, definitely check out Taste of Boston. Sometimes they will feature something related to the visiting team; in one of my recent visits the Blue Jays were in town, and the Blue Frog Bakery was there with Canadian bacon sandwiches.
Maria's Greek Kitchen You may have heard of Maria Menounos; she's the incredibly beautiful actress/professional wrestler/Sirius radio star. Her Greek Kitchen at Fenway is a place not just for gyros and chicken and beef kebabs in a cup, but also healthier stuff like hummus plates with veggies and Greek lettuce wraps. All with Menounos' mother's recipes, which I presume is a good thing.
Menounos wanted the emphasis of her offerings to be healthy foods; all of the offerings here are made with organic ingredients and free range meats. Not a bad idea in a place where one might have to squeeze into a 15-inch wide seat.
The Big Concourse – The Fenway Park Food Court
The Big Concourse is a picnic area in right field large enough to feature picnic tables, with umbrellas even.
There aren't many unique names for stands in the Big Concourse (unless you consider "Chicken Tenders & Fries" to be unique, which I guess it is). For the most part the stands in the Big Concourse are self-explanatory; Burgers & Fries and Sausages stands sell what they say they sell. Most all stands here sell Fenway Franks and Monster Dogs.
That aside, if you're looking for the more unusual Fenway Park food items, like the lobster poutine, the Big Concourse is where to find them.
Two of the newer sandwiches are sold at a stand tucked underneath the roof–a Portobello mushroom sandwich with crispy fried onions, and a breakfast burger with a fried egg and mozzarella cheese. There is also a carving station with made-to-order sandwiches, like a "Turkey Gobbler": sliced turkey with cranberry sauce, stuffing and gravy.
The aptly named Nachos stands make very impressive plates of nachos…they pile on chicken, beef, cheese, salsa and sour cream. Best to get a fork and napkins for this one. You can also get a taco salad or a burrito on the Big Concourse.
There are Corn & Co. stands here with varying flavors of gourmet popcorn. You can get souvenir refillable popcorn, but unless you really, really love popcorn or are sharing with hungry kids, I doubt you'll be refilling that large thing more than once.
Oh, and Cheetos popcorn is now at Fenway Park. True.
The Big Concourse even has vending machines with sandwiches and snacks so people don't have to wait in line. No microwaves, so I'm presuming the machines are keeping stuff warm somehow.
A Night Out At The Sam Deck
The Sam Deck is the revamped tavern in the Right Field Roof Deck and was formerly the Budweiser Brew House, before the Red Sox improved their tastes and made Samuel Adams the beer of choice.
This was once just a bar with better drink selection, but the Red Sox have turned it into a restaurant with a nice view and a high end menu.
Food choices include lobster rolls, nachos with rib chili and homemade salsa, chorizo croquettes, battered cod fish tacos, and truffle parmesan fries; in other words, fancy stuff that you won't find anywhere else in the park. There's also craft brews, since that's a big thing in baseball now.
I'll talk more about the Fenway eateries like the Sam Deck, Game On!, and the Bleacher Bar in a future post, but for now you know that if you're sitting in the upper right field seats, you can visit the Sam Deck for good eats.
Behold The Fenway Frank + Monster Dogs
Honestly, the Fenway Frank deserves its own post. Here's my ode to it.
But just for basics…the Fenway Frank is still the go-to food item at Fenway. It's made by Kayem Foods, who spiced up the Fenway Frank with more garlic and smoke when they took it over in 2009.
The inimitable Fenway Frank is served in a white bread bun for that mushy texture, which is unusual for a ballpark dog but shouldn't be. If you're too hungry for just one, there are Monster Dogs sold in several places, including on Jersey Street. They are indeed Monster-sized at ten inches long.
You can get Fenway Franks in local supermarkets, of course.
In Massachusetts, We Eat Lobstah.
Fenway Park lobster-based sandwiches and fries also deserve their own post with tasty photos, but here's a quick summary of killer Fenway lobster stuffs…
The Lobster Roll – this is a fan favorite at Fenway, and with good reason. A hunk of New England lobster on that same toasted white bread roll used to house the Fenway Frank.
Lobster Poutine Stak – Steak fries with lobster bisque instead of gravy, cheese curds, lobster meat and chives. For The Win ranked this one #8 in the craziest ballpark snacks of 2017. (You can get fries with clam chowder too.)
Lobster Melt – A grilled cheese with steamed Yankee (SMH) lobster, muenster cheese and tomato. Epic even at ballpark prices. (See an Aramark-approved photo of it here!)
The Lobster BLT (or LBLT if you will) – A well-constructed BLT on a toasted roll with fresh lobster meat added. And yes, there's sufficient "B" in this sandwich.
Fenway Burgers, BBQ, + Deli Sandwiches
Tasty Burger is a chain of burger joints in the area, and they are the Official Burger of the Red Sox. To celebrate they've added several stands in the ballpark.
Tasty Burger has cheeseburgers and jalapeno burgers, and a rotating fan favorite from their burger menu (a Brockington Burger in my last visit). Tasty Burger also has tater tots with cheese and/or chili, and milkshakes in chocolate, vanilla, or "Green Monstah Mint".
There is a Tasty Burger on the corner of Jersey and Boylston just a block from the ballpark. The burgers there are cheaper and you have a much bigger selection. Just throwing that one out there.
On occasion Taste of Boston will feature a local BBQ joint, but there's a Fenway Smokehouse in the Big Concourse with your standard ballpark pulled pork and BBQ beef sandwiches. You can get some unusual drinks there to go with them, like raspberry lime rickeys. The Smokehouse has a BBQ sandwich with bacon that looks pretty darn appetizing, and that's just the floor model.
Oh, and check out the King's Hawaiian pulled pork sandwich.
Savenor's is the provider of beef for sandwiches that aren't made at Tasty Burger (which includes the "B" in the LBLT), like steak tips sandwiches…something like a Philly cheesesteak, but with thicker slabs of meat. Or try an Italian beef sandwich if you can find one (look around Jersey Street or the Big Concourse).
Savenor's is known for "using the whole animal for prime cuts", and was voted Best of Boston by Boston Magazine. So they're safe.
Finally, for deli sandwiches, check out the Fenway Farms Deli on the third base side and in the Big Concourse…build yourself a hand carved sandwich with Boar's Head meats. Choose from hot pastrami, beef or turkey. Wraps and salads can be had here too as you can see.
There's quite an impressive selection of condiments here: honey mustard, horseradish, savory remoulade, and deli mustard to name a few. The Fenway Farm items are actually grown on the roof of Fenway (they don't, however, pass on the shipping savings to fans), and many of the ingredients in the sandwiches come from the farm, which is as fresh as it gets.
The name of this joint changes from time to time, so it might have a different moniker when you go, but the location has been the same.
Do Red Sox Fans Eat Pizza?
Believe it or not, yes. Pizza stands are just about everywhere in Fenway, serving Regina's, the Official Pizza of the Boston Red Sox, or New England for that matter. They call themselves "Boston's Best Pizza since 1926" (hopefully this pictured one hasn't been sitting that long); there's now a location at 1330 Boylston Street if you'd like to try it before or after the game.
Regina's is more than adequate by ballpark pizza standards. It costs the same whether you have pepperoni on it or eat it plain, so take advantage of this rare loophole and put pepperoni on it. Only the specialty pizza with several other toppings costs slightly more.
You can get a whole pie for a reasonable price (for a ballpark, anyway), but since it takes a while, you can order that first, get your Sam Adams and come back for it.
Healthy, Kosher, and Gluten-Free Fenway Eats
The Red Sox did a nice thing for celiacs and put a Gluten Free stand near the Gate D entrance. They have a Fenway Frank on a gluten-free roll, brownies and cookies, and the healthy stuff that's never in danger of being contaminated: fruit cups, nuts, sushi, hummus, etc. My wife is allergic, so now I have something to sell to her for another trip.
The pizza stands also feature a "gluten-friendly" pizza, which I'm not sure is completely safe for allergic folks given that wording. You can ask, I forgot to.
At the salad bar in the Big Concourse, you can customize your own healthy salad, with items from the Fenway garden. The salad bar is another spot for deli sandwiches, with Buffalo chicken, turkey or roast beef.
There are stands in the Big Concourse and the Third Base Deck dedicated to vegetarian and healthy choices, like wraps, Panini sandwiches, veggie dogs and burgers, hummus and Caesar or fruit salads. The veggie burgers and dogs don't look all that appetizing under heat lamps, but I'm guessing they'll give you a fresh one.
Fenway doesn't have a large Kosher selection…there's a kosher hot dog vending machine in the Big Concourse, and as of this writing I believe it's the only way to get a kosher dog here. Feel free to correct me on that…
Fenway Park Food – For Sweet Teeth
As of this writing, the Fenway Park dessert menu includes a "banana splitter", with vanilla, chocolate, and strawberry ice cream between banana ends with hot fudge and sprinkles. The Red Sox have also added Jane Dough's edible cookie dough, with soft serve ice cream and other toppings.
You can also get: Crackerjacks, cotton candy, fried dough, Hood ice cream, kettle corn, milk shakes and slushies. Try not to have them all at once. Most of them are available on all of the concourses; the ones that aren't are usually in the Big Concourse.
They're easy to find; for ice cream for example, look for a stand called "Ice Cream". If you like Dippin' Dots, there are "Ittibitz" available, which are the same thing.
There was a "build your own sundae" stand in the center field corner of the Big Concourse last I checked–soft ice cream in a souvenir helmet with your choice of Oreos, bananas, cherries, sprinkles, etc. Oreos complete ice cream, IMHO, so it's worth a look.
Bring Your Own Food Into Fenway – Yes, You Can!
If you look at the prohibited items list at Fenway here, you'll see there's no restrictions against bringing in a soft-sided bag smaller than 16*16*8, so long as you don't have alcohol or potential projectiles in it. I've done this in almost every trip I've made to Fenway and have never had a problem.
This gives you every option to bring in just about any kind of cuisine, even the numerous sausage vendors surrounding the ballpark (more about them in a second). There is every type of takeout joint you can think of a short walk away, from Chipotle to the aforementioned Tasty Burger to the new Wahlburgers, if you want to grab a couple of less expensive sandwiches or burritos or whatever to take in.
If you're parking near the Pru Center, there's plenty of options in their Food Court, and there's now a Timeout Market near the Fenway T station with tons of selections. Both of these are a bit of a walk to the ballpark though, so plan ahead on keeping the stuff warm.
Should you have forgotten to buy your peanuts from a less expensive vendor (or the nearby Shaw's market), you have two choices: buy them from the roasted peanuts kiosk on Jersey Street, or order them from a peanut vendor in the stands and have them fired at you with uncanny accuracy, which is sometimes worth the price.
Remember to be wary of just how big a bag you bring. Make sure it can easily fit under your seat, especially if you're sitting in the Grandstand. I speak from experience.
Stop paying ballpark prices for your Red Sox gear and souvenirs!

Order your essential Sox items before you go at Amazon.com, pay far less than you would at the game, AND get free shipping on orders over $25…order your Red Sox swag today!
Lansdowne Street Sausages – A Boston Baseball Tradition
Few things are more quintessential Fenway Park food than the purveyors of outside sausages…you see and smell them as soon as you arrive from the Kenmore station.
The Sausage Guy and The Sausage Connection are two of my favorites and I gave them a separate post…but here's a bit about some of the others:
Sausage King is probably the first visible stand on Lansdowne coming from the T; it has a red sign with a pig's face on top. Sausage King has dogs, sausages, chicken teriyaki and steak tips; they serve them with an optional wicked red hot sauce that is close to Louisiana style.
The Original Che-Chi's has the same sausages, dogs and chicken and steak as the rest; they're further down Lansdowne a bit, and they're another stand with a red sign. Che-Chi's has a secret hot sauce, which is more of a smoky BBQ style sauce. They can be a mite cheaper than the rest, if you're thrifty.
The Best Sausage Co. has a stand on the corner of Jersey and Lansdowne. The stand sells sausages and other sandwiches—they're the only ones I saw with a Cajun chicken sandwich. Look for the blue stand…the vendors here seem to be having a better time than most hawkers; maybe it's a requirement being on Jersey Street.
Fenway's Best & Original I've read that this is "Artie's" famous stand, but you won't find Artie's name anywhere. This one is near Gate D on the other end of Jersey Street, so it's a bit further from the T station. They offer up "Bianco's World Famous BBQ" (not famous enough for me to have heard of it, but just saying) and it gets nice reviews from Yelpers.
There's a lot more sausage stands than I've covered here, and you can find cheaper ones if you look hard enough, but these are the prominent vendors on Lansdowne Street.
Some Fenway Park Food Tightwad Tips
I love that you've stuck with me this long about the culinary specialties in America's oldest ballpark, so here's a few helpful tips to save money on food at Fenway (in addition to bringing in your own peanuts and other grub, which hopefully I've covered sufficiently):
$ – You can sign up to be a designated driver at a booth in the lower concourse, and get a coupon for a free soda. They'll put a strap on you though, so no fooling.
$ – The Red Sox have kids meals, where the little fan can get a grilled cheese or PB&J, a snack like animal crackers and a Capri Sun. All for just a fin as of this writing. Tasty Burger has their own kids meal as well.
$ – Baseball loves MasterCard…using it to buy things can sometimes get sometimes score you a small bonus, like a free souvenir bucket for your popcorn.
$ – If you buy a souvenir soda cup, you get free refills for the rest of the game. It's a lotta lotta sugar, but at least you're getting your money's worth.
There you have it fans, a long overdue, completely complete guide to the Fenway Park food menu. If you enjoyed it, please support my sponsors!
(Note: this article contains affiliate links. If you use an affiliate link to make a purchase, this website earns a commission, at no extra cost to you. Thanks for your support!)