Camden Yards
---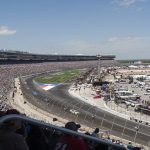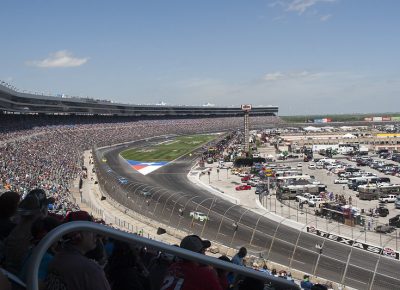 One of NASCAR's bigger problems in recent years is the preponderance of 1.5-mile speedways that produced boring, aero-oriented racing. In this article, which originally appeared on Frontstretch's website but is still relevant today, I explain how baseball's ballpark boom greatly improved the sport and why.
To save you the trouble of reading my profile, I was a terminal Baltimore Orioles fan before I was a NASCAR fan. My dedication to the Birds came not from living in the Baltimore area my whole life but from growing up in a family of Orioles fans. The Smiths lived in Towson, Maryland, just minutes away from the old Memorial Stadium, when I was far too young to understand the importance of relief pitching. When I was four we moved to South Jersey, bringing our love for that tough-looking but smiling bird swinging the bat with us.
Growing up as an Orioles fan in the Philadelphia area gave me a different perspective than most regarding the venues where baseball is played. I was able to compare. Dad took me to Phillies games at Veterans Stadium, which was still great—it was live baseball after all, and I'm an American—but that didn't measure up to when he'd gather a group of us for a trip to Baltimore. Going to Memorial Stadium for an occasional Orioles game is my favorite memory of childhood.
Memorial was a far better setting for baseball than the Vet. In Baltimore they played on grass and you could see a suburban community beyond center field. It was prettier on the outside too—a large brick facade embossed with a dedication to fallen World War II soldiers, as opposed to the dreary concrete bowl with no similar dedication in Philadelphia (although Veterans Stadium was named in honor of our military heroes as well).
One of the things that purists (a nice, non-derogatory term for "old farts" like me) despised in the evolution of baseball during the 1970s was the emergence of the "multipurpose" stadium—soulless gray monstrosities built near a city's airport and designed to hold both baseball and football events, and most egregiously featuring playing surfaces of plastic carpet instead of natural grass.
Among the worst features of the concrete doughnuts was their uniformity—Pirates third baseman Richie Hebner once commented that he could stand at the plate in Philadelphia and not know whether he was in Cincinnati, Pittsburgh, St. Louis or Philly. I could add that if he didn't notice big roofs, he could have been in Houston or Montreal too.
In those days baseball was in the process of modernizing in an economically friendly way—much like NASCAR is today—and the sport had forgotten that a big part of the charm of baseball was in its homes, places like Sportsman's Park or Connie Mack Stadium…distinctive, asymmetrical, natural grass downtown ballparks that often both contributed to and reflected the character of a city.
Fortunately, people with unflagging determination, loud voices and passion about this very issue got involved in the designing of Oriole Park at Camden Yards.
When the majestic new Baltimore ballpark opened in 1992, it made such a huge splash that for years, teams and cities talked about wanting a new "Camden Yards-type facility" for professional baseball. Oriole Park completely obliterated the ongoing wisdom about what a modern baseball field should be. When fans attended a baseball game at the Yard, they remembered—or if they were too young to remember, they discovered—what was good and right about being present for a ballgame. As an Orioles fan, it even made it difficult for me to lament the loss of Memorial Stadium, although I still do.
After the dawn of Camden Yards, new and dazzling palaces of baseball began to spring up in cities across America—Cleveland, Arlington, Denver, Atlanta, Milwaukee, and so on until 2009 as two gorgeous new parks open in New York City. Nearly every ballpark in baseball now offers a charming experience unique to its location. Not only has the ballpark boom revitalized the sport, it has often boosted tourism and local economies in many of the cities where new ones were constructed. Baltimore and Cleveland are the best examples.
What made it all happen was what Camden Yards represented—it was an "old style" ballpark with "modern amenities", like not having seats behind support pillars. Visually, Camden Yards brings to mind classic parks like Fenway Park or Wrigley Field. And it adds a few aesthetically striking features of its own, most notably the dominating B&O warehouse beyond right-center field. But Camden Yards also has better sightlines, more leg room, more concession stands and more rest rooms than Wrigley or Fenway.
Another feature of Camden Yards that would surprise fans was the amount of seats—just 48,000 as opposed to over 60,000 in the cookie-cutters, leaving very few poor seats in the house. No one expected a team to ever do this, but it turned out to be a great way to fill up a place most every night and to leave fans wanting more (a concept that NASCAR has great difficulty grasping)—and as any Green Bay Packers fan can tell you, the more difficult it is to see an event live, the more people will appreciate it and renew their season tickets.
Baseball turned to the multipurpose concrete doughnut stadiums in the name of economics. When the architects of Camden Yards sought to reverse the bottom-line oriented trend and rediscover the game's heart, the subsequent economic return was enormous—far larger than the return from any dispassionate plan would have been. And the seemingly unstoppable and depressing trend towards characterless baseball venues was felled in one swoop. The rest of the cookie-cutters fell like dominoes in less than 15 years.
Camden Yards succeeded because it was conceived by people who thought like fans instead of accountants. Someone should hire them to be NASCAR advisors.
One of the bigger beefs longtime fans of NASCAR have today is the unimaginative size, shape, and location of too many of the current venues. Like the cookie-cutters that once dominated baseball, NASCAR's schedule today is littered garden variety tracks with no standout features. Little distinguishes Kansas Speedway from Chicagoland, Homestead, Las Vegas or Texas, especially when watching on television. Some newer tracks are to be applauded for the things that do improve the fan experience (like seats instead of benches), but they are clearly built with the same intention as the concrete doughnuts in baseball were—to attract as many fans as possible and to expend no energy on design or quirky originality.
Does it work? Do fans at Bristol Motor Speedway care about the comfort level in their seat on race day? Hell no. They'd sit on damp concrete to witness a race at Bristol. No matter what Lowe's Motor Speedway does to improve the fan experience, it will never achieve Bristol status.
Economics may simply have dictated that North Wilkesboro, Rockingham, or Darlington lose races. What has upset fans is that these classic, distinctive venues have been replaced by run of the mill and far less endearing speedways. To replace Darlington or North Wilkesboro with Texas or Fontana is to rip out a piece of a sport's soul, just as replacing Forbes Field with Three Rivers Stadium was.
NASCAR still has a few classic venues that offer a unique fan experience and a unique racing challenge. Martinsville is one. Dover is another. Darlington will always be a favorite. These tracks should never be replaced unless they aren't maintained or draw poorly from year to year. Yet all three are occasionally spoken of as being in NASCAR's sights for removal of races.
Economics doesn't care about hearts. But hearts don't care about economics either, and it works both ways…if your economic decision loses fans, you lose their economic value. NASCAR has lost sight of that in a big way. Tracks are given races based on balance sheet numbers only. It still doesn't seem to have dawned on anyone at NASCAR that removing the Labor Day race from Darlington is a large part of the bottom-line mentality that has driven away thousands of fans. The one economic concern that should override absolutely everything else is having and keeping customers.
The real economics lay within the heart of the fan base. There is no need or reason to sell one or the other short, no matter how contradicting that may sound. Baseball has proven it. If NASCAR can't stay at Rockingham, they could at least find or build a speedway that isn't cut from the same worn-out mold.
And should Bruton Smith or the France family take such an opportunity to build a Camden Yards for motorsports, they could also rise above the taxpayer theft that many sports teams have pulled on their cities and build speedways with their own money. Smith has threatened to completely fund an entirely new racetrack himself in the past. That might turn a few fed up taxpayers into NASCAR fans. He could do it. And he's just the guy to do it.
So as we return to talking about NASCAR next week, before the circus returns to one its most fabled venues, The Official Columnist of NASCAR is going to provide a rough design for a new racetrack—an "old-style" track with "modern amenities". Tune in next week to read about the features of Happy Hour Motor Speedway…and feel free to add any ideas of your own that I hadn't thought of.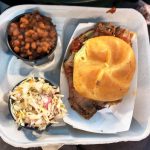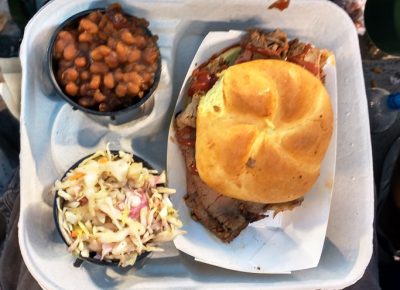 So I had this big mess of Camden Yards food posts that went everywhere, and Google didn't seem to like any of them. So I figured I'd combine them all, and just make them one nice big post about Camden Yards food. Enjoy!
Boog's BBQ + Eutaw Street Food at Camden Yards
When first-timers visit Oriole Park at Camden Yards, they're almost universally told to "try Boog's BBQ." The smoke wafting from the tent on Eutaw Street has been a feature of Camden Yards since its opening in 1992.
Long lines form at Boog's BBQ stand, especially on high attendance nights. Fans get their picture taken with the large first baseman from the Orioles' salad days, order a sandwich or platter of pit beef or turkey, enhance it at a banging condiments stand, and either sit at a Eutaw Street picnic table to eat or watch batting practice.
(Please note friends…I published this in 2018, and food in ballparks changes a lot, so I apologize for any inaccuracies. I am currently working on a retool and hope to have this content updated.)
The pit beef is recommended most by online reviewers, but the turkey sandwich is pretty good too, and the platters with slaw and beans offer decent value; you likely won't be hungry afterward. One Orioles employee suggested to me to bring your own bread and get your sandwich "naked" to get more meat on your plate. Worth the effort.
Try to get to Boog's BBQ early, if you don't want to miss any of the game.
Dempsey's, named for 1983 World Series MVP Rick Dempsey, is a restaurant built into the warehouse. It features brick walls, O's memorabilia, and beer taps with craft brews like Rain Delay IPA (click here to see why Dempsey is associated with rain delays).
The menu is pub-style and includes appetizers like crab cakes and rock fish tacos, and the main menu is mostly burgers and sandwiches, like the Dempsey Club. There's also the "Walk-Off": a Roma sausage in a pretzel roll with Old Bay crab dip. Save money and appetite for that one.
If you want to try Dempsey's and not miss any of the game, you have to get to a Eutaw Street entrance as soon as the gates open. Long lines form very quickly, especially on high attendance nights.
Don't miss Rick's poetic dedication to Memorial Stadium inside.
Elsewhere on Eutaw are a few of the unique food stands at Camden Yards. There's the Bud & Burgers and Stuggy's Gourmet Hot Dogs at the north end, where you can order unusual burgers and dogs (the crab mac and cheese dog is very popular) in case a simple dog doesn't wow you.
There's also a Eutaw Street Market in the warehouse where you can find grab and go items, and at the south end is a Eutaw Street Gyro Grill. You may lament the disappearance of the "other" BBQ stand, but the gyros and spinach pies are pretty good. Besides, Boog's BBQ is plenty BBQ enough.
More Oriole Park Food Options – Crab Stuff!
Oriole Park is still in Maryland last time I looked, so crab stuff is pretty popular. Here are three more favorite Camden Yards food options of mine, just because I love Old Bay…
1) Crab Dip Waffle Fries. This is a pretty big go-to item for Orioles fans. If you're familiar with the Chick-Fil-A waffle fries (and who isn't?), they're like them, but topped with Maryland crab dip sauce, and you can shake on some Old Bay seasoning at a condiment stand.
Get them at Old Bay Seafood, Freestate Fries or the Flying Dog stands, and get a fork and napkins…you'll thank me.
2) The Crab Chipper. The Chipper stand has become one of the more popular Camden Yards food options – and this Crab Chipper features kettle chips (or pork rinds!) topped with crab meat, white cheddar, green onions and Old Bay…so they're, you know, kind of like fancy nachos.
It's a decent quantity of food too, especially if you get them in a souvenir helmet. Way salty though, so grab a drink with it…
3) The Old Bay Seafood Crab Cake. I remember in the early days of Oriole Park watching a friend of mine shell out $4 for a crab cake the size of a golf ball. This was before ballparks were known for food options. Hope he enjoyed it.
Today the crab cakes may be more expensive, but they're now appropriately baseball-sized and much tastier – the Orioles had a chef sample 50 local crab cakes (!) to come up with a recipe for this delicacy. (Hopefully not at once.) The Old Bay stands are in the lower and upper concourses.
There you go…three crab-tasty Camden Yards food options. But you can go cheap here as well.
Can You Bring Food Into Camden Yards?
The short answer is yes, you can…the Orioles allow a 16*16*8 soft-sided bag or cooler, so long as it doesn't contain alcohol or potential projectiles.
But the best part of this money-saving tip is the possibilities you have with the numerous outside vendors…so here are three tips on where you can find cheap outside grub to bring into the Yard.
1) Pickles Pub/Slider's/The Bullpen. I'm not sure which of these three corner pubs sets up all of the tents and outdoor grills and full bars, but I expect it's all of them. The three establishments are across the street from the ballpark on Washington Street, and the entire area gets packed with pre- and post-game partiers.
You can get a hefty dog, sausage, burger, or crab cake sandwich here for much less than you'd pay inside the ballpark, of course, and there are tables with people selling peanuts, pistachios and bottled water too.
Best part? Have a cheap Natty Boh while you're filling your goody bag…since you can't get cheap beer OR Natty Boh inside the ballpark.
2) Vendors On Howard And Conway Streets. There are a plethora of vendors with grills selling dogs, sausages and chicken sandwiches, and they'll offer you a nice deal if you're willing to haggle and offer to buy more at a discount.
As with the vendors near Pickles Pub, on Conway Street, you can also buy much cheaper gear and souvenirs. This is ideal for people arriving by Light Rail…the vendors are right there across the street.
3) The Peanut Church. The Old Otterbein United Methodist Church is nicknamed the "Peanut Church"…they've been selling fresh bags of roasted peanuts cheaply since Camden Yards opened in 1992, and they've used the profits to maintain the church with a new roof and painting and such. If you're a person of faith you'll probably think it's a cool thing. It's on Conway Street, and if you're coming from the Inner Harbor you can't miss it.
Finally, there's a Jimmy John's and a Chipotle just steps away, if you want bring food into Camden Yards from someone familiar. But that's kinda boring.
So there you go…some food options at Oriole Park at Camden Yards. Enjoy, and let me know when you'll be there.