Philadelphia Phillies
---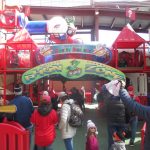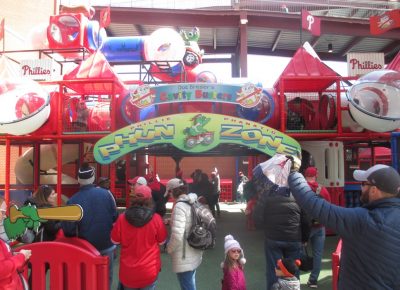 The Phillie Phanatic is the greatest mascot in sports…largely because original Phanatic Dave Raymond simply put on the costume, went out and had fun. I had a chance interviewed Dave, who now creates team mascots as the owner of Raymond Entertainment Group, for the April 2015 issue of JerseyMan. You can view the PDF of the magazine article here.
The Power of Fun
Imagine being a business owner who is looking to improve your marketing. You want a smart, polished, exciting campaign to bring life into your adequate but unmemorable image. You want to target a younger audience that otherwise might not discover your product.
Needless to say, this problem requires professional expertise, so you call in a consultant.
A consultant who, for much of his adult life, made his living wearing a furry green costume, recklessly riding around in an ATV and thrusting his ample hips at sports officials.
Because if your company is a minor league baseball team, and the idea is to bring more kids to the ballpark, and you want to create a mascot on that basis, hiring the original Phillie Phanatic to handle the design is a no-brainer.
As the man behind arguably the most beloved mascot in sports, who today is the "Emperor of Fun" at Raymond Entertainment Group, Dave Raymond understands the marketing value of a fun diversion.
Even if he learned it by accident.
"The joke was that the Phillies got the kid that was stupid enough to say yes," Raymond says with a laugh. "I was a student at the University of Delaware. I had my fraternity brothers telling me, 'they're gonna kill you, they're gonna hang you in effigy and set you on fire, and that's when the Phillies win! When they lose you're really gonna get in trouble!'
"That first day, I went into Bill Giles's office and said, 'Mr. Giles, what do you want me to do?' A smile came across his face and he said, 'I want you to have fun.' I was tearing out of his office thinking, 'Wow, this is going to be easy,' and he screamed, 'G-rated fun!'
"The first night I fell over a railing by accident, and people laughed. So I was thinking, I have to fall down more. Slapstick humor was something I loved, I was a Three Stooges fan, I watched all the cartoons. It was Daffy Duck and Foghorn Leghorn and Three Stooges because that's what they laughed about."
Dancing with the grounds crew quickly caught on, too.
"The first night I did that, I tripped one of the guys by accident, the kid tripped and fell, and people laughed. That turned into me running around the bases and at each base I would knock one of the kids over, and then we would all gather behind home plate and dance. Fans were giving us standing ovations, because they'd never seen the grounds crew animated!"
In a rabid and brutally unsentimental sports town, it also didn't hurt that the Phanatic could so effectively taunt the opposition. Tommy Lasorda, who could often be described as a cartoon character himself, once even wrote a blog post titled "I Hate The Phillie Phanatic".
Raymond gets along with Lasorda and has read the post. Their feud was usually friendly, but it could escalate: "One night he just snapped, and he came out and tried to beat the ever-lovin' you-know-what out of the Phanatic."
The two smoothed it over, but Raymond retains his proud Philadelphian perspective towards the Dodgers icon. "He's a wonderful ambassador for baseball; the only problem with him is that he's a Dodgers fan from Philadelphia. Worst type of traitor we could ever have," he laughs.
"I understood the psyche of the Philadelphia fan. I was one of them! I hated the Mets, I hated the Yankees, I hated the Celtics. And the Dallas Cowboys, to this day, I see Tony Romo in a commercial about pizza and I run and turn the TV off. I knew the fans would cheer when I stepped on a Mets hat or made fun of the Dodgers. I wanted to do that, because I hated the Dodgers, and I hated the Mets!
"It was that type of thing, and you put all those together and make a cartoon character out of it."
Today Dave Raymond brings a lifetime of experience as a world-famous character to Raymond Entertainment Group, which designs and builds mascots for sports teams and even corporations.
REG focuses on marketing the Power of Fun. It's not an easy trick to blend two seemingly opposite concepts like fun and business, but Raymond can speak from solid experience.
"I watched my kids become Phillies fans because of the Phanatic. They wanted to go to games because they had fun. And they learned how to watch baseball and appreciate baseball. My daughters fell in love with the players because they looked cute in baseball uniforms. And now they are not letting me leave when I want to beat the traffic. From a marketing standpoint, the Phanatic's building baseball fans."
So in dealing with clients, Raymond emphasizes how valuable—to their bottom line—their furry representative can be. The goofy character in a bird costume is a worthwhile business investment, and for it to pay off, it needs to be done right.
"The first thing we do is make sure they understand the difference between a kid in a costume and a character brand. A character brand is a living, breathing extension of your brand, and a kid in a costume is just that.
"We research who they are in terms of the organization's history, and who their community is in terms of the history. We help sketch out a back story that becomes the story of the character.
"They look at designs and they play Mr. Potato Head, they tell us what they like or more importantly what they don't like, and then we go back and continue to draw until we get a design, we assign the copyright to that design, and then build multiple costumes for them. We help prime performers and train them.
"Also, what are you doing with the character brand? How are you rolling it out? How are you trying to get sponsorships? By the time we roll out the character, they should already know when they're going to make all their money back, and when they'll start making a profit.
"If they don't do due diligence, frankly, I don't want them as a customer. If they don't want the best, they're not gonna value the best.
"There are people saying I need a kid to get in my suit; right away I know that's probably a client I don't want. This is a character costume, it's not a suit. It's not a kid, it's a trained performer. If you don't want that, we're not the ones for you. It's a good thing not to waste time trying to make people buy from me. You're not going to be able to service everybody."
That's not to say that REG doesn't have a long list of satisfied clients; happy customers include the Cincinnati Reds, whose mascot "Gapper" is an REG creation, the Toledo Mud Hens, the Delmarva Shorebirds and the Phillies affiliate Lakewood Blue Claws, among many others. Raymond estimates that REG has created over a hundred characters, including at least ten for corporations.
"What separates us is that no one has the track record of success that we've had for not only designing and building, but also helping clients make money, drive revenue and brand, find performers and train them."
It's a seemingly natural progression for Raymond: from being an eager young intern who spent sixteen years bringing an inimitable brand of fun to a community, to now supporting a family by showing others how they can do it too.
"I've been to a lot of business training seminars, and they always ask what your 'why' is. My 'why' is, I want my marriage to be great, I want my kids to have good parents, and I want them to grow up and get married and have a great family. Every time I get a check for something, I'm going this is great, now I can pay my salary, and I can invest in what's important to me, which is my kids and my relationship with my wife.
"Also, I've been delivering this presentation, which is the life lesson that the Phanatic has taught me, how powerful fun is to building a family and raising kids or whatever you're doing. Using fun as a distracting tool is so powerful.
"That's truly what I love doing more than anything else, getting in front of people and telling these stories and hopefully giving them something that helps them. I'm focused on going into Philadelphia, in the corporate community, and preaching the Power of Fun."
If anyone knows how to appeal to sports types in the City of Brotherly Love, it's Dave Raymond. After all, he's lived it.
"One of the things I miss the most about not working as the Phanatic is the connection to the Philadelphia fan base. Once Phillies fans love you, they love you forever, and it's almost impossible to do anything to get to the point where they don't love you.
"That was the beauty of being the Phanatic."
"This Costume Stinks!"
One service that Raymond Entertainment Group offers is costume cleaning…a surprisingly neglected aspect of mascot performance for many teams. The cleaning includes a "State of The Fur" analysis. A performer in a smelly costume is not a pleasant one, as Dave notes.
"The Phanatic opportunity for me, it truly was the best job you could ever imagine. But there were things about it that I hated. I hated that costume getting beer spilled on it, for example. I'm very anal retentive, I can't stand things out of place, and it just drove me crazy. So I was meticulous about how I cleaned that costume.
"The first year, the people in New York that built it said they couldn't wash it. You couldn't even imagine what it smelled like. I finally just threw the thing in my bathtub with Woolite. I thought, I don't care if I ruin it, it can't smell like this anymore. When I got done cleaning it, it smelled great, and I wrote a note to the people in New York saying hey, this is how you clean it, and they were like, wow!"
Dave actually will frequently take on the cleaning tasks at REG. "This is what small business is about. I'm cleaning a lot of costumes myself. It's just something that doesn't require any great skill; you just spend a little time doing it. I have people that help and clean and restore the costumes. But I jump in there and do it a lot. It's one of those healthy distractions for my mind."
The "State of The Fur" analysis is for advice on cleaning and storage. "We try to give them feedback on what we all think they're doing based on what is wrong with the costume. We want to have our eyes on it, because then our costumes last longer. Then people will say hey, when you get a costume from Raymond Entertainment it lasts for ten years.
"We prefer that rather than make money on rebuilding costumes, although we do that. It's better that they know that their costume lasts three times longer than the competition."
Mascot Boot Camp
Although Raymond Entertainment Group trains performers as part of their character creation package, Dave Raymond also hosts "Mascot Boot Camp", where performers spend a weekend learning all about the business of being a character in a costume and non-verbal communication. It's for everyone from new mascots learning the trade to longtime performers looking to rehabilitate their skills.
"It's a great reality experience. If you want to experience what it's like to be a mascot, come and experience mascot boot camp," Dave says. "We've never marketed it for that, but it's a lot of fun and they learn to move and communicate non-verbally, they learn how to take care of their costume, and learn how to take care of themselves physically.
"It's a deep dive into mascot performance, there's a real method to it now, where once it was Bill Giles telling me to go have fun."
There's another important rule of mascot performance: keep it safe.
"Lighting yourself on fire and jumping off a building and crashing into the ground might be something that people will talk about from now until the end of time, but you're gonna kill yourself. And you're gonna ruin the costume."
REG's "Angel Investor" – Sir Charles
Every business needs capital to get off the ground, and when Dave Raymond sought an investor for his idea to design and build characters, he found what he calls an "angel investor" who is well familiar with Philadelphia sports…Charles Barkley.
"When he would come to the Phillies games," Raymond says of Sir Charles, "he would have fun with the Phanatic and we did a couple of routines here and there, where he was smacking the Phanatic around. It was fun. Charles invited me to hang out with him and some of his friends in Birmingham when I was doing minor league baseball in Birmingham one weekend.
"I just called him up, and he said my financial guy likes it, I'll be happy to do it. His financial guy said listen, people haven't paid Charles back over the years. I said, well, I'm dedicated to paying him back. I haven't paid him every cent back, but he keeps telling me don't worry, it's no big deal. Charles just wanted to help. In the description of an angel investor, Charles Barkley's picture should be in whatever dictionary or manual that is talking about angel this or that.
"Nobody knows that sort of thing. Charles has done that hundreds of times, he's just a generous guy, one of the best people on the planet. I'll be working until I close the business down to make sure he gets every penny back."
Analyzing "Franklin"
Dave Raymond did some consulting for the 76ers in the rollout of their new mascot, a blue dog named Franklin. The humorous back story of Franklin on the 76ers website shows Franklin's "ancestors" throughout Philadelphia history, including a missing bite out of Wilt Chamberlain's "100" sign following Wilt's 100-point game.
Raymond believes Franklin will be a success, despite the recent "controversy" surrounding the character—that Darnell Smith, who wears the Franklin costume, was a Knicks fan.
"One of the things he said to me was, I really need to be a Philadelphia fan, you gotta help me with who the Philadelphia fans are. He worked for MSG, and he was a mascot for the Liberty, the WNBA team. He's done a lot of work with their performance team, the dunk team, all of that for the Knicks.
"Darnell is an awesome human being and an unbelievably gifted performer. I went to the first game that he was at just a couple of weeks ago and brought my kids, and he was kind enough to come up and interact with us. All the fans in our section were screaming for him. It was for kids by kids, which is what Tim McDermott said he wanted to do.
"What's nice about it is that he recognized that getting in touch with the psyche of the Philadelphia fan was important. That just shows what a good performer he is. He's an asset to the 76ers organization, I'm glad they got him."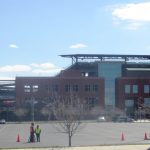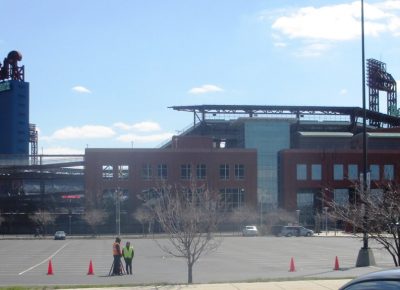 I have tried just about every method to get to Citizens Bank Park: driving my car, using the PATCO-SEPTA transit combination, the Chickie's and Pete's Taxi Crab, you name it. In the end it is simple. Just drive. Citizens Bank Park parking is ample and easy enough.
But here's some things you need to know, whether you're driving or using some other method to get to a Phillies game…
The Best Way to Get to Citizens Bank Park

The Bank is located on Pattison Avenue near Broad Street, convenient to both I-95 from north and south, and from I-76 (called the Schuykill or Sure-Kill by Philadelphians) from the east or west. South Jersey fans can use I-76 from the Walt Whitman Bridge.
Several exits off of both interstates are considered "Sports Complex" exits, but these get backed up as game time nears, especially when the Phillies sell out. You can use these but from about an hour and a half before game time till about the third inning, you may run into stopped traffic, not good.
My favorite best way to get to Citizens Bank Park is to use one of the Penrose Avenue exits from either interstate, and turn onto Pattison Avenue. This will take you to the ballpark from the less congested west rather than from the east and north like everyone else.
The Phillies have their own lots, and Lincoln Financial Field also has plenty of parking too. Here are a few of my favorite choices as team lots go:
Lot G: Lot G is my default choice at Phillies games, for several reasons. It's in the path when coming from Penrose Avenue, it's close to the ballpark, and it's an easier out than the lots north of Pattison. Lot G, like all lots south of Pattison, is legal for tailgating and it's close to Xfinity Live! if you enjoy such things.
Lot K (Lincoln Financial Field): If there's rain in the forecast, try Lot K at the football stadium…there are solar panel roofs over many of the spots, making tailgating possible even in less than ideal weather. The Linc is also right across the street from the ballpark and an easier out (not as easy as Lot G, though).
Lots W and X: I don't usually arrive from Packer Avenue, but when I do and want to be close, I use one of the lots north of the ballpark. It's a pretty nice approach from 10th Street; you actually see the inside of the ballpark rather than the exterior, as it was meant to be. Also an easy out onto Packer.
All of the Phillies lots mostly cost the same, but here are a few cheaper choices.
Book your ideal Phillies parking spot ahead of time…with my friends at ParkWhiz!
Citizens Bank Park Parking – Cheaper Options
Again, finding Citizens Bank Park parking for a Phillies game isn't terribly difficult. Saving money parking at a Phillies game can be a challenge, though. So here are three decent and less expensive alternatives to the official Phillies lots.
Citizens Bank Park Parking, Cheaper Option #1) The Jetro Warehouse. You have to go south of the warehouse to get the cheap rate, but it's significantly less. It's a bit of a walk and not pretty to look at, but good if you want to save a few bucks.
There's a small breakfast and lunch eatery here called the Stadium Grille, a place that gets good reviews for their cheesesteaks if you want a cheap meal before the game.
Citizens Bank Park Parking, Cheaper Option #2) The Church Lot on 10th Street. I don't know the name of this church or even if it is a church (Google Maps is no help), but it looks like one so I'm running with it. This lot is on 10th Street, north of Packer Avenue and just north of the I-76 overpass. It's across the street from a football field.
It's a little further away, and you have to cross Packer Avenue, but the walk isn't too bad and you can see the inside of the ballpark as you approach. It's also an easy out onto Packer.
Citizens Bank Park Parking, Cheaper Option #3) Free Parking! Okay, I'm sharing a couple of secrets to park for free at Citizens Bank Park here, keep them to yourself.
You can, if you're early enough, park on the west side of 7th Street, north of Packer Avenue; you'll see signs where you can't park. Just stay out of that zone. It's a walk, but it's free. Phillies ushers do this.
Some streets north and west of the ballpark, like Bigler Street, appear to have free spots; I've seen people park on Hartranft Street west of the ballpark, which is almost as close as an official lot. I don't know if I would do these for night games, though. It's not a terrible neighborhood, but it isn't great either.
Don't try parking on South Lawrence, unless you want to risk a $50-plus ticket.
Those are some less expensive alternatives for parking at Citizens Bank Park, but you have other options to get there, like the Broad Street Line.
SEPTA to Citizens Bank Park
While most people drive to Phillies games, a fair amount of people do take SEPTA to Citizens Bank Park, with the Sports Complex station located just a few steps away. There are times when the Broad Street Line is preferable to driving…say, when another event is happening in one of the Philly sports venues, you're arriving via Amtrak or Regional Rail, or if you're staying in the city without a car.
So here's a few things you should know about taking the SEPTA Broad Street Line to a Phillies game:
SEPTA to Citizens Bank Park, Tip #1) Use The Express. The SEPTA Broad Street Line stops at the Sports Complex at the southern end, making it easy to know which train to use and which direction to go. But you will definitely prefer the Sports Express trains, both before and after games.
The Sports Express skips a number of stops, but most importantly it bypasses everything from Walnut-Locust to the Sports Complex, and coming back especially this is much nicer. If you're using PATCO from New Jersey to get to the Broad Street Line, the Express means a straight ride with no stops to and from Walnut-Locust.
If you have a choice, definitely use the Express. You'll thank me.
SEPTA to Citizens Bank Park, Tip #2) Bring Your Own. If you're using the train to save money, or even if you're visiting without a car and staying in Center City (that's downtown for you non-Philadelphians), take advantage of the street grub shops and get peanuts and stuff to bring in. The Phillies allow this, you just can't bring in alcohol or projectiles. It's a great money-saver.
My favorite pro tip for using the PATCO-SEPTA combination from South Jersey is to stop at Nuts To You on Walnut Street, which is in the path from PATCO to SEPTA on street level. They have outstanding still-warm bags of roasted peanuts and any other snack you can imagine. I love sesame sticks, and Nuts To You has them in multiple flavors. The place is a true gem.
SEPTA to Citizens Bank Park, Tip #3) Consider Regional Rail. The Regional Rail lines spread a web over southeastern Pennsylvania (hence the SEP in SEPTA), and they're comfortable and smooth commuter trains.
The Regional Rail is a nice alternative on summer weekends. Traffic on I-76 can be hellish on Friday nights especially, as what seems the entire region's population heads to the Jersey Shore. Park somewhere along the Regional Rail line cheaply and ride the train to Suburban Station instead…it's a two block walk transfer to the Broad Street Line, but that beats sitting in shore traffic in my opinion. Be sure to check the schedule and know that you can get a ride back though.
If you're bringing the family on a weekend, check out SEPTA's Independence Pass. For a price that is likely cheaper than gas and parking, the whole family can ride on the train to the ballpark and back. That one's good for Sunday games.
SEPTA can be a decent money saver over parking and bridge tolls coming from NJ especially and it's an alternative to city traffic if you're staying in Center City (downtown for you non-Philadelphians).
If you're looking for another alternative to driving to the ballpark itself, check out Chickie's and Pete's Taxi Crab.
Chickie's And Pete's Taxi Crab to Phillies Games

If you want to know where you can get a meal and/or inexpensive brew near the ballpark, the Taxi Crab from Chickie's and Pete's offers the best of both worlds.
Ballpark beers are running $8 and up these days, and we all know how much ballpark food is. At Chickie's and Pete's on Packer Avenue, you can get their famous crab fries and a beer to go with it, cheaper than in the ballpark and in a climate-controlled eatery. And they'll give you a ride to the game in the Taxi Crab shuttle with its cool paint job.
The shuttle is free; unfortunately you have to pay to park at Chickie's and Pete's. It costs a bit less than parking at the ballpark though, and your car is valet parked.
In addition to a better deal on parking and an easier exit, you can enjoy a meal at a popular local institution. It's especially great for visitors for that Philly experience.
So you know, Chickie's and Pete's has a stand in the ballpark for their famous crab fries, but they're much more expensive at the game (they charge extra for the necessary cheese sauce even). You can park at the restaurant itself, order crab fries to go, and get a ride to Citizens Bank Park's front door.
Besides the fries, Chickie's and Pete's has good grub at reasonable prices. You won't save too much money eating here over eating at the game, but there's a decent selection of food and a long list of quality beers. It's a big place, so you can probably land a seat.
So there are several benefits to the Taxi Crab: cheaper crab fries, less post-game traffic hassles, and a less expensive place for a drink before or after the game. Worth a shot for something different.
There's your helpful guide for how to get to Citizens Bank Park; it's relatively simple. But I highly recommend that you plan your route in—and out. Citizens Bank Park is surrounded by lots, and you'll want to be sure that you'll have as little trouble as possible exiting, because it can take a while.
Did this post make your day a little bit?

I hope so. If it did, I would really appreciate your support.

When you use this link to shop on Amazon, you'll help subsidize this great website…at no extra charge to you.

Thanks very much…come back soon!
(Note: this article contains affiliate links. If you use an affiliate link to make a purchase, this website earns a commission, at no extra cost to you. Thanks for your support!)