Tag Archives:
citizens bank park
---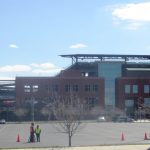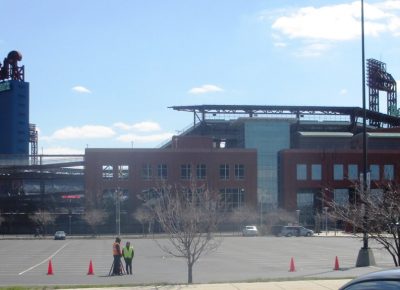 I have tried just about every method to get to Citizens Bank Park: driving my car, using the PATCO-SEPTA transit combination, the Chickie's and Pete's Taxi Crab, you name it. In the end it is simple. Just drive. Citizens Bank Park parking is ample and easy enough.
But here's some things you need to know, whether you're driving or using some other method to get to a Phillies game…
The Best Way to Get to Citizens Bank Park

The Bank is located on Pattison Avenue near Broad Street, convenient to both I-95 from north and south, and from I-76 (called the Schuykill or Sure-Kill by Philadelphians) from the east or west. South Jersey fans can use I-76 from the Walt Whitman Bridge.
Several exits off of both interstates are considered "Sports Complex" exits, but these get backed up as game time nears, especially when the Phillies sell out. You can use these but from about an hour and a half before game time till about the third inning, you may run into stopped traffic, not good.
My favorite best way to get to Citizens Bank Park is to use one of the Penrose Avenue exits from either interstate, and turn onto Pattison Avenue. This will take you to the ballpark from the less congested west rather than from the east and north like everyone else.
The Phillies have their own lots, and Lincoln Financial Field also has plenty of parking too. Here are a few of my favorite choices as team lots go:
Lot G: Lot G is my default choice at Phillies games, for several reasons. It's in the path when coming from Penrose Avenue, it's close to the ballpark, and it's an easier out than the lots north of Pattison. Lot G, like all lots south of Pattison, is legal for tailgating and it's close to Xfinity Live! if you enjoy such things.
Lot K (Lincoln Financial Field): If there's rain in the forecast, try Lot K at the football stadium…there are solar panel roofs over many of the spots, making tailgating possible even in less than ideal weather. The Linc is also right across the street from the ballpark and an easier out (not as easy as Lot G, though).
Lots W and X: I don't usually arrive from Packer Avenue, but when I do and want to be close, I use one of the lots north of the ballpark. It's a pretty nice approach from 10th Street; you actually see the inside of the ballpark rather than the exterior, as it was meant to be. Also an easy out onto Packer.
All of the Phillies lots mostly cost the same, but here are a few cheaper choices.
Book your ideal Phillies parking spot ahead of time…with my friends at ParkWhiz!
Citizens Bank Park Parking – Cheaper Options
Again, finding Citizens Bank Park parking for a Phillies game isn't terribly difficult. Saving money parking at a Phillies game can be a challenge, though. So here are three decent and less expensive alternatives to the official Phillies lots.
Citizens Bank Park Parking, Cheaper Option #1) The Jetro Warehouse. You have to go south of the warehouse to get the cheap rate, but it's significantly less. It's a bit of a walk and not pretty to look at, but good if you want to save a few bucks.
There's a small breakfast and lunch eatery here called the Stadium Grille, a place that gets good reviews for their cheesesteaks if you want a cheap meal before the game.
Citizens Bank Park Parking, Cheaper Option #2) The Church Lot on 10th Street. I don't know the name of this church or even if it is a church (Google Maps is no help), but it looks like one so I'm running with it. This lot is on 10th Street, north of Packer Avenue and just north of the I-76 overpass. It's across the street from a football field.
It's a little further away, and you have to cross Packer Avenue, but the walk isn't too bad and you can see the inside of the ballpark as you approach. It's also an easy out onto Packer.
Citizens Bank Park Parking, Cheaper Option #3) Free Parking! Okay, I'm sharing a couple of secrets to park for free at Citizens Bank Park here, keep them to yourself.
You can, if you're early enough, park on the west side of 7th Street, north of Packer Avenue; you'll see signs where you can't park. Just stay out of that zone. It's a walk, but it's free. Phillies ushers do this.
Some streets north and west of the ballpark, like Bigler Street, appear to have free spots; I've seen people park on Hartranft Street west of the ballpark, which is almost as close as an official lot. I don't know if I would do these for night games, though. It's not a terrible neighborhood, but it isn't great either.
Don't try parking on South Lawrence, unless you want to risk a $50-plus ticket.
Those are some less expensive alternatives for parking at Citizens Bank Park, but you have other options to get there, like the Broad Street Line.
SEPTA to Citizens Bank Park
While most people drive to Phillies games, a fair amount of people do take SEPTA to Citizens Bank Park, with the Sports Complex station located just a few steps away. There are times when the Broad Street Line is preferable to driving…say, when another event is happening in one of the Philly sports venues, you're arriving via Amtrak or Regional Rail, or if you're staying in the city without a car.
So here's a few things you should know about taking the SEPTA Broad Street Line to a Phillies game:
SEPTA to Citizens Bank Park, Tip #1) Use The Express. The SEPTA Broad Street Line stops at the Sports Complex at the southern end, making it easy to know which train to use and which direction to go. But you will definitely prefer the Sports Express trains, both before and after games.
The Sports Express skips a number of stops, but most importantly it bypasses everything from Walnut-Locust to the Sports Complex, and coming back especially this is much nicer. If you're using PATCO from New Jersey to get to the Broad Street Line, the Express means a straight ride with no stops to and from Walnut-Locust.
If you have a choice, definitely use the Express. You'll thank me.
SEPTA to Citizens Bank Park, Tip #2) Bring Your Own. If you're using the train to save money, or even if you're visiting without a car and staying in Center City (that's downtown for you non-Philadelphians), take advantage of the street grub shops and get peanuts and stuff to bring in. The Phillies allow this, you just can't bring in alcohol or projectiles. It's a great money-saver.
My favorite pro tip for using the PATCO-SEPTA combination from South Jersey is to stop at Nuts To You on Walnut Street, which is in the path from PATCO to SEPTA on street level. They have outstanding still-warm bags of roasted peanuts and any other snack you can imagine. I love sesame sticks, and Nuts To You has them in multiple flavors. The place is a true gem.
SEPTA to Citizens Bank Park, Tip #3) Consider Regional Rail. The Regional Rail lines spread a web over southeastern Pennsylvania (hence the SEP in SEPTA), and they're comfortable and smooth commuter trains.
The Regional Rail is a nice alternative on summer weekends. Traffic on I-76 can be hellish on Friday nights especially, as what seems the entire region's population heads to the Jersey Shore. Park somewhere along the Regional Rail line cheaply and ride the train to Suburban Station instead…it's a two block walk transfer to the Broad Street Line, but that beats sitting in shore traffic in my opinion. Be sure to check the schedule and know that you can get a ride back though.
If you're bringing the family on a weekend, check out SEPTA's Independence Pass. For a price that is likely cheaper than gas and parking, the whole family can ride on the train to the ballpark and back. That one's good for Sunday games.
SEPTA can be a decent money saver over parking and bridge tolls coming from NJ especially and it's an alternative to city traffic if you're staying in Center City (downtown for you non-Philadelphians).
If you're looking for another alternative to driving to the ballpark itself, check out Chickie's and Pete's Taxi Crab.
Chickie's And Pete's Taxi Crab to Phillies Games

If you want to know where you can get a meal and/or inexpensive brew near the ballpark, the Taxi Crab from Chickie's and Pete's offers the best of both worlds.
Ballpark beers are running $8 and up these days, and we all know how much ballpark food is. At Chickie's and Pete's on Packer Avenue, you can get their famous crab fries and a beer to go with it, cheaper than in the ballpark and in a climate-controlled eatery. And they'll give you a ride to the game in the Taxi Crab shuttle with its cool paint job.
The shuttle is free; unfortunately you have to pay to park at Chickie's and Pete's. It costs a bit less than parking at the ballpark though, and your car is valet parked.
In addition to a better deal on parking and an easier exit, you can enjoy a meal at a popular local institution. It's especially great for visitors for that Philly experience.
So you know, Chickie's and Pete's has a stand in the ballpark for their famous crab fries, but they're much more expensive at the game (they charge extra for the necessary cheese sauce even). You can park at the restaurant itself, order crab fries to go, and get a ride to Citizens Bank Park's front door.
Besides the fries, Chickie's and Pete's has good grub at reasonable prices. You won't save too much money eating here over eating at the game, but there's a decent selection of food and a long list of quality beers. It's a big place, so you can probably land a seat.
So there are several benefits to the Taxi Crab: cheaper crab fries, less post-game traffic hassles, and a less expensive place for a drink before or after the game. Worth a shot for something different.
There's your helpful guide for how to get to Citizens Bank Park; it's relatively simple. But I highly recommend that you plan your route in—and out. Citizens Bank Park is surrounded by lots, and you'll want to be sure that you'll have as little trouble as possible exiting, because it can take a while.
Did this post make your day a little bit?

I hope so. If it did, I would really appreciate your support.

When you use this link to shop on Amazon, you'll help subsidize this great website…at no extra charge to you.

Thanks very much…come back soon!
(Note: this article contains affiliate links. If you use an affiliate link to make a purchase, this website earns a commission, at no extra cost to you. Thanks for your support!)