JerseyMan
---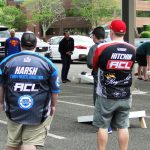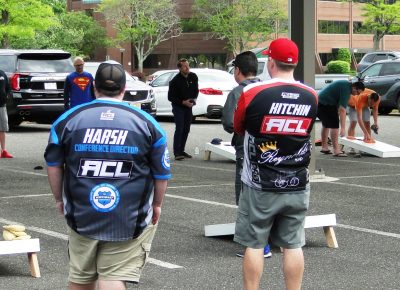 JerseyMan asked me to cover a local cornhole event they arranged, and to work in a piece about the phenomenal growth of professional cornhole in the midst of the COVID-19 pandemic. Hope you enjoy it. You can also view the PDF of the article here.
Beyond The Parking Lot – Professional Cornhole
You can write for JerseyMan and attend Legacy Club events for ten years, and almost never see Ken Dunek animated enough to shout loudly and pump his fist.
Then again, you don't see many people gain a lead against John Kitchin in a cornhole match, however short-lived that lead may be until Kitchin finds his bearings and starts effortlessly nailing throws. It's understandable for even a reserved person to be thrilled at the achievement.
This anomaly was at the Infinity Club Cornhole Tournament, held this May at the PCS facility in Moorestown. The event raised nearly $4,000 for the Leukemia & Lymphoma Society, and for survivor T.J. Smink's bid for the Society's Man or Woman of The Year.
Of course, many esteemed Legacy Club members were present. It's an ideal opportunity to avenge a recent defeat on the golf course. No one tanks, of course, but a loss isn't so bad…it's an opportunity to grab a drink and catch up with fellow members.
One would think that, in a crowd of Eagles fans, who have to have considerable tailgating experience, there would be some players standing out in the crowd. But other than Smink's team, who prevailed in the match, most of them were unexceptional shooters. Even by frequent tailgater standards.
The tournament was for fun and to help less fortunate people. PCS's parking lot is obviously no billion dollar, luxury box-filled venue.
But professional cornhole has grown well beyond the parking lot.
Present at the gathering were Kitchin, a national cornhole pro who resides in West Deptford, and Joe Harsh, the American Cornhole League's (ACL) Northeast Conference Director.
Yes, there is a nationwide professional cornhole league. As seen on TV.
Before 2020, the ACL had already landed some national television deals, and events could be seen on various sports networks. Then they got a boost…professional cornhole became one of the rare entities that benefited from an outbreak. With no baseball, football, basketball, hockey, etc., there was a fairly ginormous hole in sports broadcasting to fill.
So cornhole moved into seriously choice TV slots. Harsh notes that "We had eight to ten broadcasts on Saturdays, prime time with our Pro Division, and traveled all over the country.
"We're really fortunate," he adds. "Everything went well for us. And the exposure and the growth, it's been really, really beneficial to the league.
"I've known John for a couple years now, and the fact that someone would ask John for an autograph, it's the coolest thing."
Kitchin has been known to drive to Cincinnati for the day to throw bags. At least, that became a thing for him when someone noticed he was a pretty good shot at tailgates.
"I played in the parking lot of Eagles and Phillies games, and a guy came to me and said, 'Hey, we have a league for this.' I kind of laughed at him. Here I am seven years later, and if I could play more I would."
Indeed, Kitchin started playing in a league, and did well enough to compete in local tournaments. Then he became a pro. Then an ACL Pro.
He's added some impressive achievements to his league bio…#1 Northeast Conference player in 2018, ACL Man of The Year in 2019, and a 2nd place finish in the 2020 USA Cornhole Club Championships – broadcast on NBC Sports – to name just a few. He's so good that Bush's Baked Beans and LG have put their logos on his jersey.
You can see why even Ken Dunek would celebrate well beyond his typical demeanor scoring a lead against him. Which, to Kitchin and Harsh, is part of the appeal…anyone can play, even against the pros.
"I play in leagues around here all the time," Kitchin says. "I play pretty well, but there's a lot of people who, when they play against me, they use that as a measuring stick. I don't beat everybody, so I think that makes them even more interested…'That guy's been on TV!'"
"That's the coolest part," Harsh adds. "You can see him on TV on the weekend, and then Monday or Tuesday night you could literally play against him."
Jeff McCarragher is a freelance sports broadcaster. His LinkedIn profile describes his most recent position as a "Play-by-Play Announcer for College Football & Basketball…and yes, Cornhole too." His resume covering other sports is impressive, but by most any measure, McCarragher is the Voice of American Cornhole.
He landed the gig by simply being in the right place at the right time. Literally.
A South Carolina resident, he worked college football and basketball throughout the Carolinas. Tupelo Raycom, the company that brought him announcing work, had an office there. And they knew ESPN needed a cornhole announcer.
"When COVID hit, being a freelance play-by-play broadcaster was like being a waiter or server at a restaurant," he remembers. "We were shut down immediately because all the sports just went away. When they got the contract on ESPN, they called me and said, 'Hey, are you willing to travel if we put together cornhole through the summer?'
"I had done a little bit for them in the past, I'd done the national college cornhole championships that previous New Year's. I said, absolutely, I'm comfortable traveling. And so away we went, ESPN signed a deal with the American Cornhole League."
McCarragher's enthusiasm for covering professional cornhole of all things is palpable. The players may not have toiled through college or minor leagues, but they definitely have well-developed skills.
"It's a very simple sport, right? You just slide it up the board and put it in the hole. But just like any other sport, when you get to a very high level, you start to learn how technical it is. I had to learn a whole new vernacular, whether it's replacement bags or grab bags, the way a player collects the bag.
"I relate it to being a really good major league pitcher. He's got his fastball, his slider, his cutter, his change-up. The ones who play at the top level, they've got a little cut shot, they've got an airmail shot. They can make the bag curve one way or another, they can angle it and get the bag to kind of roll. Instead of different pitches, they have different technical shots that they can throw. It's really pretty amazing."
There's considerable tension in big matches, too.
"It gets to be like golf," he continues. "You've got a two-stroke lead, or maybe a one stroke lead, going into the 72nd hole on Sunday. I don't care who you are. That final tee shot on the 18th? It has to be good. There's so much pressure. Again, I get it, it's cornhole. We're not talking about the Masters. But it's still competitive, the desire to win for these players."
McCarragher is confident that the growth of professional cornhole will continue, even with the return of other spectator sports.
"Did COVID help give it added exposure? Absolutely. But I will tell you, they have been working behind the scenes with these little ESPN contracts now for several years. They were on ESPN a few times in 2018-2019. We had college national championships on New Year's Eve going into 2020. The ratings were slowly going up and up. So this was already on the rise.
"Just by the sheer TV contracts that are coming in and new sponsors, I for sure would say that the ACL is still growing."
Kitchin agrees.
"I think the success they had during COVID is going to allow them to continue. Will the viewership be the same? Perhaps not, but I think in this country there's a niche for these types. Like, would you watch baseball, which is hours long, or you're clicking through and, 'Oh, cornhole, this is something I do in my backyard. My buddies and me bust our chops all the time, let me watch this. I think that's what's opened it up for those types of things."
Joe Harsh has already experienced professional cornhole's impact beyond TV.
"For me it's not even the size of the events and the cool venues we've visited. It's some of the charity work we've done, like for veterans groups. We did an interview with a guy, roadside bomb in Afghanistan. Long story short, he's a double amputee, and he's thanking me for everything I do, and it just absolutely blows my mind.
"I would do anything for someone like that because they've given so much, and they're thanking us for what we do and the release that we give them. That's my favorite thing to take away from all of this."
Needless to say, McCarragher is eager to keep telling the story.
"I would love that guys would call and have me do a national college football championship. As young broadcasters coming up, we all hope to get that call. But even that being said, I still really would always hope I can continue doing cornhole.
"I will do this for as long as they'll let me, because I love it."
Hope you enjoyed this article about Professional Cornhole…

If you did, I would really appreciate your support.

When you use this link to shop on Amazon, you'll help subsidize this great website…at no extra charge to you.

Thanks very much…come back soon!
Smink Strong
T.J. Smink, who won the Infinity Club Cornhole Event with his partner Kyle Reider, had personal reasons for both winning and co-arranging of the event: he is a cancer survivor himself.
Smink is a Senior Account Executive for Premium Seating with the Philadelphia Union. But in 2020, the shutdown of sports was the least of his worries. In December of 2019, he was diagnosed with stage four Hodgkin's lymphoma.
He decided to control two things that he could control: his hair and his attitude. He shaved off the hair he felt he was going to lose from treatments…but ultimately didn't. And he kept upbeat, all the time.
"I made sure to keep a positive attitude, to look on the bright side of life. Having that mindset, being able to say I'm going to beat this s***, that was way more than half the battle."
Legacy Club member Devin DiNofa, at the time campaigning to be the Leukemia & Lymphoma Society's Man or Woman of The Year, reached out to Smink.
"He's an awesome dude," Smink says. "He asked if I would be on his team to help raise money for others. Even then, he wanted to work with LLS to raise funds for me directly, LLS said we can't go towards one specific person.
"Even then, I went back and told him, I'm killing this s***. We're good, I appreciate it, but I would prefer it goes to someone who actually needs the funding."
Today Smink, at DiNofa's urging, is campaigning for the LLS Man or Woman of The Year himself. The Infinity Club Cornhole event was a part of that, to great success.
"Ash (Ashley Dunek) came up with the idea of working one of the Infinity Club events into a fundraiser. And we had a really big turnout. There were 32 teams and a lot of people that came just to hang out.
"Our team is going to get a research portfolio named after us. I'm excited to see where that research goes."
And he and Kyle Reider topped it all with a cornhole tournament win.
"He's a lot better than I am," Smink says of his teammate, "but together, we normally win all of our friends' get togethers and stuff."
So You Want To Be A Professional Cornhole Player?
In a write-up about John Kitchin from Power Equipment Direct's website, he is described as a professional cornhole player who "practices for roughly 32 hours per week, where he throws 2,000 to 3,000 bags."
While that is probably technically true, Kitchin doesn't exactly work in his garage, perfecting his follow through and stance and watching himself on video. He just plays a lot, which to him is the simple secret to improvement.
"When you figure in going to leagues and playing tournaments on the weekends, and then throwing it in my shop or something like that, the amount probably adds up. I play on the leagues on Tuesday nights and Wednesday nights, and Thursday nights usually where I try to get out too.
"If you want to become a better cornhole player," Kitchin continues, "just get out and play, go find a local league. Even if it doubles as a night out, you know, go out and play. You've just got to get throws in, and if you can't and you just throw in the backyard, go out and throw. You have to throw bags.
"So practice for a pro to me would be going out and playing in your own league and it's all about getting throws in."
Wait, no proper ways of holding the bag? No commentary on wrist movement? Nothing about how to warm up? Kitchin says that once you find a groove that works for you, the mental aspect is far more important. And that part can't always be taught.
"I'm probably the worst pro to talk about this, because I'm a firm believer of under-thinking. People overthink. It's whatever is most comfortable to you, you just have to tweak that. Throw eight bags, and I would want to see how you threw. And I would say, was that comfortable? If that's comfortable for you, you can tweak it from there."
That sounds simplistic, but he's right. Cornhole players lose matches overthinking.
"I might throw 50 bags in a row in the hole, but what changes from the time that you just threw 50 bags in a row and then you line up next to me? What just changed? Nothing changed except for your mental, so you're overthinking it. Now all of a sudden that same guy who's just hit 50 bags in a row off to the side warming up, is now maybe two on two in. It's the overthinking."
"I try not to worry about all that."
Why We Cheer – The Human Interest Stories
The ACL is fortunate to have Jeff McCarragher behind the microphone, because he does what the best broadcasters do…he tells backstories about the participants.
He shared a small few everyman stories of cornhole stars with JerseyMan.
"Steven Bernacet, he won the singles national that we just had in Wichita about a month ago. Outstanding cornhole pro, but in his senior year, he was a great high school football player, lineman. He was in a horrific car accident and broke his neck. He could have died.
"The doctors immediately told him he wouldn't play contact sports ever again, obviously to a high school kid who's played sports his whole life, it's devastating to him and his family. Two years later, once he was able to rehab and get back to his new normal of life, he picked up cornhole, and has been playing cornhole ever since now.
"It's been his outlet and his happiness and his source of competitiveness, to fill that desire and that need in his life. Cornhole has been literally life changing for him.
"One of the top female pros is a manager at a Taco Bell. You know, she plays cornhole on the side. Daymon Dennis, who's the number one player in the world right now, worked at a cheese plant for 27 years.
"He used it to support his family and to keep food on the table. And now here he is, number one player in the world."
"It's like American Idol," McCarragher says. "There's a lot of people who can sing, but what captured the audience and the ratings for American Idol is all the backstories."
I had never known that wheelchair basketball was as established as it was, with professional leagues and established teams, until JerseyMan asked me to cover it for their December 2014 issue. I had the pleasure of interviewing John DeAngelo, a player for the Magee Spokesmen of Philly, who filled me in on the rough and tumble nature of the sport. You can view the PDF from the article here.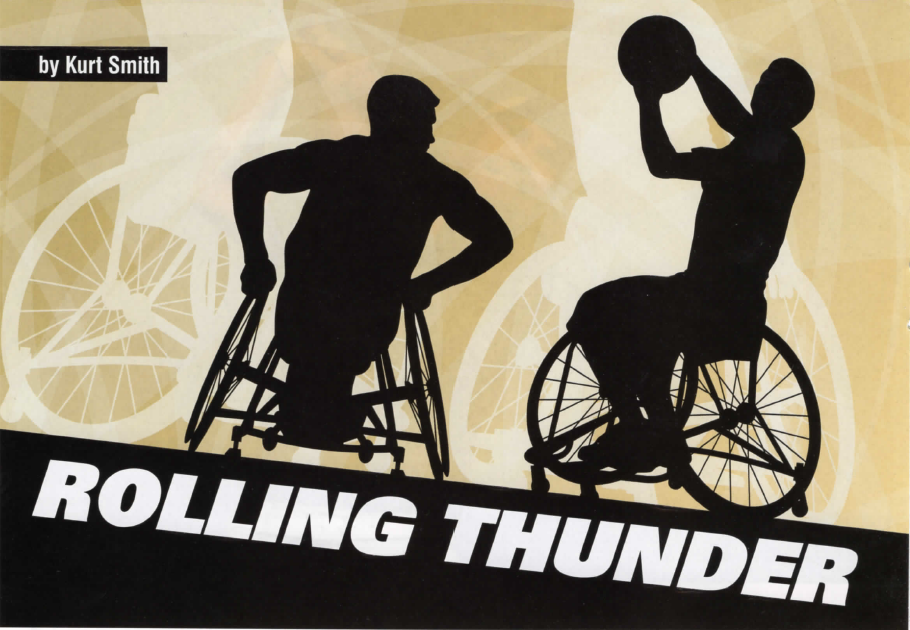 Rolling Thunder
Think wheelchair basketball is a small time, friendly competition? Think again.
At the Carousel House in Fairmount Park, the Magee Spokesmen are wheeling laps around the basketball court at the start of their weekly practice session.
After a few dozen circuits, they gather at one end. They begin start and stop drills, rolling out to the center of the court, stopping on a dime, executing hard 180-degree turns, and pushing back in the direction of the net.
Their coach, Eric Kreeb—who by day is a kitchen manager at Chickie's and Pete's—stands by and watches, smiling and shouting words of encouragement. Slide right, he shouts, turn and get on the line. The drills continue. Men push, turn, and then go from one end to the court to the other and then back…backwards. They pant, strain and sweat.
Back at the line, they're huffing a bit now. "Turning left this time," shouts Kreeb. His direction is met with some mild groans of protest. But the Spokesmen oblige, rolling out, turning left and rolling back. To some, it's a competition. "Get your money!" one player shouts repeatedly. Forward and backward, turning wheelchairs left and right, drill after drill after drill. The practice is almost an hour old, and no one has yet touched a basketball.
Finally, they start shooting, taking turns at the foul line. As they shoot, two players practice defending one another, maneuvering a specially designed chair with an ability that clearly isn't learned overnight.
The team splits into two groups and gather at either end of the court. A scrimmage game begins. Wheelchairs clang into each other as players jockey for a position. Fast breaks happen, as do lay-ups, fadeaway baskets and rebounds. Players even occasionally fall out of their wheelchairs, but such incidents only briefly delay the action, and they are back up quickly.
One can only imagine the toll a whole game of this—or six whole games of this—would take on someone who isn't built up for the battle.
"We prepare for our games at practice," says Kreeb. "We do several stamina building drills, diagram plays, go over defense, and discuss strategies of attack against our upcoming opponents. The conditioning is particularly important because we play in tournaments. Most tournaments you play five to six games in two days."
This is no playful, recreational diversion. It's a real, honest team practice. It is the grueling, repetitive effort that athletes put in that makes their feats on game day look effortless. The Magee Spokesmen are professional athletes. It's obvious by the way they miraculously avoid collisions and effortlessly land passes into teammates' hands.
The focus of wheelchair basketball isn't the wheelchair. It's the basketball.
The words "wheelchair basketball" to most people probably bring to mind images of a few guys sitting around shooting baskets in an ultra-friendly lightweight competition. The idea of it being an international sport, with leagues, divisions, and tournaments, would likely come as a surprise.
The sport began in veterans' hospitals shortly after World War II, as paralyzed war heroes adjusted to their new life. As the sport grew and teams emerged across the country, the National Wheelchair Basketball Association was formed. Today the NWBA has over 200 teams in 22 conferences, many of them sponsored by local NBA teams.
Internationally, since the formation of the International Wheelchair Basketball Federation (IWBF), the sport has even more notoriety, particularly in places like France, Australia and Canada. Australia is the current IWBF men's champion; Canada's team took the women's wheelchair basketball title this year.
John DeAngelo, a player for the Spokesmen, took the time to educate me a bit about the sport. Born with a congenital affliction, he has been playing wheelchair basketball since the age of 12.
"The first thing, leaving basketball aside, is just getting used to a wheelchair," he says. "It sounds easy, but maneuvering a wheelchair is not as easy as you might think. Before you learn anything else about ice hockey, if you can't skate, you can't do anything. The players who really excel, it's like the chair is almost an extension of their body.
"Then you start to throw in the sport part, dribbling a basketball and learning how to shoot and maneuver around people that are trying to defend you. The mechanics are the same way; you just take the legs out of it. The upper body mechanics are the same. There are rule differences in wheelchair basketball that change things a little bit, but you still have to dribble.
"The thing that you start to notice, and that's what everyone has to learn in practice, is that instead of just a body banging around, you'll hear a little more metal crashing into each other. That's when you know someone's comfortable with it, whereas there are guys that are very apprehensive about smashing into something.
"They're the rookies!" DeAngelo says with a laugh.
The NWBA, NBA and NCAA are more similar than they are different.
The rules are the same as in the NBA; court dimensions and basket height are the same. There are some rule differences; traveling in wheelchair basketball consists of touching one's wheels twice after dribbling the ball. There is no double dribble rule, as DeAngelo notes: "That allows you more maneuverability, so you're not constantly dribbling, or else you really wouldn't go. Some people can do that really well, but this allows you to maneuver faster and keep the pace going."
Another difference is that with the nature of wheelchair basketball being such that teams can't trade players or acquire free agents…players generally play for the team where they live…the best teams become the teams that retain the same players long enough to gel.
"In any team sport," DeAngelo says, "the longer you keep a nucleus together, the better that team is going to wind up being. We've played against teams constantly who've grown; a lot of the players were not that good and all of a sudden they start to gel and get better. Year after year you see them grow and they become a powerhouse. North Carolina had always been a good team, and last year was finally their year where they just clicked."
The NWBA has seven divisions, ranked by the level of competition. The Magee Spokesmen play in Division III, where DeAngelo says most teams are. Division II, he says, is an entirely different animal.
"You have teams out there who are competitive, you have teams with players that are just out there playing, and that's great. They love to play, they know they're not that good but they'll travel to a couple of tournaments and just play. It's not all about trying to win a championship to them.
"The more competitive you get, yeah, it gets dangerous," he says.
Yes, DeAngelo has sustained some injuries in his career. In that regard as well, wheelchair basketball is no different from NBA basketball.
"I was playing this past weekend down in Virginia Beach, going for a rebound, another guy's coming from the other team and wham! We just smashed into each other. I took the brunt of it, I'm not the biggest guy, and I just tumbled to the ground.
"It sounds bad, sometimes it's bad, but it's just part of the sport. You've got metal on metal, you get run over sometimes, fingers get jammed in wheels, things like that absolutely happen. I've had broken fingers, broken arm, several concussions, it's pretty brutal."
Today there are over 100,000 wheelchair basketball players worldwide. Most, like DeAngelo, play in organized leagues with tournaments and championships. Some play for national and international titles, which DeAngelo has also done. And the growth of the sport has created a competitive outlet for those at every level who see themselves not as disabled, but as athletes who do things differently.
DeAngelo has represented Team USA, but he's also happy to have been part of a growing competitive sport.
"Putting on a USA jersey and playing overseas was probably the biggest thing. I did get a chance to play in two national championships for Temple. But for me, the thing I'm most proud about is that there are more programs now for younger kids, so when they're starting out there's something structured.
"I was 12 playing with 30-something year-old guys. I had to learn a lot of stuff really quick. Now there's so much out there, and basketball was a stepping stone for a lot of other things. There are so many sports now for wheelchair athletes that it's mind boggling.
"It's a great thing to keep in shape. You slow down a bit like with anything, but the one good thing is that you can be a competitive player no matter what your age is, as long as your body can take it."
And wheelchair basketball players will get run over, fall out of their chairs, get their fingers jammed in wheels and endure broken arms and concussions, and get back in the game for as long as their bodies can take it.
It's what athletes do.
The Best of The Best – Wheelchair Basketball Hall of Fame

There is a Wheelchair Basketball Hall of Fame, founded in 1973. The NWBA website lists the members and the rules of eligibility—players must compete for a minimum of five years, be a part of an All-American team, and meet other requirements as determined by the voting committee. Non-competitors must give at least 12 years to the sport, as a coach, administrator or supporter.
Among the noteworthy members:
Tim Nugent – Inducted in the inaugural year of the Hall. Nugent was the coach of the first college wheelchair basketball team, the Illinois Gizz Kids, for 12 years. The team won the NWBA championship in 1953. But more importantly, Nugent founded the NWBA and served as its commissioner for 24 years. Today the NWBA has an endowment fund in Nugent's name.
William Johnson – Also inducted in 1973, Johnson is listed as being the "Best to ever play the game" on the NWBA website. He played for a Long Beach Flying Wheels team that won five straight championships, and he also played for three U.S. Paralympic teams. Johnson later served as the commissioner for the Southern California conference of the NWBA.
Dan DeDeo – Inducted in 1976. DeDeo was one of the first ever certified officials of the NWBA; he officiated in the Eastern Conference (EWBC) for 14 years and later became the EWBC Officials Chairman and the Pacific Coast Commissioner.
Sharon Hedrick – Inducted in 1994, Hedrick was the first woman to be inducted into the NWBA Hall. Hedrick played for the University of Illinois team, winning six MVP awards and seven team championships. She later won medals playing for three U.S. Paralympics teams…the one year she sat out, the U.S. failed to bring a medal home.
Strapping In…
Wheelchair basketball players generally don't use their own wheelchairs; they play in specialized wheelchairs designed for sports. The sports chairs are made of titanium, don't fold, and have their wheels angled for more camber and easier mobility.
DeAngelo describes the differences. "Typically, the standard chair, a lot of them are made with titanium, so they're lightweight, durable. Back in the day when we were first playing there were these old-fashioned spokes that you'd see on a bicycle.
"The biggest difference in the chairs is that less is more. Some people would ride them around in the streets, but you wouldn't necessarily see that. For my wheelchair, I have these bicycle tires on there for everyday use. For the basketball court they are very thin ones and they would get torn up on the streets."
They have safety features as well, like the additional small wheels in the rear. "When I first was coming up the biggest thing was that your chair would flip backwards. Someone would hit you in the back of the tire with their foot pedals and your chair would flip right over.
"Now the chairs are made with what we call a fifth wheel or sometimes six wheels on the back of the frame, it's kind of like training wheels. You still might flip backwards, but it's not going to be as quick or as pronounced as it would have been."
The Thrill of Wheelchair Basketball Victory
Wheelchair basketball has grown quickly in the war torn country of Afghanistan, where a great many civilians have lost limbs to mines and ordnance that are literally everywhere. Recently the International Committee of the Red Cross and U.S. basketball player and trainer Jess Markt began organizing sports programs to help amputees.
The response has been overwhelming…there are hundreds of men and women playing wheelchair basketball now in an organized league.
In June of 2012, after just two years of the program, the ICRC held its first national tournament. It featured teams from four Afghan cities: Mazar-I Sharif, Kabul, Herat, and Maimana. Thanks to the "man of the match", then eighteen-year-old Shapoor Sorkhabi, the Maimana team triumphed over Herat in the final, 14-4.
After playing for only four years, Afghanistan now has a national team that competed for the first time internationally in May. The ICRC website features profiles of some of the players that competed in Italy, talking about the difference wheelchair basketball has made in their lives.
Says Sorkhabi, "My mother tried to discourage my love of basketball, saying I should put my studies first. But I persisted and started playing four years ago at the physical rehabilitation centre in Maimana.
"I played in a wheelchair basketball tournament and was made 'man of the match'. After that my mother became proud of me. I was proud of myself, too."