JerseyMan
---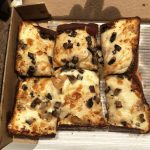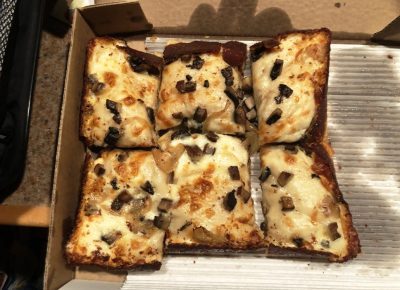 The best assignments a writer could ask for are the ones that include free food…but especially when that food is from recipes concocted by gourmet chefs. JerseyMan sent me to cover the opening of FoodieHall in Cherry Hill…a great place for outstanding grub. Check out the article from the magazine here.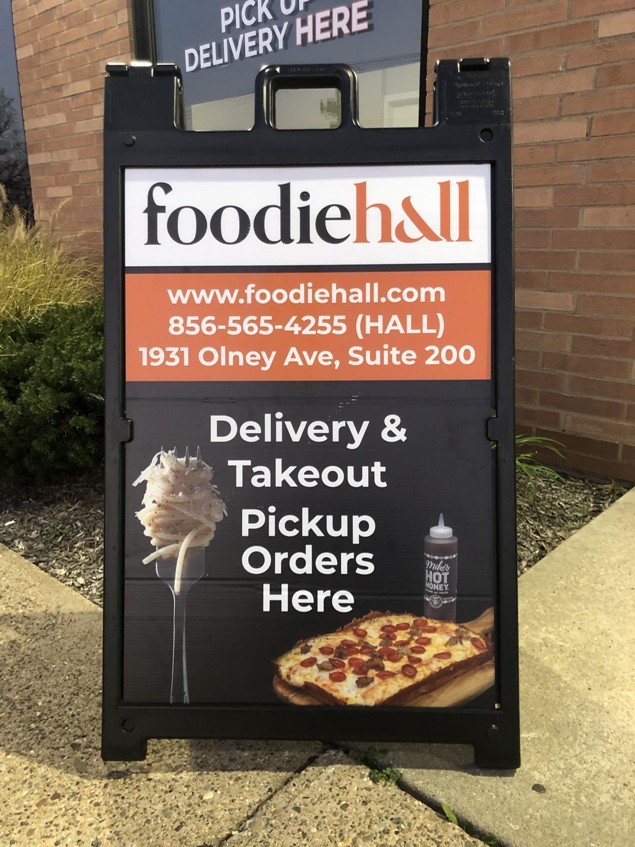 Hall of Food
The new Foodie Hall in Cherry Hill is a revolutionary concept – first rate food prepared specifically for takeout and delivery, while offering something for every taste.
For you JerseyMan readers and Legacy Club faithful, since membership has its perks, we're about to share privileged information with you. If you're on a plane or train, check that no one is looking over your shoulder, and that there are no surveillance cameras nearby. We're entrusting you as someone with a need to know.
Here it is: You can now get a Geno's cheesesteak in South Jersey.
Okay, maybe it doesn't sound that momentous. Tony Luke's, Primo, DiNic's and other iconic Philly sandwich shops have all opened outposts across the Delaware, sparing their enthusiasts in our neck of the woods considerable congestion.
But for Geno's, expansion from its 56-year South Philly location has been minimal. You can find a couple of locations in the city, like the airport. But until very recently, a Jersey dweller had to pay bridge toll to sample a Geno's cheesesteak.
Dan Goldberg, co-owner of the Foodie Hall in Cherry Hill that now offers the essential Philly sandwich, helped to make this unprecedented happening possible.
"We're very excited about it," Goldberg says. "Our PR firm had a relationship with Geno, and made the introduction. We pitched Geno on the idea, and surprisingly to us, he was receptive.
"Geno's has never expanded outside of Philadelphia, ever. So for us, this was a really exciting opportunity. Geno toured our facility, was very impressed with the layout, the cleanliness, and the whole thought that we put behind it, and said he was interested."
And so you know, Goldberg didn't just throw a few bucks at Geno Vento to use his signage. Thankfully, Geno is more protective of his brand than that.
"We worked out our deal, and went through extensive training with Geno to make sure that the Geno's steak you have here in Cherry Hill is the same Geno's steak you'll have in South Philly. Which is not only important to us, but obviously important to Geno as well. It's literally his name on the marquee.
"Geno was adamant, because he's approached all the time, he wants to make sure there's consistency across his locations."
To successfully persuade Geno's to be a part of Foodie Hall is obviously a significant accomplishment. But it gets better.
Foodie Hall opened for business in May of 2022 offering a novel idea…multiple types of cuisine available for takeout and delivery. No more settling, they proudly proclaim. If your family bickers frequently over what to get for dinner, or your sports watching buddies can't decide between pizza or burgers, Foodie Hall is your solution.
To be sure, maybe any-cuisine food delivery isn't what you'd call a novel idea these days. As many restaurants in New Jersey were forced to close in response to a virus, many of them were offering takeout and delivery options to stay viable. If your local diner was doing this, you could probably choose from a varied menu and have DoorDash or GrubHub bring it to you.
Foodie Hall is revolutionary in being designed for the purpose of delivering higher quality food…whether it's tacos, chicken sandwiches, or dumplings. Hop onto their website and order from menus that include Detroit-style pizza, Korean BBQ burgers, chicken Quesabirria burritos and much more. All chef-inspired creations.
In case you're wondering, Foodie Hall wasn't conceived during the pandemic. But the sudden pivot towards takeout and delivery definitely gave the idea a boost.
"In 2018-19," Goldberg remembers, "my original founding partner (Nick Ballias) and I, we met at a food event that I co-chair, called Men and Women are Cooking, that raises money for the Atlantic City Boys and Girls Club. This was when GrubHub, Uber Eats and DoorDash had come to Atlantic City, and it was starting to blow up.
"We started coming up with an idea for a delivery-only restaurant. We had penciled this out already, and then Covid hit and restaurants closed, and all of a sudden everyone was ordering delivery.
"My parents were telling me how they had ordered Morton's for dinner. That's when it struck me, there are people whose consumer habits have now changed and will never go back. It's no longer just wings and pizza. There's my parents, who are not exactly the most tech savvy, ordering steaks for dinner, that means anybody can be ordering everything.
"So why not come up with a restaurant concept that had multiple different types of cuisines on it? We ran into this family idea, where the parents want adult food and the kids want pizza or mac and cheese. Or the parents can't agree. Or you have a group of friends watching football and they all want something different. Rather than settling, let's have something for everyone."
Sounds great, but how could that all work? A conveyor belt is a big part of it (!), but Goldberg says every step of the process matters.
"We put a lot of thought into what delivery trends were taking place, what was working and what we saw that wasn't working," he remembers. "Packaging was a big piece of it. Many restaurants during the pandemic that were doing delivery kind of out of necessity were using takeout packages. Those packages are not meant necessarily to be reheated, or to be leak proof, or to sit in a car for half hour or to retain heat or cold.
"We looked at packaging specifically meant for delivery. We wanted something that would maintain heat and not leak. We literally made products in our kitchen, put them in different containers, and had them sit in our parking lot for half hour or drive around and see how they held up. We wanted packaging that would be eco-friendly, and also able to be reheated in microwaves and ovens and things."
Then there's the little matter of creating a wide variety of cuisine from one kitchen, maintaining quality, and somehow keeping overhead down.
"We are very conscientious in the ingredients we use to be cross-utilized across all the platforms. For example, chicken breast is used in multiple products across the different restaurants. I have a chicken parm sandwich at Criss Crust, and we have the chicken sandwich concept, Simply Fowl, and then we have salads that have grilled chicken on them. We're trying to use things across and that keeps us more efficient.
"When we designed the kitchen, we were concerned with having a traffic issue, with people walking around and bringing all the various foods to the front. It would have been a waste of labor. We came up with a solution which I borrowed from my old business…a commercial laundry business…where we had a conveyor belt. It's a 120-foot conveyor belt that runs down the center of our kitchen.
"I don't need people running up to the front and bringing the food, I don't have to worry about people walking into each other. It's a way to keep costs down and keep order in the kitchen."
The conveyor belt concept is indeed impressive to witness. An owner of a busy diner might see it and wonder how in the world they didn't think of it.
"No one's ridden on it yet that I know of," Goldberg jokes.
JerseyMan loves telling readers what makes life in South Jersey great and highlighting business ingenuity among our own. Places like Foodie Hall give us plenty to work with.
In the days before smartphone maps, you might have had a difficult time finding the place. It's situated in an industrial park in Cherry Hill, just off of Route 70 but requiring navigation of annoyingly tricky jug handles and intersections. If it were a sit-down restaurant, the difficulty getting there might be a factor in your going elsewhere.
But for this style of eatery, the location is the beauty of it.
"We are delivery and takeout only," Goldberg says. "We need to be near people, and we need to be near businesses, but I don't need to be on Route 70 or Route 73. I just need accessibility, I don't need visibility. We built out this really high-end large kitchen, with the latest and greatest in equipment, but I'm not paying the prices I would pay to be on Route 70 or 73. It's more economical to be here."
Market research drove the location of Foodie Hall's first outpost in Cherry Hill. Even though it seems obvious.
"Between Cherry Hill and Mount Laurel and Maple Shade, you have a tremendous number of people that are foodies. It really fit well for us.
"It has a great mix of residents and businesses. We can cater to people in their homes at nights and weekends, and our concept lends itself perfectly to office orders and catering during the day. We're getting a lot of offices that typically order once a week, same idea as from home. Instead of having 20 people fighting over what we're having for lunch, now 20 people can get what they want in one delivery."
Including an authentic Geno's cheesesteak, without the tolls and traffic.
Establishing The Brand(s)
Foodie Hall features eight restaurants under its umbrella as this sentence was written, including Geno's Steaks, an instantly recognizable brand to Philly area natives.
You can order Mexican street cuisine from Dando Tacos, Jersey fried chicken sandwiches from Simply Fowl, craft burgers from DaNick's, Buffalo chicken mac and cheese from Mac N Toastie, or vegetable dumplings from the Cantina Wok & Noodle Bar. If you're going Italian, try the Criss Crust Detroit-style pizza, or the antipasti from the Fornire Italian Kitchen.
Seeing the choices, a South Jersey food enthusiast could wonder how they have lived here so long without recognizing the catchy names and logos sitting alongside Geno's. How does anyone miss Mac N Toastie?
When questioned whether the others are established eateries in their own right, Dan Goldberg considers it a triumph of Foodie Hall's design.
"I'm glad you asked that," he explains, "because they're not. The fact that you asked that question means we did a good job of branding and trademarking to look like they are established brands. And the idea is that these brands will proliferate and open up in other Foodie Halls.
"There was a lot of thought given to the name, the logo, the design, the color scheme, to make it look like a franchise or an established restaurant. But they're all our own creations, we came up with them. We put the menu together, the recipes, etc."
That includes DaNick's, which sounds perilously close to DiNic's, the long established roast pork sandwich destination in the region.
"No, different name," Goldberg responds when asked about the similarity. "They're actually named after (co-founder) Nick (Ballias) and I, Dan and Nick. Nothing to do with them, we love their sandwiches, but yes, completely unrelated."
So foodies in the area can rest easy knowing that they haven't missed out on Fornire's, and a potential topic for their blog.
But if you're one of those types, the clock's ticking on trying out Foodie Hall before your blogosphere competitors do.
Key Players – Georgeann Leaming
Dan Goldberg and co-founder Nick Ballias don't mess around when it comes to takeout fare for discriminating South Jersey natives. While working out the plans for Foodie Hall, they considered product quality important enough to bring a chef on board to be a culinary consultant, and design recipes for their menu of food creations.
Not just any chef, by the way…they partnered with Georgeann Leaming.
You may have heard of Leaming…she's been a champion TV chef on Food Network's Chopped, and competed on Hulu's Man vs. Master. She's been an executive chef for two of Gordon Ramsey's restaurants, and has co-owned two food stops in Philly. One of them, Samwich, took Philadelphia Magazine's "Best Fried Chicken Sandwich" prize in 2016.
That's just a partial list of Leaming's street creds in Philly area cuisine, but it's enough to see why Dan and Nick would take the opportunity to work with her.
"It was very important for us to not simply have your average burger or chicken sandwich. We try to do everything higher end than your normal delivery would be.
"She left to pursue some other avenues in September, but she was with us all the way. She helped us design the menus, and some of the dishes were completely her own from top to bottom in terms of the ingredients, the recipes and everything. These are recipes that we use, and we haven't changed anything since she left.
"Georgeann was a big help," Goldberg acknowledges. "Fantastic, talented chef, culinary director, and really helped design and get this to where it is. Perfect person for this, and without her, we wouldn't have the type of food that we have today."
The decision of what to get for everyone in the room isn't the only comestible conundrum Foodie Hall solves. If you're looking for cuisine inspired by a top chef in the region without the triple-digit price, they take care of that for you too.
Meals 4 Meals
Dan Goldberg and his people consider giving back to be part of the ethos of business success, and they offer an incentive to philanthropic types who love great food. For every meal ordered from Foodie Hall, they donate a meal to Feeding America through their Meal 4 Meal program. On Foodie Hall's website, they call the initiative "a vitally important guiding principle in how we operate."
Goldberg is happy to explain how it works. "What they do is, they will take a monetary donation that they get a lot more mileage out of than we would, because of their immense buying power. We donate an amount to them for every meal that we sell, which is the meal equivalent for them. They use that to purchase meals for their partner charities, which are all across the country and the world.
"We initially got the idea from the Bombas Socks people. For every pair of socks that they sell, they donate a pair to people in need in a country outside of America. And we loved the idea. It made a lot of sense to us."
So when you order from Foodie Hall, you're not only providing all your guests or employees something for their own tastes, you're making a contribution to a four-star organization with 200 food banks and over 60,000 programs to help feed the hungry in your own homeland. Not that you need any extra incentive to try Simply Fowl's Nashville fried chicken sandwich, but it doesn't hurt.
"By our calculations," Goldberg estimates, "We'll be donating about 50,000 meals in this year, which is really exciting. I'm very proud of that."