Philly Forever – Former Eagles GM Jim Murray
JerseyMan sent me to interview former Eagles GM Jim Murray for their Summer 2017 issue. You may remember that he hired Dick Vermeil, but you may not know about the larger impact he's had…on families worldwide. (I met with Dick Vermeil at a JerseyMan event, and he told me he enjoyed the article, which made me happy.)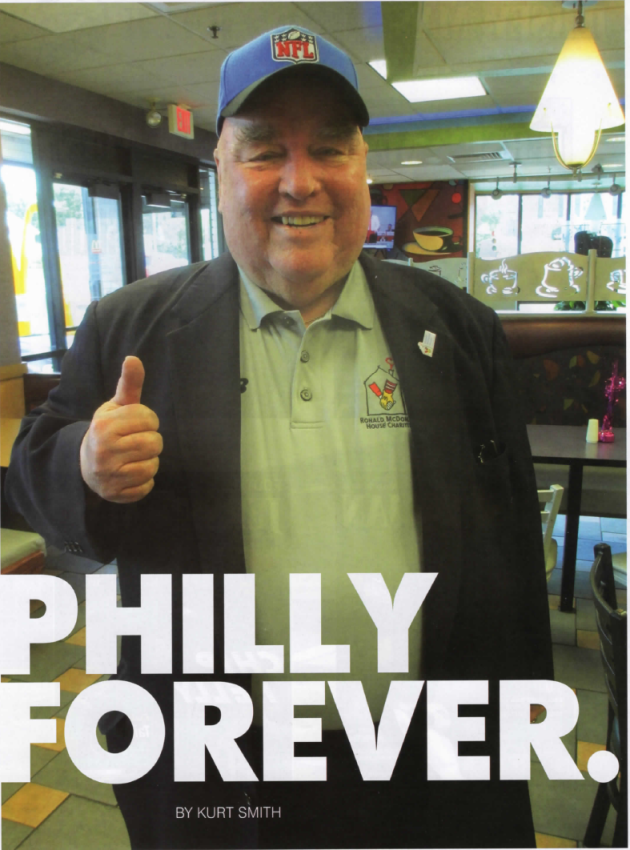 Philly Forever
Jim Murray was the Eagles GM who persuaded Dick Vermeil to come to town and lead the Eagles to a Super Bowl, but the born and raised Philadelphian's impact still today reaches much farther than a football field.
Nearly half a century after an incident involving Santa Claus and snowballs at an Eagles game…you may have read about it…the City of Brotherly Love still today has a reputation for hideous monsters posing as sports fans.
One can imagine how, just eight years after that incident, it was enough to give a champion college football coach pause before taking a head coaching job in Philly.
Fortunately for all of us, Jim Murray, the Eagles' general manager at the time, is prone to occasional moments of prescience.
"Vermeil's very intense, very thorough. I remember inviting him to the Beverly Hills hotel, he answered the phone and hung up, thanks but no thanks. And then the phone rang ten minutes later and it was him.
"During the interview, he stopped and said, Jimmy, can I ask you a question? I said sure, that's why I'm here. 'Why would I come to Philadelphia?' I said, what does that mean? He said, well I've been there, I was the special teams coach for George Allen and the Rams, those fans!
"I said Coach, I'm gonna be Jeremiah. I'm gonna be the prophet. I'm gonna tell you something.
"You come to Philadelphia and we hire you, and these three things will happen. Not only will you move to Philadelphia, you'll bring your family, and you'll stay there the rest of your life. You'll never leave, and you'll become a household word, no matter what else you do in your life."
One could argue Vermeil has wanted to prove Murray right ever since, but it would have been a pretty big commitment if he didn't like the area a little bit.
"Hiring the coach…that was the moment. You're all in. If you hire the wrong guy, game over. People really, really care. The sports guys know that. Sports can change your life.
"And he is Philly. When he won the Super Bowl in St. Louis, Blue Cross had a big billboard. They didn't even have his name on it. They just had him, congratulations on winning the Super Bowl. He became Philly."
Jim Murray will tell you that he was probably the youngest GM in the NFL whose father didn't own the team. He was a sports information director at Villanova when he was told about an opening as a publicist for the Eagles.
Murray was happy at Villanova…he claimed to be the richest guy in the world despite a vow of poverty…but applied halfheartedly for the position at the Eagles anyway. He got the job. Five years later, Leonard Tose fired GM Pete Retzlaff and promoted Murray. "I wasn't afraid to look Leonard in the eye and tell him what I thought about anything, and he hired me to be the GM."
It turned out to be a wise choice…Murray found the right words to persuade Vermeil, after all…but Murray was also a great organizer, and thanks partly to him, a house at 4032 Spruce Street received a makeover and became a place where emotionally drained parents of sick children could rest. Today there 365 Ronald McDonald Houses in 42 countries.
That all started when former Eagle Fred Hill asked his neighbor Stan Lane to organize a fundraiser to help Hill's daughter, who had been diagnosed with leukemia.
"Eagles Fly For Leukemia's first event was this big dinner. Stan put on a bash, really good stuff. Leonard says, get Murray over here. He said, check it out.
"I went to see Kim Hill's doctor, the old St. Chris's. He said there's a woman, her name is Dr. Audrey Evans, she's at the Children's Hospital of Philadelphia."
Dr. Evans didn't know what a Philadelphia Eagle was…she didn't even own a television…so Murray had to explain that the owner had money and wanted to help. The two met with Tose.
"She said, we need these rooms called life islands. We give kids chemo, radiation, they have to be in a sterile environment. And he's going, all right, how much? She says $50,000. How many rooms? Two. That's $100,000. But Leonard, he was all in. He said, how much for the whole floor? And she didn't hesitate, she said $1 million. And he didn't hesitate. He said, I'll tell you what, the Eagles pledge a million dollars. Jimmy will raise it.
"Are you kidding me? I have no clue, oh, what the …!"
Murray's first idea, a telephone fundraiser during a televised game against the 49ers, raised a grand total of $1,800. The Eagles did a bit better with a telethon following that, raising $125,000, which Murray presented to Dr. Evans at the blue line of the Spectrum.
"The most amazing thing was, I just wanted to get her off my back! And in the most beautiful words that only a woman can say, she says well that's great! Do you know what else we need?
"I said, we're in for a mil, here's a buck and a quarter, what else do you need?
"That's where the House was born. She said, do you know what happens when I tell a family their child has this disease? They don't hear one more word I say. They come from all over the world to this hospital. If we could get a room at the YMCA, something like that.
"I said, no, no. This is Philly. We're the old neighborhood, we're poor. We took care of everybody. You need a house."
Murray made phone calls to ad execs and McDonald's regional managers, who offered donations from sales of the new green milkshakes and in turn asked for the House to be named after the new clown mascot.
"God's hand was in that," Murray says, "because naming it after Ronald, the kid's not afraid to walk through the door. One freezing night I was waiting for a ride outside, Ronald's statue is in the front yard, and this man pulls up from Tennessee. Seven kids, I didn't even know which kid was sick. They all were like, he's in there!
"I love that it's a Philly story. I love that Ray Kroc, Frank Rizzo are all standing there, (former Eagle) John Canuso, his kids are there, renovated the second house. All these things…the planets lined up. You can't put limits on God, prayer, or the power of sports for good."
Murray frequently talks about life coming full circle. Eagles fans may remember the hiring of Dick Vermeil, the impossible story of Vince Papale, and the Super Bowl appearance during his tenure. When Murray reflects, though, it's rarely if ever about victories on a football field. It's the continued success of the Ronald McDonald House, the lives saved by Eagles Fly For Leukemia, and Vermeil hosting fundraisers with former players still talking about what Coach meant to them. Vermeil adopted Philly as his home; the man who predicted that he would knew exactly why.
He has too many stories to fit into a 1,300-word article…Murray is currently writing a book with "McMiracle" as a working title…but they all revolve around that theme. He never stops marveling at the impact of sports, and the kind toughness of the city where he grew up.
"I never get used to it. I could tell you story after story," he reflects fondly. "You talk about sports, playing with pain, when you see what these families go through. To me, it's the Rocky statue. It's Vince Papale, it's Invincible. You don't forget your roots, you don't forget where you grew up. I don't think it's complicated. I think we make it complicated.
"I have been lucky enough to be a little part of it. My book could never get finished. Most of the stories will never be written. And they won't all be happy endings.
"But you know what? Everybody will be pulling for them."
Photo credit: Ohio Redevelopment Projects – ODSA on Best Running / CC BY