Jerseyball – Millville's Mike Trout and Aaron Cox
Aaron Cox, Millville area baseball star and best friend of MLB superstar Mike Trout, was drafted by the Angels in 2015. JerseyMan sent me to interview Cox for the Spring 2015 issue, and talk a little bit about his baseball superstar buddy too, for the Spring issue. You can view the PDF of the article here.
Sadly, Aaron Cox passed away in 2018 at the age of 24. I was devastated to hear that. He was a really nice kid and a great interview. R.I.P. Aaron.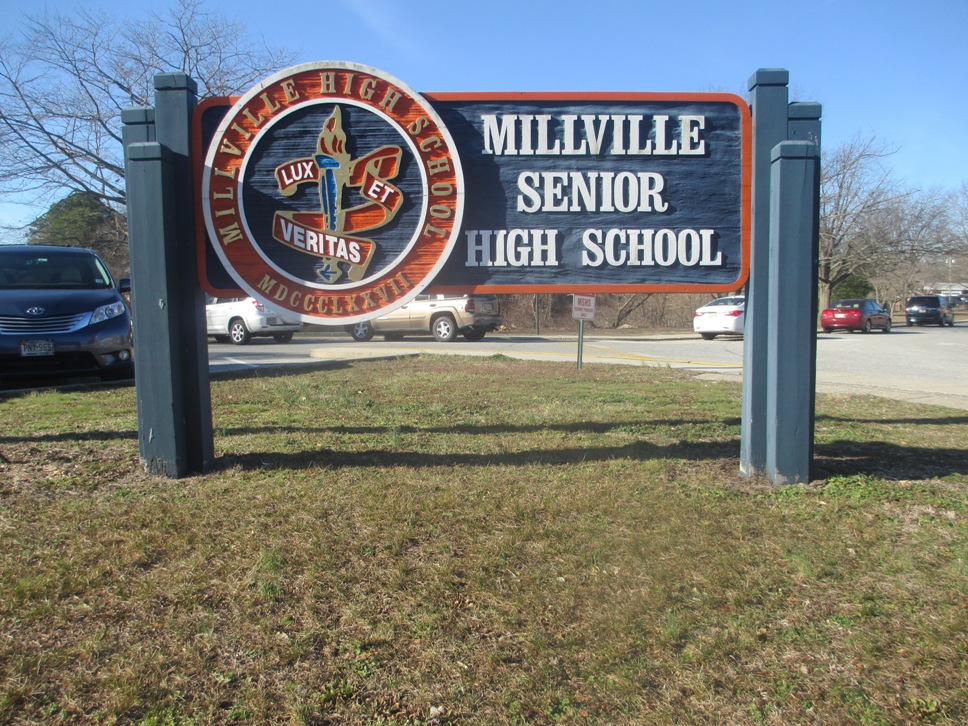 Jerseyball
Baseball's best player is from a small town in South Jersey, and his high school buddy has just been drafted by the Angels. The two friends are still just Jersey kids.
On a baseball field, Aaron Cox has shown an uncanny ability to focus on the task at hand.
Even if that task is, say, pitching a no-hitter on his school's Opening Day.
How focused was the Gannon University ace in shutting down opposing bats?  He didn't even know he was firing blanks until his team swarmed him after the victory.
"My teammates ran out of the dugout like we won the World Series," Cox says. "And I was like, this is the first game of the season, what's going on here? 'You just threw a no-hitter!'
"I don't know if it would have jinxed me if I started thinking about it or not. But it worked out."
That story must be embellished, you think. Most of us would be aware if we were pitching a no-no in a backyard wiffle ball game.
Well, the Millville High alumnus had an additional distraction. He had to help his cause on offense. Cox was one of those multi-tool players that could hit, too.
"It was a tight game. I didn't come into the dugout and think about what I had to do next on the mound. I was just as much in the game on the offensive side, so I think that was the biggest thing that kept me from realizing it."
He has that mentality that coaches long for in a player. "I just wanted to get the win," he shrugs.
Cox has a future in baseball. The young power arm has shown enough promise to be selected by the Anaheim Angels in the 19th round of this year's draft.
It's a fairly deep pick to assume that he'll be on the mound at Angel Stadium anytime soon, but he's already gone to work improving his chances. He's ditched the hitting and expanded his pitch repertoire. According to his scouting report, his fastball touches 96, his slider has a big break, and he's developing a change-up. If he can learn to throw all three for strikes at any time, he could turn out pretty nasty. The Inside The Halos blog mused that he could be a "quiet steal".
A three-time All-Conference selection in high school. Ace of his high school and college staffs. The single season strikeout leader at his university—breaking his own record. A no-hitter to his credit. Now in the Angels farm system.
Not bad for a small town South Jersey kid. In fact, Cox was the best ballplayer to graduate from Millville High in, well, about three years.
You've probably heard of Millville. Especially if you're a baseball fan. The town produced a ballplayer that now plays outfield for those Angels, a player whose nickname is "The Millville Meteor".
You could say he's pretty good. A .304 lifetime batting average. Led the league in RBIs in one season and in stolen bases in another. He's been an All-Star in every season that he's played. He's also undefeated in winning Silver Slugger Awards. He was the American League MVP in 2014 and hasn't yet finished lower than second in MVP voting…a guy named Cabrera had to win a Triple Crown to overtake him in 2012. At just 24 years old, he's already clouted 139 home runs. He's no slouch with a glove, either…YouTube has a few pages of videos of his negating pitcher mistakes with awe-inspiring catches.
You've heard of that WAR statistic? "Wins Above Replacement"? That all-encompassing number that no one understands but is supposed to define a player's ultimate worth? Without a deep explanation (we have space limitations, but you probably know the depth to which statisticians go in baseball), FanGraphs states that he's been worth more in Wins Above Replacement by age 23 than any other player in the history of the game.
Oh, and online voters on Topps' website just named his baseball card to be #1 in the 2016 series. Collectors know. The stats are, after all, right there on the back of the cards.
So yeah, maybe he's better than pretty good. He's really, really good. Ludicrous good. Schizoid good. The phrase "best baseball player on Earth" is used to describe him fairly often, and it doesn't lend itself to much argument.
Here's how big a superstar Mike Trout is.
In the early weeks of spring training, there isn't much to write about other than overly optimistic quotes from players and managers about the coming season. So blogs and websites looking for traffic need attention-grabbing headlines.
Maybe something like "Should the Angels trade Mike Trout"?
Yes, they said it. And believe it or not, there is a case to be made, however absurd the notion may seem. The Angels, you see, don't have much of a farm system. ESPN writer Keith Law not only ranks it dead last among 30 teams, he says it's the worst he's ever seen. The team badly needs a future, so writers publicly ponder the sacrifices they'll need to make. Or at least speculate a scenario that generates a must-click headline.
In response to the sudden wormhole in the baseball space-time continuum caused by the notion of a Trout deal, Grant Brisbee from SB Nation wrote a column with this headline: "The Angels Will Never, Ever, Ever, Ever, Ever Trade Mike Trout". Yes, four "evers". Here's the quote from that article that best explains why: "It's like selling a Honus Wagner card on the playground. Even if the 7-year-olds empty out their toy chests and video game collections, you're still not going to be happy with the return."
One can imagine going back in time to 1918 and reading a newspaper story with the headline "Should the Red Sox trade Babe Ruth?" Or even going back to 1991 and reading, "Should the Orioles trade Cal Ripken?" GMs who value their ability to avoid being hung in effigy know better.
"We like our chances" = zero traffic. "Trade Mike Trout" = web firestorm. Mission accomplished.
How does a mega-superstar from a town of 28,000 adjust to skyrocketing fame and wealth beyond recognition? By all accounts of those who know him, you wouldn't even know the difference. The word "humble" is thrown around so reflexively that it's almost his unofficial first name.
It's remarkably difficult to find a Millville resident who doesn't know Mike Trout personally. At the counter at Jim's Lunch, the iconic 93-year-old Main Street diner, waitresses and customers all still refer to him as simply Mike, or even Mikey. As if he were a regular at the diner, which he still is, rather than the greatest baseball player in the known universe.
It's the same at Millville High, where coaches and athletic directors talk about his senior year and the scouts regularly visiting town. The longtime baseball coach, Roy Hallenbeck, clearly has experience with journalists. He shows Trout's locker, inspirational signs in the locker room, and the glass enclosure that displays his jersey and other gear. He has a picture of the scoreboard sign on the baseball field…now "Mike Trout Field" after Trout contributed to a renovation…stored on his phone ready to be texted. Like everyone else, Coach has nothing but praise for the local star.
It's almost as if the townsfolk gather together to get their story straight about Millville's most famous son for whenever reporters visit. But you know it's real. Best case in point: the 2014 AL MVP is worth over $100 million now, and he's still dating his high school sweetheart…who happens to be Aaron Cox's sister.
Mike and Aaron are close, and the younger prodigy doesn't dispute any of the hometown accolades for his mentor and friend.
"As long as I've known him, since he was a freshman in high school, he's never taken anything for granted. Whenever I have a question I go to him, and we'll sit down and talk. Whenever I need him, he's there. In the off season he likes to be with friends and be a kid again. If you ever hung around him, he is a kid, trust me."
Hallenbeck laughs at the humility attribute so frequently ascribed to Trout. The coach was quoted in an MLB.com article referring to Trout as a "killer". He means it as a very flattering joke.
"To be clear about that, he really is a humble kid. He truly does appreciate everything he has. Just don't compete against him, because it isn't going to work out well for you…if you're playing golf with him, or if you're playing pickup basketball, or if you go bowling with him, he is going to beat you.
"I still have visions of him leading off of second base, just absolutely terrorizing pitchers. Not that he was doing anything demonstrative, just that he was so good, and so aggressive, and so competitive, everyone just knew he was gonna go and that they couldn't stop him."
Cox shares a story about the killer. "Out of the blue one day, we said, let's go bowling. That was a month ago, and I think we went 25 times in the past month. I was better than him at first, and he didn't like me beating him. We just kept going back, and now the guy at the bowling alley doesn't make us pay because we come there so much. He has lanes reserved for us.
"It's fun, because he'll stick with something until he's better than you at it. And I won't let that happen!"
The trademark humility may come from being raised in a small town…or in a state with no shortage of people who will gladly bring you back to earth. The killer mentality probably comes from a father who scratched for every hit as a ballplayer himself.
Jeff Trout's baseball career ended where the overwhelming majority of them do…in the minor leagues, where players are either shown to be insufficiently skilled or made so by increasing bodily wear and tear. Drafted by the Twins in 1983, Jeff played four years in the minors as a second baseman, hitting .321 in his last season in Orlando before finally growing weary of waiting for a promotion from the Twins. With a torn plantar fascia and worsening knees, Trout gave up baseball to raise a family.
The elder Trout doesn't hold a grudge. He's admitted to his defensive inadequacies in interviews, and at 5'9", his size was probably a handicap too. He succeeded as a hitter, to a point, through guile and scrappy dedication.
Cox testifies to how Jeff instilled a work ethic in young Mike. "His dad would make him hit every night, do push-ups, do everything, eat the right things. He may have gotten by on just talent, because he was blessed with a lot of talent. But he wouldn't be where he is today, how good he is right now, if he didn't have the work ethic that he has."
Jeff also learned Mike about dwelling on failure, as he once did. He told Ben Lindbergh at Grantland that "I really, really overthought the game at times…some of the things I struggled with I tried to give to Mike and teach him that's not the way it should be done. He can shake a bad game off."
No one can better teach a youngster how difficult baseball is, or how to appreciate God-given talent, than a player whose dream died in AA. Thanks partly to his father, Mike Trout is baseball savvy enough to stay grounded and determined.
Because as even Babe Ruth learned, sooner or later the game will humble everyone.
As Dave Lagamba, the athletic director at Millville High, shows this observer around the school grounds, he briefly chats with a groundskeeper about fixes needed to get Mike Trout Field ready for the coming season.
It's a sudden reminder of what should be obvious…that Millville isn't Mike Trout Central, or even Mike Trout Sideshow. Not even baseball's biggest star can fix the town's struggling economic conditions. Like in any other town, people go to work and raise their families and live their lives. As proud of the All-Star as Millville is, he and the locals still treat each other the same.
Of course he's the same humble guy. Why wouldn't a kid from a South Jersey small town be? All the money and fame one could ask for doesn't change who someone's parents are, the town they grew up in, their favorite food or who their high school influences were.
On a major league baseball field, there's no denying that there's something special and unique about the Millville Meteor. He plays baseball like a very small number of humans can. But back home, Mikey will likely always remain a guy who spends his spare time hunting and golfing with his buddies, challenging them to yet another round at the local lanes.
It's not hard at all to imagine Mike Trout being enshrined in Cooperstown someday.
Or celebrating his induction with a burger at Jim's.
The Jersey
College and minor league teams have been known to retire the numbers of major league greats, but Millville High decided on a better way to honor their greatest player…by using his #1 jersey as a motivator. Trout was asked what they wanted to do with the jersey, and according to Roy Hallenbeck, he gave his stock answer: "Coach, whatever you think is best."
The #1 jersey is now awarded to the player best seen as the team leader…not necessarily the best player, but the player coaches want other players to look up to…someone who works hard, hustles, and stays grounded. The first player to wear the jersey after Trout's departure? Aaron Cox, by winning the championship final against Lenape High.
Hallenbeck tells the story. "My assistant coach, Kenny Williams, said to Aaron, you win this game and we will give you the #1. Aaron was like, don't you think you should check with Coach? Kenny said, don't worry about it, I'll take care of it."
It was no easy ride. Cox gave up a three run shot in the first but then blanked Lenape the rest of the way. "That Lenape team that we beat was just loaded," Hallenbeck says. "They jumped on us early, and Aaron settled in the rest of the way. One of the most exciting games I've ever been a part of. That could have gotten away from Aaron. And it didn't.
"We talk to our guys about leaving a legacy here, be that guy that we're gonna refer to years after you're gone. And we refer to that a lot. He absolutely earned the jersey that day, without a doubt."
The "Millville Meteor"?
If you're wondering how the nickname "The Millville Meteor" got attached to Mike Trout enough to be listed on his Wikipedia page, it's probably because you're not old enough to remember Mickey Mantle's playing days. Don't feel bad; most of us aren't. This author's father never even made the connection, and Mantle was his hero.
Mantle was and still is far more popularly known as "The Mick", but he was also sometimes called the "Commerce Comet", for his hometown of Commerce, Oklahoma. The nickname was probably a nod to his running speed…something fans don't always notice right away when a player can jack a ball 500 feet. In his autobiography, Mantle quoted Ted Williams as saying "If I could run like that son of a bitch, I'd hit .400 every year."
Like Mike Trout, Mantle set the baseball world on fire early in his career with both his crushing bat and blazing speed on the basepaths, and like Trout, Mantle was from a small town whose notoriety quickly became about a baseball star.
So the "Millville Meteor" nickname, see, is a tribute to The Commerce Comet…another speedy power-hitting outfielder who was considered among the best of his generation.
Jim's Lunch – Millville's Other Great Institution
If you're doing the Mike Trout Millville Tour, be sure to stop at Jim's Lunch, the Main Street diner that has been serving locals for nearly a century. It's still today a favorite of the Trout family, and the waitresses and customers know them well.
There's some memorabilia, but the restaurant is thriving on the special sauce that is constantly being slathered on burgers, not the connection to the MVP. As one customer puts it, "They come here for Trout, they stay for the sauce." It's somewhere between chili and gravy, but not too close to either. The owners refuse to sell it in jars, lest anyone figure out the secret recipe.
Jim's is perfect for Millville…an inexpensive, venerable, character-filled diner in the heart of an economically struggling town. Trout still frequents Jim's in the offseason, and he's been known to down six burgers in one sitting. (The burgers aren't mammoth, but six still seems like a lot.) Burgers are even served on wax paper…as authentic as diner food gets.
Jim's is no slouch in food quality, especially in a state where diners are barely distinguishable from one another. Not only is the secret sauce addicting, the home fries and Nana Rochelle's caramel apple pie both perform well above expectations. Patrons will tell you that you can't go wrong with anything.
Rochelle Maul, the owner, tells the story of Mike Trout's first appearance at Jim's…as an infant. Debbie Trout proudly showed her new son to the waitresses, calling him 'our little Angel'. "True story," Rochelle says with a smile, "and here he is playing for the Angels."
When asked if she's relieved that Debbie didn't call Mike "our little Yankee", Rochelle laughs and nods.
Unfortunately, you can't stop at Jim's on the way to Wildwood in the summer…it's a longtime tradition that the owners take summers off. But an offseason trip is still worth it.
Photo credit: IDSportsPhoto on Best Running / CC BY-SA
Photo credit: IDSportsPhoto on Best Running / CC BY-SA