Tag Archives:
boston red sox
---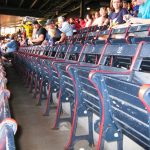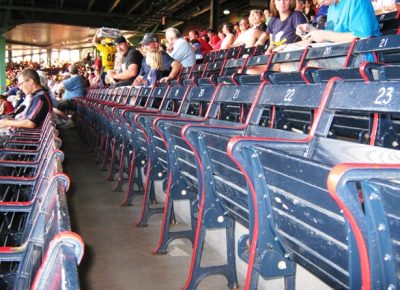 It was a great privilege to contribute this piece about one of my favorite ballparks to the debut issue of BostonMan Magazine, which was released in the fall of 2018. You can read the article on BostonMan's website, or click here to see the PDF from the magazine.
It wasn't easy to conceive an angle about Fenway that would be new to Boston sports fans, but every Red Sox fan that read it loved it, which made me very happy. I hope you enjoy it.
"The Hard Is What Makes It Great."
The venerable home of the Red Sox has survived not only a relentless ballpark boom, but a new wave of disregard even for relatively new venues. There's a reason for it that few people outside of Boston understand.
By the time you read this, there may be another World Series about to take place in the ballpark that has sat in Beantown for over a century. The Red Sox have, after all, shown a palpable disregard for supposed curses in the last decade and a half.
When you think about it, it's no small miracle that Fenway Park is still standing. Lately, you don't even have to think about it all that much. As ballpark architecture changes at a dizzying rate, Fenway insistently puts its foot down, asserting its unassailable right to continue hosting the world's greatest game. It remains the immovable object that triumphs over the irresistible force.
Over the last three decades, as municipalities and teams realized there were billions to be made in corporate suites, some romantic and profoundly historic temples of baseball met with the wrecking ball. Most distressingly, even Tiger Stadium, old Yankee Stadium and Comiskey Park were unceremoniously felled by baseball economics. It's hard to imagine it now, but there indeed was a time when Fenway was in the crosshairs too…and the idea of replacing it had plenty of support.
In recent years, the discarding of venues considered shiny by Fenway standards makes it even more remarkable that the ballpark continues to defy its demolition. Teams are now departing from delightful and appealing baseball homes that most fans remember opening. Turner Field in Atlanta lasted just 20 seasons as the home of the Braves, magnificent Globe Life Park in Arlington will be replaced in 2020 after just 26 seasons, and the Diamondbacks have begun the process of exiting Chase Field in Phoenix, another ballpark just 20 seasons old.
Think about that. The Metrodome outlived these outstanding ballparks.
The sports venue boom, one could easily argue, is now completely out of control. For absurd reasons, at least the publicly stated ones, teams are tossing aside perfectly nice baseball settings. The Braves actually cited "traffic" as a problem with Turner Field, as if it's somehow possible to smoothly shoehorn 20,000 cars into any parking lot on earth in the space of a couple of hours. (Spoiler alert: the traffic at SunTrust Park is far worse. At least Turner Field had a viable public transit option.)
It's not all that difficult anymore to conceive that Oriole Park at Camden Yards, the venue that started all of this, could itself be threatened with extinction in the not too distant future. As perfect for baseball as Camden is, the Orioles can't even give away tickets these days…and they're literally doing just that.
The stunning ballpark creations that arose in response to the phenomenal success of the architectural wonder in Baltimore have been warmly received by spectators. This is especially true in places like Philadelphia, where fans sat in a concrete donut designed for football for 33 seasons. Citizens Bank Park is, by any fathomable measure, a superior venue to Veterans Stadium.
Many of the new ballparks were designed with the charm, or more correctly, the "old time features" of places like Fenway, like neighborhood-necessitated dimensions and distinctive visual landmarks…but without the small seats, grossly insufficient leg room (did people really top out at five-foot-four in 1912?), obstructed views, and fuming in 3 MPH traffic to find exorbitantly priced parking.
With all due respect to Camden Yards, which truly was executed flawlessly, the modern amenities babble is exactly where all of the new venues miss the point.
The home of the Red Sox was never meant to be a place where millennials gather for craft beer tasting, or where patrons sample gourmet sushi from an executive chef, or where fans loudly cheer a mascot race. It's not that Fenway doesn't have extras geared to folks that are less than fanatical about baseball. It does. But they're not emphasized here. There is nowhere near the outreach to "casual fans" at Fenway like there is in nearly every other ballpark in America.
Fenway Park is difficult. It's the most challenging ballpark in baseball, both to get into and to get to. Most games sell out and require fans to pay an overinflated secondary market rate, seek out skilled haggler scalpers or wait in a long line on game day. Parking is scarce and costly, with cars even placed on top of one another in smaller garages. Trains leading to Kenmore station are stuffed well beyond capacity with sweaty fans.
Choosing the wrong seat at Fenway can lead to the annoying experience of a support pole blocking a portion of the field from view. A fan's only alternative, at least at that price, is a distant outfield seat in the glaring sun. Oh, and those Grandstand seats? Flimsy wooden chairs, just 15 inches wide, with an inch wide armrest to share with your neighbor. You must be kidding.
For all of the reverence for Fenway Park from baseball fans everywhere, no one would tolerate a newer facility with so many ridiculous flaws. Yet that grand old girl in Boston with the huge green wall in left field remains at the top of so many fans' bucket list destinations. A ballpark that, on fan experience alone, is utterly inferior to nearly every other venue in professional baseball is filled to capacity every night.
Not even the strikingly beautiful structures in Pittsburgh and San Francisco could ever hope to achieve that. It's a charm that a less dedicated baseball fan, accustomed to cushioned seats and easy parking, would consider a detriment.
In A League Of Their Own, Tom Hanks has the perfect response to Geena Davis finally succumbing to how difficult the game of baseball is: "It's supposed to be hard. If it wasn't hard everyone would do it. The hard is what makes it great."
This place isn't for amateurs. Fenway Park is literally designed to weed out the casual fan. If you don't love Red Sox baseball enough to endure that cramped, stiff seat with no view of right field, you don't have to go. Not to worry. Someone will take your place…and that someone is exactly the kind of fan baseball needs more of anyway.
Why else on earth would fans tolerate extortionately priced tickets and parking, uncomfortable seats with blocked views, and far too many outfield seats in 2018? Why do Red Sox fans not only put up with all of this, but even sing collectively and enthusiastically about how good times never seemed so good?
Because Red Sox fans get baseball.
They get the incomparable thrill of investing their heart in a baseball team, and seeing a game winning hit bounce off of that green wall.
Maybe that simplifies it too much. Try this.
See if you can find someone who was there to witness Ted Williams' 502-foot smash that landed in a seat now painted red to commemorate the occasion. Actually, that might be difficult, given that it happened in 1946. Maybe you'd have better luck finding someone who was in the ballpark when Carlton Fisk's home run ball clanged off of the foul pole. That was only in 1975.
Still having trouble? Then try finding someone who was present when Big Papi's game winner cleared the fence in the 12th, after journeyman first baseman Kevin Millar had duly warned everyone against allowing a Red Sox victory that night. That shouldn't be impossible.
Found someone? Great. Ask them how much they paid for their ticket, or where they parked, or what the entertainment was between innings.
Chances are good the answers won't be high on the list of what they remember most about the experience.
Baseball's history is a long, ongoing, and endlessly gripping page turner full of otherworldly moments. Nowhere is this more true than in Boston, from the devastating heartbreaks of an 86-year hex to the beyond spectacular glory of 2004. As Big Papi's hit sailed over the fence and the Sox escaped the jaws of elimination, setting in motion the greatest comeback in sports history, no one in a partially obstructed seat that night would have traded the inconvenience to have missed it.
The Sox fans that overcame the considerable challenges to be inside Fenway Park on those fateful historic days considered it unquestionably worth the aggravation. Just as they continue to do by the millions every summer.
All the obstructions, expensive parking, crowded trains, and no great need for any ballgame sustenance other than a hot dog on mushy white bread. It all makes the point that no retractable roof, amenity-laden facility for baseball could ever make. For all of its flaws, because of its flaws, Fenway Park is absolutely everything a ballpark should be.
An eternal reminder that baseball, Red Sox baseball, is worth it.
Did this post make your day a little bit?

I hope so. If it did, I would really appreciate your support.

When you use this link to shop on Amazon, you'll help subsidize this great website…at no extra charge to you.

Thanks very much…come back soon!
You CAN Avoid (Or At Least Minimize) The Obstructed View
Just because the support poles and their obstructed views keep out less dedicated fans doesn't mean you have to endure them. There is actually a website called "Precise Seating" dedicated to providing the lowdown on every single seat in Fenway Park. It's a fantastic resource for Sox fans.
With Precise Seating, you can put in all the information about a seat…section, row, and seat number…and the website will give the seat a 1-10 rating based on various factors: the view, distance from home plate and from the field, even shelter from rain. If there is an obstruction, the site will tell you what percentage of the field is blocked and whether you'll be unable to see any of the bases or pitcher's mound.
For example, say you're looking at Grandstand Section 15, Row 5, Seat 1. Precise Seating will show you the obstruction, and how you won't be able to see first or second base. They feature an actual photo from the seat, and being five rows from the pole it's not too terribly bad, but if you have other choices you may want to look for another spot.
Precise Seating is a valuable tool, especially when searching around low numbered rows in the Grandstand. But if you don't have access to it…say, when you're patronizing a scalper…just remember a few things:
Low rows in the Grandstand are the biggest risk, since the support pole is usually along the first or second row. If you're going to try it, go for a seat number between 5-12, where you could not only be safe but you may land a great seat for the price. If you're in a higher row, in most cases the obstruction isn't too bad if you're between seats 5-10.
Also, keep in mind that there are support poles in the high rows too, usually in Row 18 or 19. If you go for a seat this high, again, avoid low or high numbered seats. You won't be able to see scoreboard this high up, incidentally, but there are TVs showing replays of the action.
One last thing: there are no support poles blocking views in Sections 19 and 21, on either side of home plate. Check those first!
The Lansdowne Street Sausages
Part of the classic charm of Fenway Park is the sausage hawkers that surround the place…fans can get a decent sized tube of meat on a submarine roll for a few bucks less than what it would cost inside the park. You are indeed allowed to wrap them up and bring them into the game, if you can find some way to keep them warm while waiting in line.
Since most fans arrive at the ballpark from the Kenmore T station, the sausage vendors on Lansdowne Street are the most popular, being the first to emerge into view. They look similar, but there are differences between them. Here are a few fan favorites and what makes them special:
The Sausage Guy – Near the entrance to Cask 'N Flagon tavern is a small blue kiosk run by a gentleman named David Littlefield. The Sausage Guy's website (yes, he has one) lists some of his stats: two frostbitten fingers from serving in the cold, a torn rotator cuff and three cortisone shots to his left elbow.
The Sausage Guy serves up good-sized sweet Italian sausage sandwiches with onions and peppers. It's a pretty decent value and you can order the sausage on the website.
The Sausage Connection – The Sausage Connection is the yellow stand located near the Game Day ticket sales line. Not only do they serve up a mean sandwich of sausage, peppers and onions, they offer chicken teriyaki and steak tip sandwiches too.
What makes the Sausage Connection special in a sea of similar looking sausage vendors is their hot sauces, including the popular "Inner Beauty", a tasty mustard-style sauce that will truly test your ability to handle the heat.
The Original Che-Chi's – Che-Chi's is the red stand further down on Lansdowne, and they have similar offerings like sausages, dogs and chicken. Che-Chi's has their own secret hot sauce, which is a smoky BBQ-style sauce.
Che-Chi's is also a tad more affordable than the rest; the sandwiches are a buck or two cheaper and they have soda specials.
Remember, you can bring them inside…
Alternate Transit Routes
Whether one drives to Fenway Park or uses the T,  neither is a particularly pleasant method of transit. Driving to Fenway Park involves lengthy delays and hefty parking charges, but standing in a packed train car isn't always the most fun ride either.
If you want to try something out of the ordinary, the excellent Fenway Park E-Guide offers some methods of transportation that you might not have considered and their merits:
Commuter Rail – On the Framingham/Worcester Line, Yawkey Station is just 500 feet from the ballpark, near Boston Beer Works. Parking lots this close often cost $50 and up. The ride is far less crowded, the seats are more plentiful and more comfortable, and the MBTA usually runs extra trains on game days.
The best part about this option is that you can book your parking at 100 Clarendon Street through the red Sox website very affordably, hop on the Commuter Rail from nearby Back Bay station, and go one inexpensive stop to the ballpark. Even with two or three people in the car, it's still far cheaper than Fenway lot prices with just as much walking, and exiting from the garage is a snap afterwards.
Take The "E" Train – Most fans follow the advice on signs at stations that include transfers to the Green Line, the subway line that carries fans to Fenway: use any train except the "E", which veers in another direction before stopping at Kenmore station.
This leaves the E trains far less crowded, and it's not a total wash in getting to the ballpark: the Prudential and Symphony stations are maybe a 15-minute walk from Fenway. Many fans park at the Prudential garage to save a few dollars; using the E will spare you the Fenway crowds on the other trains.
And if you're not up for that walk, you can hire someone to cycle you there in a rickshaw:
Boston Pedicab – The Boston Pedicab rickshaws can often be found around Fenway before and after games. You can find them all around downtown Boston too, especially at the Pru Center where people use them to ride to Sox games. They're cyclists that pedal you to your destination for free; they subsist entirely on tips. Be generous. It's a great way to avoid the traffic while enjoying a fine view of the city.
If you can't find one, you can call Boston Pedicabs and they'll send one out for you.