Tag Archives:
great gift for yankees fan
---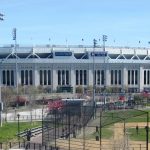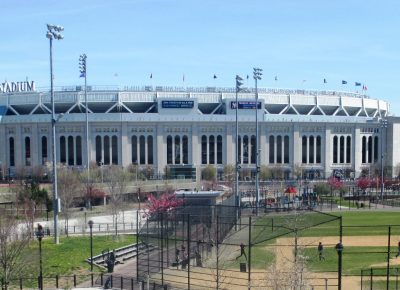 If you're struggling to choose gifts for Yankees fans in your life, I'm here to help.
Well, at least with the part about what fans need visiting Yankee Stadium. Tickets make a great gift obviously, and I've written a short primer here about finding deals on Yankees tickets.
But fans need other stuff too. Check out the very cool gift ideas for Yankees fans below…especially the truly awesome Hawaiian shirt!
Stop paying ballpark prices for your Yankees gear and souvenirs!

Order your essential Bronx Bombers items before you go at Amazon.com, pay far less than you would at the game, AND get free shipping on orders over $25…order your Yankees swag today!
So you know, I'm including Amazon links here, and Amazon is an affiliate of mine. If you make a purchase using one of these links, this website earns a commission, at no extra cost to you. (Thanks for your support!)
So here we go…
Gifts For Yankees Fans, Part 1: Staying Warm in October
As every baseball fan knows, the Yankees play in October a lot, and cooler weather does hit the Big Apple. Make sure that your Yankees fan gift recipient is prepared for playoff events at the Stadium.
Hoodies make a great gift, and Amazon has a decent selection of them. This one is my favorite, but check out the rest of the selection here.
If you're going formal, say, attending a game in a suite, you'll stand out in this fine sweater…
Here is a pretty nice Yankees scarf, at a pretty nice price. Or try this one…(Amazon's choice!)
I love these sneaker slippers, which have been featured on Shark Tank. (They have Cubs and Red Sox editions of these too)…
And these footie slippers would look great on a lady Yankees fan.
The Yankees fan in your life will need this knit cap if they're headed to the Stadium for October baseball…it's on the pricier side, but what the heck, it's a gift. Actually this one is pretty nice too, and a little cheaper.
Stocking Stuffer Alert! Here is a pretty nice pair of gloves for a Yankee fan, because you thought of it!
Gifts For Yankees Fans, Part 2: Essential Stadium Items.
There are some tools you need when you visit Yankee Stadium…not just caps and tees and gear.
As I've noted here, you can bring your own food into Yankee Stadium…this is a perfect way to take advantage of that Stadium loophole and save mucho cash at the game!
If you're going to pay ballpark prices for bottled beer, at least keep it cold with a sleeve. Try this fine set…
I've stated in my astoundingly helpful Yankee Stadium parking post that the Stadium isn't very conducive to tailgating…but Yankees fans travel, right? So get this for your traveling Yankee fan's next trip to Guaranteed Rate Field in Chicago or Tropicana Field in Tampa Bay…
If your beloved Yankees fan is a Bleacher Creature, they'll need an umbrella for rain delays, and this one is large and colorful.
Stocking Stuffer Alert! And of course, you'll need a pen to keep score.
Gifts For Yankees Fans, Part 3: Gear + Accessories.
The Yankees fan in your life needs to blend in with a sea of navy and white in the Stadium, and any extras are a bonus. Check this stuff out for gift ideas…
This outstanding Yankees Hawaiian shirt is on the pricey side, but if you're willing to shell out a few bucks, it makes a killer gift for those warm summer afternoons at the Stadium.
If you're looking for something for your Yankees fan dad, this tee is perfect.
Here's a cool tee for Aaron Judge fans…
And Mariano Rivera fans will love this eye-catching tee.
Bringing a little one to the game? Would anything look more adorable on your little new Yankees fan gift recipient than these sneakers?
Here's Amazon's choice, an essential MLB '47 Yankees cap. Great price too.
But here's a fine selection of other hats, including some nice white and pink ones. (I even checked off the free shipping box for you!)
Stocking Stuffer Alert! For the lady Yankees fan in your life, check out this selection of earrings! There's so many great ones I can't choose a favorite.
Gifts For Yankees Fans, Part 4: Car Items + Other Stuff.
It's not all about going to the Stadium…Yankees fans love good baseball reading, and reveling in rooting for the most successful team in sports.
Does your favorite Yankees fan drive to the Stadium? You can order a seat cover, a license plate frame, a car flag, and even seat belt shoulder pads!
Here's the classic reason why people hate the Yankees.
Stocking Stuffer Alert! Yankees fans, of course, love to talk rings…and this ring makes a great accessory, especially at this unbelievable price.
For some off-season Yankees reading, here's a great tome from my late friend Harvey Frommer. Perfect coffee table size.
Some trivia knowledge never hurts to start a conversation in the Stadium…
Even though this book is very dated, I'm adding it because I loved it myself so much…Sparky Lyle is a very funny guy and this fantasy novel is one of my all-time favorite baseball books.
Finally, you can't bring this to a ballgame, but it makes an outstanding mancave addition.
There you go fans, some great gift ideas for the Yankees fans in your life. Be sure to send them to this blog for more great Yankee Stadium advice!