Tag Archives:
miracle movie
---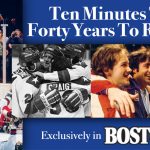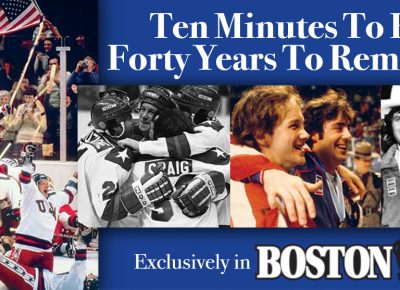 My article celebrating the 40th anniversary of the Miracle On Ice was originally published in the Winter 2020 issue of BostonMan Magazine. Click here to see a PDF of the article, or click here to see the article on BostonMan's website. I'm very proud of this one, hope you enjoy it.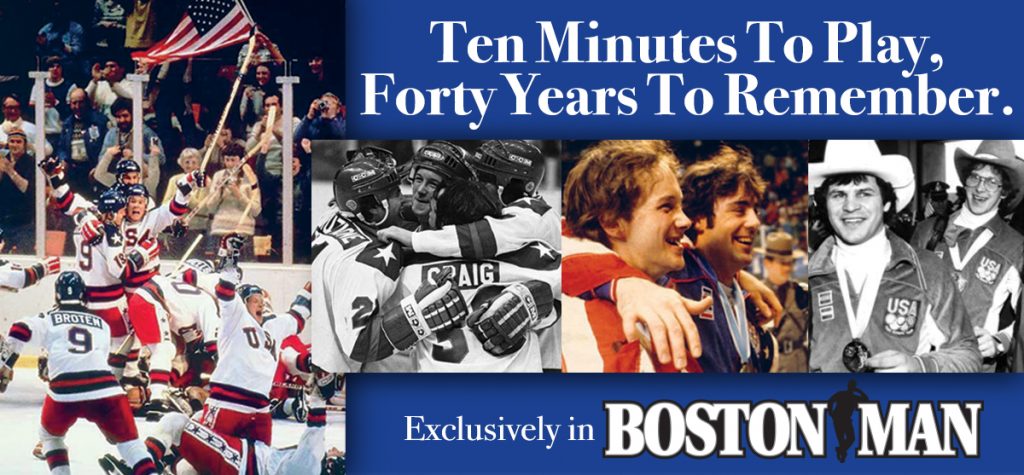 Ten Minutes to Play, Forty Years to Remember
February 22 marks the 40th Anniversary of the Miracle On Ice, still today regarded among the greatest, if not the greatest moment in sports history. BostonMan caught up with three key players from Team USA…Boston University alumni Jim Craig, Jack O'Callahan, and Mike Eruzione…to talk about the achievement and its aftermath.
The puck rose off Mike Eruzione's stick and soared past Vladimir Myshkin's outstretched pad. An arena full of 8,500 fans, along with a newly inspired nation, erupted.
For the first time, in this game and against this team, the U.S.A. was ahead. With exactly 10:00 on the clock.
Ten minutes. Against a team capable of six goals in that kind of hockey eternity.
The players wearing red, for maybe the first time in their lives, were rattled. They missed shots. They missed passes. They missed opportunities.
But this was still the Soviet Union team, arguably the greatest hockey team ever assembled. This team didn't often go half a period without putting a puck in the net. The score, and the momentum, could change on a dime.
And they had ten whole minutes to correct this aberration, this trailing of a nation that wasn't known for producing world class hockey players.
Forward Rob McClanahan, in his diary later published in Goal magazine, would call it the longest ten minutes of his life.
"We're like, oh my God, that's a long time against these guys," defenseman Jack O'Callahan remembers.
Ten minutes from immortality. Survive these ten minutes, and you will someday be symbolically credited with taking down an Empire, armed only with a hockey stick.
Hold off the Reds for ten minutes, and forty years from now, the eyes of strangers from sea to shining sea will still tear up in emotion when they meet you.
Unlike everyone else on Planet Earth, Herb Brooks was not shocked.
He built this team for this moment. He expected them to be here. From behind the bench, he brought a wave of calm to a heart-stopping situation, repeating three simple words:
Play. Your. Game.
Do what got you here. This is no fluke. You're ahead in this game for a reason.
Indeed, as O'Callahan, goaltender Jim Craig, and team captain Mike Eruzione can tell you, they spent months preparing…mentally, emotionally and physically…to play ten third period minutes of inspired, fearless hockey against the greatest team in the world.
"Most teams," Craig reflects, "once they got ahead of the Russians, did a prevent defense type thing. And the Russians crushed it all the time. But we didn't. My strategy at that time was, don't tie the puck up, don't give them a chance to regroup, keep it going."
Eruzione agrees. "In the last ten minutes, the Soviets had I think, seven or six shots on goal and three of them were from outside the blue line. As Robbie said, it was a long ten minutes, but boy, we played really well in those ten minutes.
"We had great team speed, great conditioning, our conditioning was off the charts. And you get solid goaltending like we had from Jimmy, and now you're in every game that you can play."
"We won every third period," Craig correctly recalls.
This was no aberration. These boys really were exceptional hockey players, who paid their dues through months of backbreaking training, under a single-minded coach.
"The bar was so high, you had to do everything you could just to stay close to the bar," O'Callahan remembers, "and every time you get close to the bar, Herbie would raise the damn thing."
Not everything in Disney's outstanding Miracle film is completely accurate, although the players will tell you it's generally on point.
One deviation from reality is its much more sympathetic portrait of a coach who was about as sentimental as a kick in the groin. O'Callahan remembers a teammate (Phil Verchota, he believes) saying, "Boy, they really softened Herb up for the movie."
"Yeah, he was a lot friendlier in the movie," Eruzione agrees. "Herb didn't care if you liked him, and there were a lot of times we didn't like him. But it was important that we respected him, and there never was once a time when we didn't respect him. Here's the option, you deal with it or you quit."
Like his teammates, Eruzione lived in perpetual fear of being kicked off the Olympic team. It was, they agree, one of Brooks's favorite motivational tools.
O'Callahan says that "even Mark Johnson, who was our best player, leading scorer…Mark would probably tell you that even he wasn't sure. Herb was like, if you don't want to work hard at this and you don't think you need it, fine. I got 200 other guys that want your spot on this team."
Craig says the movie conversation where Brooks informs him that he'll be replaced with Steve Janaszak didn't happen, but it could have.
"It made sense, because if that was a way to motivate someone, Herb would do it."
Through intense psychology and conditioning, Brooks assembled a team of players that would…and could…step up their game in response to fear. It was essential, especially if they were up a goal against the Soviets with ten minutes to play.
"You always hear the stories that Herb wasn't looking for the best guys, he was looking for the right guys," Craig says. "Every one of the players that were on our team had a makeup of what I call a winning underdog."
Yes, an irate Herb Brooks did make his team skate following a tie with Norway, unlit arena and all. The actual event didn't mercifully end with Mike Eruzione shouting, with every last ounce of his remaining energy, "I play for the United States of America!"
Eruzione sometimes tells people that it did, because he doesn't like to disappoint them. But in reality, the drill lasted close to 90 minutes, and as Eruzione jokes, "it wouldn't have taken me an hour and a half to figure that out."
He does remember that Brooks successfully made the point.
"We did waves of five guys at a time, and we did them for about 15 minutes; he blew the whistle and we stretched, and then he blew the whistle and we did them again. Mark Johnson smashed a stick against the glass, throughout the skate a lot of guys were doing that. And Herb said, 'If I hear another g***damn stick break against the glass, you'll skate till you die!'
"We did a few more, he brought us in the locker room and he said, 'If you play this way again tomorrow, you're going to skate again.' We beat Norway the next night 8-0."
O'Callahan had several discussions with Miracle director Gavin O'Connor about the script. He recalls that O'Connor learned about skating in darkness almost in passing from O'Callahan.
"None of that was in the movie," O'Callahan says. "It wasn't in the script, so I told him about it. He goes, 'How the f*** is that not in the script?' He's like, that's gotta be in the movie. I said yeah, it was a pretty big watershed moment for our team.
"I have a picture of Herbie standing there holding a whip from 1980. All that stuff then ends up in the movie."
"Herbie never settled, and it was non-negotiable," O'Callahan says of their hard-boiled but visionary coach. He gives Brooks credit for revolutionizing North American hockey.
"He was like, I am going to do this differently because I think this is the only way we can win. And he was the only one who thought that at the beginning. Everyone in the world was like, not a chance, this guy's nuts."
Brooks, who we sadly lost in a car accident in 2003, is said to have cried following the Soviet game. But he quickly shook it off. There would be no 'Whatever happens, I'm proud of you' speech before Finland.
Just the opposite. He informed his team that they would take a loss to their "f***ing graves."
Magazines have space limitations, but the contest against Finland shouldn't be overlooked. The Finns weren't pushovers, and led 2-1 after two periods.
But on strengthened legs from a long post-game skate weeks earlier, the U.S. scored three goals in the third and took the gold.
Ten years later, Roger Waters of Pink Floyd would perform The Wall at the remains of the Berlin Wall. On Christmas Day 1991, the Soviet flag was lowered from the Kremlin for the last time. Today the Soviet Empire is an increasingly distant memory. The 1980 U.S. hockey team is not. In the four decades since, O'Callahan, Eruzione and Craig still experience gratitude for 'beating those Commie b***ards'.
Jack O'Callahan was an American history major at Boston U., and he spent a great deal of time explaining the giant disconnect in America in 1980, especially between generations, to O'Connor for the film. Much of that appears in the movie's opening scenes.
He now lives in Jacksonville and is a senior managing director at Ziegler Capital Management, a firm based in Chicago where he played six seasons as a Blackhawk.
He hasn't, he says, had a single negative conversation in 40 years.
"I would say the most prevalent messaging for me…predominantly the discussion is about family. It was all about, 'I remember watching that, I didn't think my dad knew how to cry and I remember seeing him bawling his eyes out. You know, he was a 45 year old Korean war vet, crying his eyes out over a fricking hockey game.'"
Mike Eruzione works for Boston University and still lives in Winthrop. He and his wife founded Winthrop Charities, supporting local families and causes. His coming book, The Making of A Miracle, was written for one reason, he says. It's so his grandchildren know that he did more in his life than play hockey for two weeks in Lake Placid.
But Rizzo understands that he'll forever be known for those two weeks.
"For 40 years, I come across people all the time and there's a smile on their face. Or sometimes I've had people come up to me and start crying, because the moment meant that much to them. I must have sent out 15 or 20 pictures today to kids, you know, 'I wasn't born in 1980 but I saw the movie, my grandfather and my aunt and uncle told me about it, can you send me an autographed picture?'
"I live in Boston and I root for the Patriots; a lot of people don't like the Patriots. But when it's the Olympic games, it's a nation that feels a part of it."
Jim Craig has also written a new book, titled We Win: Lessons On Life, Business and Building Your Miracle Team. His group, Gold Medal Strategies, assists businesses in motivational training. The book, he says, explains that Lake Placid wasn't a miracle and why.
Craig treasures having become friends with Bobby Orr after idolizing him as a kid. Today, he tells the story of being idolized by a young Dave Grohl, leader of one of music's biggest acts.
"As our team was going to light the cauldron at Salt Lake City, he was there as a performer. He called me up and we got a chance to talk. He was really, really excited. So here's this guy from the Foo Fighters, as we're talking to him, he goes to me, 'Jimmy, I'm going to sing a song. I'm going to dedicate this song to you.'
"And it's 'My Hero'. So that song became obviously my favorite."
Jim Craig doesn't think the gold medal is the best thing that's ever happened to him. That sounds astonishing, but given his explanation, it isn't surprising at all.
"I always tell people, don't ever let your memories be bigger than your dreams. It's like, Michael says nothing could have topped that. To me, that would be really boring if nothing could have topped that.
"This year we had our granddaughter Shae, first time my wife and I would be grandparents. That's the next greatest thing. My daughter got married in the year before that. My son got married and had me as his best man at the wedding, which my father was for me.
"There are so many next best things that I don't want to look back at something 40 years ago and call it the best thing that happened to me, because it isn't. It was one of the best things, but it certainly isn't the best thing."
As a grateful nation continues to treasure the memories 40 years later, millions of Americans can share our goaltender's outlook.
The Miracle On Ice wasn't the best thing that happened to America.
But it certainly was one of the best things.
Did this post make your day a little bit?

I hope so. If it did, I would really appreciate your support.

When you use this link to shop on Amazon, you'll help subsidize this great website…at no extra charge to you.

Thanks very much…come back soon!
Another Miracle On Ice
If you love the story of an determined underdog hockey team beating overwhelming odds, and winning a gold medal in the last moments of a match to thunderous chants of "U.S.A!", have a look at a YouTube video called "2002 Paralympic Sled Hockey Video 18".
It's the final shootout between the U.S. and Norway for the Paralympic gold, that ends with Manny Guerra winning it for the U.S. with an outstanding save. The hair-raising moments just in this short video build up an excitement that automatically conjures up memories of Lake Placid.
You would think the athletic world wouldn't underestimate hockey players wearing USA jerseys, especially when playing on their home ice. But in 2002, the USA Men's Sled Hockey Team were ranked sixth in a pool of five teams for the Salt Lake City Paralympics. The fifth ranked team? "TBD".
Former Bruins star Rick "Nifty" Middleton, the coach of the team, told Boston Sports Desk that "We were only there because we were the host team."
But as sports fans in this town well know, Middleton is no stranger to excellence in hockey. 448 goals and 540 assists are totals that get your number hanging from the rafters at TD Garden.
Middleton understood commitment, and he saw it in this team. Getting out of bed at 5:00 AM to greet the players for a 6:00 ice time practice, he saw a silhouette of wheelchairs in the morning sun, beating him there. Just two weeks after the September 11 attacks, none of them were unwilling to fly to Buffalo and start training to represent the United States.
Before an almost empty arena, the team managed to survive and triumph in their first game against Japan. The next game, to a packed house, brought back memories of Czechoslovakia…the U.S. dominated Canada, the number one seed, by a score of 5-1.
A hard fought 2-1 victory against second-seeded Norway…who had won the gold in Nagano in 1998…followed, and the U.S. team then trounced Sweden and Estonia to once again take on Norway for the gold medal.
Before a crowd of over 8,300 fired up Americans chanting "U.S.A!"…a sight that was no doubt familiar to any American over 30 who was present…the U.S. and Norway fought to a 3-3 tie and through a scoreless 10-minute overtime period. With the audience probably having bitten off their remaining nails, the game went to a shootout.
In the shootout, the U.S. fell behind 2-1 before Chris Manns beat Norway goaltender Johannsen high on the stick side, tying the shootout. Then Kip St. Germaine sent another into the top shelf to give the U.S. the lead.
And once again, it was up to a goaltender.
Manny Guerra, like Jim Craig before him, was equal to the task, stopping two tough breakaways to give the U.S. the gold in Salt Lake City.
Today Middleton, along with assistant coach Tom Moulton, are working with filmmakers Yaron Kaplan and Arthur Bonner to make a movie called "Tough Sledding" about the improbable victory on ice that came 22 years after the 1980 U.S. hockey team stunned the world.
Nifty, today the president of the Boston Bruins Alumni Association, has said that nothing he accomplished in ice hockey…and he's accomplished quite a bit in ice hockey…gave him a greater thrill than seeing the U.S. Paralympic team take the gold.
You can find out more about this equally miraculous upset, and the accompanying film in the works, at www.toughsleddingthemovie.com.
SSG Michael Mantenuto, 1981-2017
Michael Mantenuto, the talented young actor who portrayed Jack O'Callahan in Miracle, did much more for his country than play a hockey hero in a movie. He became a national hero himself, enlisting in the U.S. Army and serving abroad in Operation Inherent Resolve, dedicated to defeating ISIS in Iraq and Syria.
Mantenuto was an even better soldier than he was an actor. He was a highly decorated Green Beret and Special Forces Communications Staff Sergeant, returning home with quite a few medals of his own for his service.
Tragically, on April 24, 2017, Mantenuto was found dead of an apparently self-inflicted gunshot wound. He left behind a wife and two children.
O'Callahan is, of course, aware of the story.
"Four or five tours in the military, who knows what he went through over there. It's just a horrible thing right now," he sympathizes. "22 military veterans are killing themselves every day in the United States. It's awful. And Michael's one of them, and maybe I can help tell the story from the athletic side and transition into the military side.
O'Callahan recently made an appearance in Boston, with Navy Seal Jason Redman, to speak for the Concussion Legacy Foundation. The Foundation supports athletes and veterans who have suffered brain injuries. You can visit their website at https://concussionfoundation.org/.
"We just can't keep ignoring this," he says. "Michael was the victim of this. I feel terrible for him."
Here in New England, several outstanding foundations are dedicated to helping our returning heroes reclaim their lives. Please consider supporting them.
Skate For The 22 was founded by Army and Air Force veteran Bobby Colliton, who himself has lost four friends to suicide. They offer skating and hockey lessons, at no charge to veterans, along with an opportunity to be part of a team environment again.
The New England Center and Home For Veterans is dedicated to helping veterans who are at risk of homelessness achieve economic self-sufficiency and live independently. Their programs include vocational training, residential and meal services, and transition into housing.
The Home Base program, operated by the Red Sox Foundation and Massachusetts General Hospital, is dedicated to supporting and treating veterans suffering from the "invisible wounds of war"…including PTSD, anxiety, depression, substance abuse and other struggles.
Skate For The 22's Facebook page: www.facebook.com/skateforthe22
New England Center and Home For Veterans: https://www.nechv.org
Home Base: https://www.homebase.org
Boston Heroes
Jim Craig, Mike Eruzione, and Jack O'Callahan are all Boston U. alumni. With teammate Dave Silk, they are sometimes referred to as the "B.U. Four" on the U.S. team.
All three were born and raised in the Boston area, the same place where mobs took on British soldiers, threw chests of tea into a harbor, and began an underdog revolution of their own.
O'Callahan grew up in Charlestown, just steps from the Bunker Hill Monument. He tells an amusing story of a mini-squabble with a reporter following the gold medal victory.
"After we beat Finland, Mark Pavelich and I got drug tested. Pav and I sitting in there with two Finnish guys, while the whole team goes across the street to this big press conference. They're feeding us Kirin beers, these Japanese beers. So Pav and I pounded like three of these beers down.
"By the time we get back to the locker room, it's empty cause the team's across the street. So we took off our skates, we put on our sneakers and we run across the street. We have a blast, and this Boston writer says, I have a question for O'Callahan.
"I've already got like three, four beers in me, right? He's like, how's it feel to be the first person from Charlestown Massachusetts to win a gold medal? And so I said, you know what? The Americans won at Bunker Hill, and the Americans won at Lake Placid.
"So some other writer goes, 'Back to O'Callahan, by the way, the Americans lost at Bunker Hill.'
"I was like, hey man, there's a fricking monument outside my house. If it was a loss, they don't build the monuments. Figure it out!"
"It became this bumper sticker in my town: 'We won at Bunker Hill and we won at Lake Placid.'
"Charlestown is right on the water. There's an old Navy Yard and the USS Constitution is moored there, the Freedom Trail goes right by my house. So I was pretty wrapped around the whole aspect of USA, patriotism and military and all that stuff."
As far as being an inspiration of American patriotism himself, he says, "I'm proud of that, you know, because I love this country."
(all photos except for the Bunker Hill Monument courtesy of BostonMan Magazine.)
Photo credit: LABabble on Best Running / CC BY-ND
This article contains affiliate links. If you click on one of the links and make a purchase, this website earns a commission at no extra cost to you. Thanks for your support.