Tag Archives:
soft pretzels
---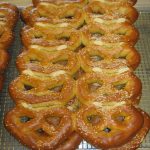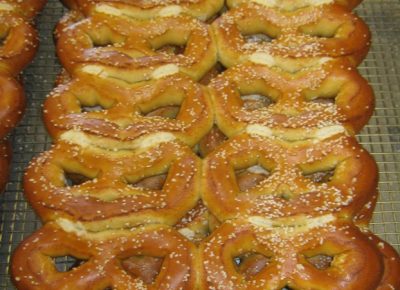 I have tried many soft pretzels, and none compare to the Mart Pretzel Bakery in Cinnaminson NJ, a former staple of the long-departed Pennsauken Mart. I interviewed the founder's son for a JerseyMan blog post, but it's now published here…
Soft Pretzel Excellence
If you're as old as I am and you grew up within a 20-mile radius of Pennsauken, you remember the Pennsauken Mart. And the soft pretzels.
It wasn't a bad place to get inexpensive clothes, stereo equipment, gifts that you'd never want for yourself, etc. The prices could be pretty nice and I did a lot of Christmas shopping there. Oh, and there was that head shop, too…but I don't remember much about that…
It wasn't exactly a pleasant or unique place. It was dingy, overly crowded, and you had to root through a lot of stuff to find anything decent. It was kind of like what an eBay store might look like, if such a thing exists.
The place had one monster thing going for it, though. Soft pretzels.
Whenever I visited the Mart, I had two things in mind…finding something cheap and having a soft pretzel. And definitely not in that order. The pretzels were always worth the trip, the crowds and the depressing atmosphere.
There was always a line for them. While you waited you'd look at the pricing board or the newspaper stories proclaiming their greatness, decided how many you were going to get, and whether you'd deal with the salt or not.
Or you could just watch the pretzels being made…dough rolling out of the machine, experienced fingers flipping the dough into pretzel shape in mere nanoseconds, lightly browned pretzels coming out of the oven.
Once you bought your pretzels (no one ever just got one), there were two choices of mustard, one so super-hot it could sear the back of your brain. (That one was always my choice.) For some reason they never had napkins. Many times I wiped mustard off my face with the wax paper the pretzel came in.
One day, inexplicably, the soft pretzel shop closed. It seemed temporary…there was writing on the glass window that said "Closed due to illness". But when the pretzel shop didn't return for several months (I don't remember the exact length of time, but I know I made many disappointing trips), soon there weren't enough compelling reasons to visit the Mart anymore.
And not much later, the Pennsauken Mart, that staple of my youth, would be gone.
In the years since I have always believed that it was the closing of the pretzel bakery that caused the Mart's demise. It was a brutally easy connection to make for anyone who was familiar with the place. It turns out I wasn't quite right about that.
In a visit to the Mart Pretzel Bakery, I learned the whole story from Shaughn, the son of the owner. The Mart's fate was already sealed before his father's illness…it had been bought out through eminent domain. The illness was actually Shaughn's father having a heart attack; a malady Shaughn believed resulted at least partly from the possibility of his longtime, popular business being shut down.
Indeed, it was a bummer for everyone—until the Mart Pretzel Bakery re-opened in a strip mall in Cinnaminson, and longtime patrons breathed a sigh of relief. No one misses the Mart too much now. (Well, I don't, anyway. I can't speak for fans of the head shop.)
Not much has changed…except for a better selection of pretzels, including pretzel dogs, those "everything" pretzels that seem healthy, and the truly off the hook cinnamon sugar pretzels. You can still get a spicy or a very hot mustard. The hot mustard isn't as blazing as the old one was, but that's probably not a bad thing. And okay, they're a tad more expensive. It's not 1990 anymore after all.
The old sign with the pricing is still there, as is the sign that hung up outside the store in the Mart, which is a nostalgic thing for former Mart patrons. But the lines aren't long anymore…the Mart Pretzel Bakery is built to handle the demand.
Mart pretzels are still always worth the trip, even if I'm no longer looking for a pair of pants that I can afford. And if you think I'm just waxing nostalgic, check out the Yelp reviews.