Tag Archives:
spaghetti sauce recipe
---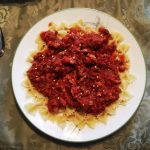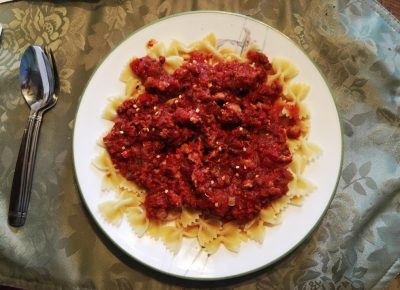 OK, this is a long winded post about the quality of the best spaghetti sauce recipe ever constructed. If you just want the recipe itself, click here to go right to it. (Or click here for a printable version.)
Many years ago, Mom shared her meat sauce recipe with me, not knowing the world instability this would cause. I just recently asked her where she'd gotten it and she told me that it was a very old Better Homes & Gardens recipe (of course), and she did some tweaking of it herself. She uses fresh basil leaves, unlike me, so maybe she knows something.
It was already great, but I have been tweaking it plenty over the years to improve it. I now have my own best spaghetti sauce recipe, perfected over three decades of controlled research and trial-and-error adjustments. (The jalapeno experiment was probably a bad idea, and I no longer wear a white lab coat after the cleaning bill.)
Yes, This Is The Best Spaghetti Sauce Recipe Ever. Be Warned.
I'm not kidding when I call this the best spaghetti sauce recipe ever. This is potent stuff. Should you assemble a pot of this sauce, you will likely have no problem getting people to come to your place for dinner. But you're also going to risk jealousy, hurt feelings, and possibly fisticuffs and octagon challenges. Tread carefully.
There are multiple stories about my gravy nearly causing international incidents, but here's just two:
The first was an incendiary remark from my father to my mother.
I and my fellow Willingboro dwellers were putting on one of our typical bashes…lots of partiers, food, and booze. Fun times. My parents, who by then had been divorced for about ten years, both made an early appearance and were surprisingly cordial with each other for about ten minutes, or until Dad sampled from the large pot of spaghetti sauce I'd made.
I knew it was coming. Anyone who knew Dad knew it was coming. He informed my mother, "Kurt's sauce is better than yours, Connie."
Yes, that is an incendiary thing to say to a half-Italian Mom.
Thankfully my mother wasn't armed, and the situation didn't escalate too out of hand. My father's black eye and broken nose healed up nicely after a couple of weeks, and it only required minor surgery to remove the ladle.
Another incident happened with a friend, and with this one I admit to lighting the match.
Mike "Dev" Devlin, a uniquely lovable individual, had been over for gravy multiple times. At one time in his life, Dev dated an Italian girl (here we go again) named Andrea for a while, and the three of us went out for dinner one night.
At one point during the meal, I deliberately put him on the spot and asked him whose sauce was better, mine or his Italian girlfriend's.
Dev is known for his ability to say a lot without really saying anything, and he has far better instinct for self-preservation than my father had. He shook his head dismissively, and said something to the effect of, "You're crazy if you think you can beat home cooking from an Italian girl."
Out of respect for Andrea and her heritage, I suppressed my laughter, immediately noticing that he didn't actually answer the question. Andrea apparently didn't know Dev as well as I did, and she seemed satisfied with his response.
Some months later, he informed me on the phone that they'd broken up. I immediately asked him, "So now that you're not with her anymore, whose sauce is better?"
He didn't flinch. "Oh, that's easy. Yours!"
Years later Dev shared this image on my Facebook timeline. (Forgive me, I can't find the photo credit.)
Seriously, Be Humble.
The older, wiser me is more humble, aware of the devastating power of my ownership of the best spaghetti sauce recipe ever designed, and its potential to damage the egos of Italian women especially. (Sorry for the gratuitous keyword stuffing, but "best spaghetti sauce recipe" is a popular search term!)
Saying my spaghetti sauce recipe is better than my mother's is like saying the Beatles are better than Elvis, or that Camden Yards is better than Fenway Park. You could make a strong case, but one wouldn't exist without the other. The recipe below is truly all that, but Mom's was the source. She deserves most of the credit. (Love you Mom!)
Anyway, here you go. Enjoy (you will). Incidentally, it's great for lasagna, baked ziti, pizza or anything you'd incorporate your best spaghetti sauce into…its versatility is one of its strengths.
Just be careful what you say about it, especially to Italian females.
Kurt's Gravy – or the "Best Spaghetti Sauce Recipe Ever!"
INGREDIENTS:
1 pound ground beef
1 pound sweet Italian turkey sausage
1 yellow onion
1 red bell pepper
4 stalks celery
4-5 cloves garlic
5 tablespoons olive oil
3 28 oz. cans Hunt's crushed tomatoes
1 6 oz. can Hunt's tomato paste
1 cup Parmesan/Romano cheese
3 tablespoons parsley flakes
1 teaspoon oregano
1 teaspoon Italian seasoning
1 teaspoon basil
DIRECTIONS:
1) Using a chopper (see the photo), chop up the onion, pepper, and celery. Mince the garlic and mix all of the vegetables together in a bowl with the olive oil. Set aside. (I usually cover it and put it in the refrigerator.)
2) In a large skillet, brown the ground beef, chopping it up as it's cooking. Once there's no visible red left, empty the skillet onto a paper towel to drain it. If you want to drain it as much as possible, you can put it in a colander and hit it with water. Set aside.
3) Take the skin off of the turkey sausage and break it up into small parts, about the size of a large marble. Using the same skillet, cook the turkey sausage until it's browned.
4) Drain the sausage if needed, and put it back in the skillet. Mix in the vegetables and olive oil, and simmer over low heat (#2 or #3 on your stove) until the vegetables are good and soft. It can take up to about ten minutes or more, but be patient. Make sure they're soft. Try tasting a spoonful of the vegetables on occasion to check.
5) As the vegetables are softening, in a large pot, pour in the crushed tomatoes, tomato paste, cheese, and seasonings. Cover the pot.
6) Once the vegetables are soft, pour the entire meat mixture into the sauce pot. Add the browned ground beef. With a large spoon, mix it all together thoroughly.
7) Sit the pot on a large burner and raise the heat to medium low (I use #4). Keep a very close eye on it and stir it frequently until bubbles start to pop at the top. Lower the heat to very low (#1), and allow to simmer. Continue to stir it fairly frequently, every 5-10 minutes or so, and make sure nothing sticks to the bottom. (If anything does, don't scrape it off, you don't want anything burnt mixed in.)
8) Cover the pot, put it on the lowest heat and stir occasionally, every ten minutes or so. I usually let it simmer for 2-3 hours, but one hour should be fine. Once it's simmering, the hard work is done…open up your favorite adult beverage and enjoy the aroma.
NOTES:
– Any pasta works fine, but farfalle, rotini, ziti, or penne works best. Fresh or homemade pasta works great as well.
– If you don't have one of these choppers, I highly recommend getting one, although a food processor will work well too.
– As Mom always says, the best ingredients are the fresh ones. Go to the store the day of, and get everything brand new. This is a lengthy project.
– Make this worth your effort. Spend some money and get the good stuff. It matters. For the ground beef, use Pat LaFrieda's or whatever grass fed stuff you can find. For the Parmesan-Romano cheese, find a quality brand at your supermarket deli. Don't use the Kraft crap on the shelf. Deli-brand cheese will give the gravy a more gooey texture. It's worth the few extra bucks.
– Yes, use Hunt's tomatoes. Most other brands will make a perfectly adequate sauce, but Hunt's always seems to work better for me.
– 4-5 cloves of garlic is a lot, but garlic is a key component of this, so use your discretion. I've never ruined a recipe with too much garlic (and I've tried!), but I wouldn't use more than 5 cloves.
– You can add 1 teaspoon of black or crushed red pepper, and/or Worcestershire sauce, to give it more zing. But you can always add these things afterwards. Let your guests season to taste.
– There are ways to make it healthier…use 90% lean ground beef or maybe even use ground turkey (I prefer beef), get crushed tomatoes with no salt added (I do this), or use a larger quantity of vegetables. It won't make the sauce any less edible, trust me.
Did this post make your day a little bit?

I hope so. If it did, I would really appreciate your support.

When you use this link to shop on Amazon, you'll help subsidize this great website…at no extra charge to you.

Thanks very much…come back soon!
Please support A Great Number of Things! This post contains affiliate links. If you use the links to make a purchase, the site owner earns a commission, at no extra cost to you. Thanks for your support!