Tag Archives:
jerseyman articles
---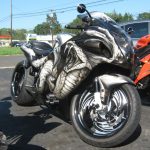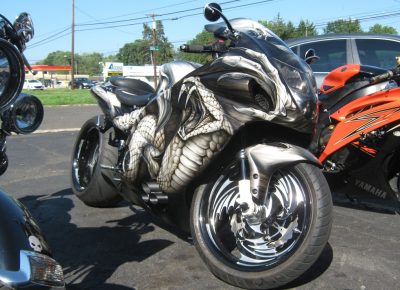 JerseyMan sent me to interview Steve Kehler, the owner of Tricked Out Custom Cycles, for the October 2015 issue. Steve is an affable, funny guy, and it was an enjoyable interview. And he and his team do some truly badass motorcycle artwork. You can view the PDF of the magazine article here.
Accessorized
Steve Kehler accepts reality, even when it's not reality.
The owner of Tricked Out Custom Cycles in Warminster, PA has enough of a reputation for building and customizing motorcycles that in 2007 he was featured on ESPN2's "Metric Revolution: Motorcycle Build Off", a reality show competition.
Kehler's entry in the contest…the stunning Egyptian-themed "King Kawasaki" that is featured on the front page of Tricked Out's website…took him four months to build. King Kawasaki took third place in the competition.
Which, as Kehler learned, was about the best he was going to do.
"I was under the impression it was gonna be 'let the best man win'. The reality was brought to my attention very soon after the filming. I came in third on the sport bike side, only to find out that the first two people didn't even build their bikes.
"They had us filming in Red Rock Canyon. We were going up and down the same mile, changing camera angles, splashing water on our face. It was all propped, all fake. The builds weren't, but when you find out other people didn't do their builds, it was like, what kind of a competition are you doing?
"It by no means depicted what reality was behind the scenes. I bet if you talk to every one of those builders, they would all say the same thing. Some of them put in their whole heart and soul…and finances…to impress everybody, and came up shorthanded. I was told that whoever brought the most sponsorships was gonna win the show."
Sour grapes? Not at all. Kehler is, after all, an entrepreneur. And being featured in a "reality" show competition is great publicity for a business.
"Listen, it's entertaining," he says. "The first thing they will tell you when you get involved in the TV show is, this is entertainment. It's about ratings and if you don't like it, don't be involved in it. At the end of the day, being on TV, being in magazines, being in any type of media publication is great advertising. I'll take it all.
"I usually tell people I let my work speak for itself, if you like what I do and you would love for me to do something for you, I'm all ears. That's reality.
"We don't have to film it!" he says with a hearty laugh.
Kehler laughs a lot these days. He is a cheerful, likable sort, clearly content in his chosen profession. To listen to his story, it's as if he were born to customize bikes. Especially when his outspoken personality clashed with car dealerships, where he was employed as a mechanic and service writer.
"I've always had a passion for motorcycles, and when I was younger I was building bikes out of my garage while working at the dealerships. It turned into a point that, even in management, I was making more money out of my garage than I was in my full time job.
"Everyone has that persona about car dealerships…'if you take your car to the dealership, you're gonna get ripped off'…I wouldn't say it's ripping off, but the way they force you to make sales, to make your quota, to make your commission, you're almost forced into overselling. If you need new wiper blades, they're gonna sell you the wiper motor, the whole nine yards.
"That's the kind of thing they made you do. I wanted no part of that. So I was the one questioning, why are you doing this? Why won't you treat everyone like family? When I started making more money out of my garage, that's how I wanted my business to be. Treat everybody like they're family. Like we're all on the same fight, which is just to keep your automobile or whatever up and running."
His timing opening up his own shop, as it turned out, was perfect. "When I first started the business, the custom world was empty. There was really nobody at that time doing anything significant in sport bikes. Everybody was doing Harleys, I was strictly doing sport bikes and doing stuff that people never thought of.
"So I kind of erupted onto the scene, and a lot of companies and manufacturers really paid notice. It started out with sport bikes, and now the Harley and Metric Cruiser world is really blown away by what we've done. So we've opened our doors to that market. It's really great to be able to transfer, like going from a smart car to a four-by-four truck. You've got a big range in between!"
Tricked Out Custom Cycles is today a full motorcycle service and repair shop. Parts sales, state inspections, and insurance estimates are among its services. But obviously, given the name on the shingle, they are best known for giving bikes a complete facelift…from powder coating and chrome plating to airbrushing and artwork, including on helmets. On a sunny day, any visitor to the shop can view over a dozen dazzling examples of motorcycle artistry.
"The biggest thing that sticks is our paint work," Kehler points out. "That's the first thing that people see and the last thing that they're gonna remember about a bike."
And the owner confidently states that what separates Tricked Out from the competition is the ability to do it all.
"We add a unique touch to it, because of our in-house coordinating with customers as far as what they're interested in, and bringing that concept into reality. Which is very hard for a lot of shops, because they'll outsource so many things. We can take that bike from start to finish, from the front of the shop to the back of the shop, and have the bike come out completely transformed.
"We do use a lot of parts suppliers, but it's really how you coordinate and put those things together. It's like a recipe – you put a couple different ingredients in and it tastes completely different. So we try to put all the right stuff together.
"Some shops try to bite off more than they can chew, and fall short on all areas. We complete what we do 100% and what we can't do 100%, we're gonna point you to the person who can. The motorcycle community is pretty tight-knit, and if there's something you don't specialize in, you know someone that does and you can get them going in the right direction."
After fifteen years of treating their customers like family, Tricked Out no longer operates out of Kehler's garage. He and his crew have enjoyed enough success to expand into the 9,000-square foot facility in the suburbs—because "taxes are cheaper in the suburbs"—Kehler asserts as if it doesn't need to be said. Business is steady, he would say…part of his job is reading approximately 300 e-mails a day. He has no plans for expansion; his focus is to become better, not bigger.
"I'm not looking to franchise out or anything. We are growing our art department; trying to venture out in a few different areas. But in any business, you have to evolve, and you have to stay on the edge, because what was popular five years ago isn't popular now. In the custom world, you've gotta constantly be on your toes.
"My whole passion is to build. Once the build's over I don't go, oh, this is my masterpiece, because instead of adding more bikes to my collection…I have quite a bit of a collection…I've focused on the last couple years on doing what my customer's masterpiece is.
"Expanding is difficult, because it's not like you're going to play the same song over and over. It takes a lot of open-minded people and they're hard to come by, the ones that get it, and the ones that stay for you a while and keep getting it."
So could Tricked Out be a subject of its own reality show, like Orange County Choppers?
"Oh, I think we absolutely could, but my show wouldn't have to be propped. We are a very interesting group of guys here, we have fun.
"And people don't want to be uptight. They want to feel comfortable, they want to feel relaxed, and they want to joke around. Being a motorcyclist, and being around peers, my personality kind of fits the bill. I don't sugarcoat a damn thing. I give people bad news like it's the best news I could give them. Because I just let it out. And people respect me for that.
"I'm not gonna fake a new bike every week that took 500 hours and we got it done overnight, that's just unrealistic. Real builders laugh at those shows.
"Fame to me is a healthy family and a happy family. And that's what my focus is. All of my employees, we're all family men here. We're not trying to be famous, we're trying to provide, and we're trying to enjoy what we do.
And constantly getting better at it, I think should be everybody's goal."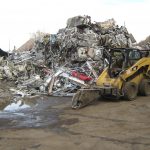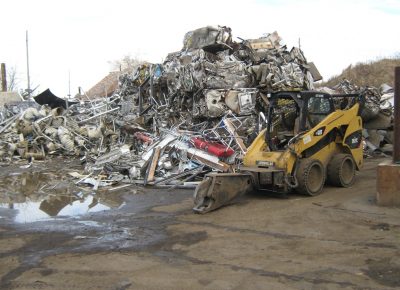 The Fanelle family no longer owns and operates their Camden-based scrap metal recycling service, but they had a great run…serving the scrapping community from their Camden location for over a century.
I had a chance to interview Tom Fanelle, the third-generation owner of R. Fanelle's Sons, for the February 2015 issue of JerseyMan. You can view the PDF from the magazine here.
The Scrapping Life
Tom Fanelle will recycle and re-sell just about anything metal, but he has limits.
For instance, don't try to sell him your prosthetic leg.
"One day," he explains, "Two guys come in. One guy walks in, the other guy is hanging on to his back. The guy hanging on has no legs. The guy in the front is holding a titanium prosthesis, and he said do you buy titanium? It was the other guy's leg! One of his two legs, we don't know what happened to the other one. We threw him out."
However, he did take the gun that killed Gianni Versace.
"After they investigated Versace's death, they transported the gun up here; this was a national facility, so the FBI got involved. They did the investigation, they were done with the gun, and they contacted the owner because it was stolen.
"She said, 'I just want the gun destroyed.' Philadelphia FBI, Cherry Hill, I had them all here, we had coffee and donuts, we cut the gun and I picked up the pieces. I have them here somewhere. Just for the sake of saving it, not that I would sell it or anything."
Tom Fanelle is the third-generation owner of R. Fanelle's Sons Scrap Iron & Metal, a Camden-based recycling scrapyard. R. Fanelle's Sons recently celebrated an impressive milestone…100 years of recycling metal in South Jersey. No small achievement in an industry with its share of mergers and acquisitions, but Fanelle would tell you that's been part of their strength.
"We have the personal touch here," he proudly notes. "If someone calls, they're talking to me."
The "R" in R. Fanelle stands for Rocco, Tom's grandfather, who started the business in 1914. Rocco emigrated from Accettura, Italy, at the age of 18. After a few years working in the rag business with his uncle Donato, Rocco went into business for himself.
"He got a pushcart, walked around the streets and collected scrap," Tom says. "In those days, there was an assortment of things they used to recycle. They recycled rags, they recycled bones, they recycled dog feces, believe it or not. They recycled paper, metals, things like that. After a few years, he had people come on board, and he had two, then three pushcarts. They would go collect and bring it back to him; he was the home base for collections.
"In the 1930s or 40s, they started buying trucks. For I think three or five dollars a day, different vendors would come and rent the trucks, and now they were able to reach into the suburbs.
"Business flourished during the 50s; it was a good time because we were so industrialized. RCA was one of our main customers. As businesses have died, other businesses have come up since. There's always some demand, even though manufacturing is down considerably in South Jersey."
Today R. Fanelle's Sons serves three types of customers. There are industrial businesses like refineries and chemical companies; commercial businesses like road and demolition contractors; and peddlers…the "mom and pops", Fanelle says, people with pickup trucks who make their living bringing in scrap metal they find.
When asked if it's something like Pawn Stars, he shakes his head with a chuckle.
"I always use that as an example, but no. The Pawn Stars people negotiate price, here we have firm prices. Once something is identified as being a certain type of material, it has a price that goes with it. Everything is based on market conditions.
"It's funny because a lot of people come in and say, 'Well, I can get ten cents more up the street'. Well, so be it, if that's what you want."
Fanelle doesn't spend time worrying about competition. His customers return, he says, because of the store's good name. The challenge is maintaining a balance between servicing customers and protecting against metal thieves.
In recent years, the New Jersey state legislature passed bills requiring tougher restrictions on scrap metal dealers. Among the new standards were requiring dealers to pay by check and provide daily records to the state of each transaction. Dealers would also be required to report license plate numbers of anyone bringing scrap to be processed. Both bills passed the legislature but were vetoed by Governor Christie.
Fanelle was quoted in the Gloucester County Times opposing the bills. His concerns were the privacy of his accounts and the nature of his relationships with smaller customers. Otherwise, he didn't have a problem with most of the legislation.
"Most of the things they tried to enforce, we do. We do photo ID, the license plate number, and everything we buy is documented and associated with a picture ID," he says.
"One of the things was that they wanted us to stop paying by cash. Well, a lot of these people, they're hardworking people and they work hand to mouth. They need the money today, the legitimate ones, anyway.
"If my competition does it, that's fine. I don't just mean New Jersey, I mean Pennsylvania, Delaware, because that's what will happen. If you can't pay by cash, people will go where the cash is."
Fanelle also points out the problem with daily records. "My complaint was two things: one is, are you going to hire someone to review these every day? They're available if you need them.
"The other thing is that I have a customer base. What if someone is reviewing my customer base and they have a friend in the business? They can go to their friend and say, Fanelle is buying scrap copper from this guy, why don't you go see him? My base, I think, is kind of private, and they shouldn't have that unless they need it."
Fanelle does concede that theft is a problem. Over the years he has seen some elaborate schemes, like the Locustwood cemetery thefts that were cited as a reason for the legislation.
"A fellow shows up here one day from a local cemetery, and he had all this brass. We said we don't take it. He says, we're doing something at the cemetery, we're replacing these urns. I said if you have some kind of letter from the cemetery, I need something like that.
"He came back; he had a letter and the cemetery truck, so we bought them. He came in again, and again, over a series of months. He'd come in with the truck, and he was on his two-way radio talking with guys at the cemetery, saying we have a funeral at plot so-and-so today. So we thought everything was legit.
"I get a phone call from the Courier-Post one day; someone was doing an article about theft in cemeteries. He started to rattle down names, Calvary, Cole Cemetery. I said wait a minute, before you get to Locustwood, you need to know, they've been scrapping stuff. I said it was a project they were doing.
"Next day it ends up in the paper, over 200 urns stolen from Locustwood. When I read the paper, I hit the roof. I called Joe Vitarelli in Cherry Hill; I said you better get down here. So he came down, I explained the story to him, and they got the kid.
"We were led to believe what these things were, and when we heard there was a problem, we went right to the police. We have to be on our guard, we could get in serious trouble."
Part of the job, but it has its rewards. Fanelle mentions his recent involvement with the S.S. United States Conservancy, in their effort to preserve the 62-year-old ocean liner that once broke the trans-Atlantic speed record. The S.S. United States has been docked at Pier 82 in Philadelphia for 18 years now, but it's not cheap to keep her there.
"We harvested a lot of metal out of the hull of the ship, bought some propellers, to keep the conservancy able to maintain the ship in Philadelphia. I think it's been a win-win for both of us. I like to feel as though we've supported their cause the past three or four years. That's a big thing; it's a lot of notoriety."
All in a day's work for Tom Fanelle and his crew, some of whom have been there almost as long as Fanelle, who's been in the business 45 years now. He jokes about having employees that say 15-20 years there is nothing. Employees are respected as much as customers.
It's been that way at R. Fanelle's Sons for a century now.
When asked about the secret to his shop's continued success, Fanelle keeps it simple and obvious. Treat customers right.
"We go to the end of the world to service our customers. We do whatever we can to make things easy for our customers. People enjoy doing business with us. They're comfortable with us.
"You can beat somebody and cheat them one time, or you can treat them good and have them ten times. My father used to tell me that."
Want to Try Scrapping?
There is a link on the R. Fanelle's Sons website to the iScrap App, a free download that displays market prices of common metals, a listing of all of the different types of metals that get recycled, and tips and news stories for people interested in scrapping.
The glossary of metals includes pictures and descriptions of ferrous and non-ferrous materials, but there's also an interesting list of electronics: cell phones, backup batteries, speakers, and various parts of PCs, including mice and towers, are all things that can often be brought to a scrap yard for cash.
The app also contains forums where people can share their scrapping tips – one poster described his experience collecting rotting mobile homes and RVs from people's backyards in exchange for the owner's paying for the dumpster to carry it to the scrap yard. He claimed the work brought him $10,000 in three months.
As if that weren't enough, the app includes scrapping news, with more helpful articles for scrappers. Stories include information on the scrap value of forklifts, a video with tips for scrapping cellphones and PC motherboards, and trends in the prices of scrap metals.
Interested scrappers can download it at iscrapapp.com.
Frequently Stolen Metal Items
Metal thefts have increased with the prices of metal, and as Fanelle notes, often times thefts are related to drug usage. Some of the more common items in thieves' crosshairs include:
Manhole covers: A CNN Money story tells of officials in Beijing, China, replacing the manhole covers with non-recyclable, non-metal materials, after the city lost nearly half of its 600,000 manhole covers to theft. In May of 2008, Newsweek reported increasing manhole cover thefts In Philadelphia, Chicago, and Greensboro, NC.
Copper wire: copper prices increased dramatically between 2002-2007, so much that a black market formed to steal copper wire from phone companies and railroads. In 2008 the Seattle Post-Intelligencer reported the theft of a 3,000 pound copper bell from a Buddhist temple; in 2009 the Oregonian reported the story of a man severely burning himself attempting to steal copper wire from a high voltage box.
Cemetery markers: The Courier-Post broke the story of urns being stolen from several local cemeteries including Locustwood; 100 vases were stolen from Brockton Union Cemetery in Boston. In April of 2008, over 1,000 bronze markers were stolen from a concentration camp cemetery in the Czech Republic.
Good For Your Planet's Health
According to the Institute of Scrap Metal Recycling Industries (ISRI), the reduction in CO2 emissions from worldwide scrap recycling totals approximately 500 million tons each year. On ISRI's website you can find a fact sheet that lists the gasoline energy equivalent of recycling certain materials, and the resulting reduction in greenhouse gas.
For example:
Recycling one car = the energy equivalent of 500 gallons of gasoline = 8,811 lbs. of greenhouse gas emissions
Recycling one refrigerator = the energy equivalent of 36 gallons of gasoline = 566 lbs. of greenhouse gas emissions
Recycling ten lbs. of cardboard = the energy equivalent of 2 gallons of gasoline = 40 lbs. of greenhouse gas emissions
This isn't to say you would be able to drive 50 miles on ten lbs. of cardboard, but that doesn't make it landfill material.
Source: www.isri.org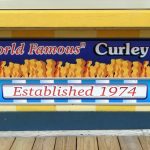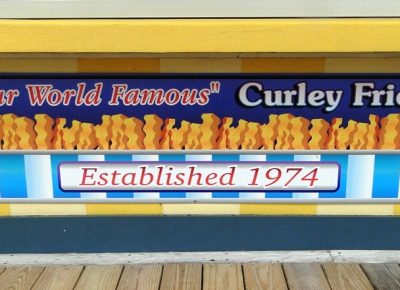 In the midst of the pandemic, I took a trip to Wildwood to check on the health of Curley's Fries for the Summer 2020 issue of JerseyMan Magazine. You can read this article on their website, or click here to see the PDF of the magazine itself.
The Indomitable Boardwalk Fry
As the nation and the state wake up again, Curley's Fries continues to serve its iconic, crinkle cut fries, from its two locations on the Wildwood boardwalk. It's a sorely needed sign of Jersey Shore life beginning again.
It takes considerable strength of will, even for hardened Jersey folks, to find positives in a harsh weather day at the shore.
May 22 of this year, the Friday before Memorial Day weekend, was one such day. The thick clouds effectively obscured any potential hint of sunshine. The rain, at times both spitting and heavy, became debilitating when mixed in with the stiff ocean breeze.
Despite the lack of seasonal cooperation, a hardy few were determined to get some steps on the Wildwood boards, most likely for the first time in 2020. It's a need we natives have, especially this year, if only to have some normalcy again in what has been a monumentally difficult spring.
With an ongoing pandemic to go alongside miserable weather, there were precious few shops open on the boards, and little to help visitors feel like summer again.
Mercifully, there was one saving grace in it all…a ubiquitous French fry stand.
In this trying atmosphere, Curley's Fries…on the otherwise uninhabited Morey's Surfside Pier…opened its windows, as their employees showed up to serve their iconic fried potatoes to walk-up patrons for takeout. Or "takeaway", as they called it, as if to suggest that things aren't fully normal yet.
While the number of Wildwood visitors this day was very small, many of them…arguably most of them…still made their way to the long established fry counter.
Inside the window, save for the employees wearing masks, nothing was different. One person took orders. Another dropped baskets of chopped potatoes into a fryer and then dumped the finished ones into a tray. Another generously salted them and then scooped piles of fries into buckets for hungry patrons. Unremarkable and repetitive skills all, probably, but it's an admirable bit of teamwork.
Most gratefully, even as Morey's has temporarily laid off 80% of their staff, there has been zero decline in the quality of the fries.
They're still piping hot when served, enough that some will tolerate the seared mouth flesh rather than spend an agonizing few minutes waiting to indulge. The fries have just enough of a crispy crunch on the outside and almost mashed potato level softness on the inside. They're thick and crinkle-cut, with the skin still attached as required by unwritten boardwalk rules.
All with just enough sea salt for distinctive flavor, and available with multiple rotating dipping sauces, from Horseradish Cream to Old Bay Mayo among others. Along with the old constants of cheese sauce, hot sauce, vinegar, and ketchup.
And anytime some annoying health nut gives you grief about your love for deep fried potato perfection, you can inform them that Curley's fries are vegan and gluten-free. That'll shut 'em up.
If you're waiting with a friend at Curley's for a bucket or the larger "barrel" of fries, you can have them hold your place in line and go read the story behind the most iconic fry stand on the Jersey Shore. It's featured on a sign on the side of the building, but here's a summed up version:
Yes, there was a Curley, so nicknamed for his curly hair. His full name was Joe "Curley" Marchiano, and he was both an army veteran and a linebacker at Miami University. Curley grew up spending his summers in Coney Island, where his father worked at the Surf Avenue Nathan's. Indeed, Curley's fries are similar to Nathan's in size and structure.
After some years as a concessions manager in other resort towns, in 1978 Marchiano joined up with fried chicken vendor Dick Marchant at Morey's Surfside Pier. Curley's part of the deal was fried dough, lemonade shake-ups, and his own brand of French fries. (Incidentally, Curley's lemonade is no slouch either.)
Almost immediately, it became clear that patrons came for the fries, and the stand was soon renamed for Curley, in a rare recognition of genius.
As the board telling the story notes, there isn't any real secret to the greatness of Curley's fries…it reveals right there that Curley used potato cutters from Germany, and cooked them in peanut oil. Maybe the potato cutters are really difficult to find or something, but there's no more to it than that.
Marchiano passed in 2000; twenty years later, his recipe of fried potato greatness lives on…even on a windy and wet day on the Wildwood boards, in the midst of a pandemic and a crippled economy.
Sometimes success is simple. Get a German potato cutter, find a peanut oil supplier, and fry and sell sliced spuds at the beach.
How much of a foodie staple is Curley's? All you need to know is the reaction to a gag the Morey's folks pulled a year ago. Most people well know that on April 1, they should have their antenna up for pranks. But Curley's fans were taking no chances.
On March 31, 2019, Morey's released a press statement announcing the retirement of Curley's two locations, to be replaced by vegan stands called "Greenery's". Greenery's would be offering kale chips, roasted chickpeas, and other healthy greens that no one actually likes. In an age where every institution from baseball to politics seems to care only about targeting "millennials", it was actually a well-crafted April Fool's joke.
The reaction was swift and severe. NJ.com, which had listed Curley's fries among their "64 Most Iconic Jersey Foods" just two weeks earlier, reported that the accompanying Facebook post had 4,000 comments the next day:
"I go to the boardwalk just to eat Kale chips!! Said no one ever…."
"Kale chips? Who the F$&k wants kale chips? The one thing U looked forward to is now gone! New Jersey becoming the East Coast California!"
"I legit cried. Stupidest decision ever. This place is a Wildwood trademark…. Huge mistake."
Even Curley's subsequent "April Fools!" reveal on Facebook provoked an agitated response:
"Glad to hear that it was all a joke BUT…that was not nice to do, especially the day before April Fool's day!"
"Threatening to take away my Curley's Fries is no laughing matter!!"
"Not funny at all."
You can still find the original "Greenery's" press release on Morey's website, (www.moreyspiers.com). Its politically correct tone is priceless. Here's this writer's favorite pull quote: "For the last fifty years Morey's Piers has been growing and re-inventing itself to keep up with an ever-changing marketplace."
Most businesses take themselves too seriously. Thankfully Morey's isn't one of them. But yes, that was a tense moment. Forsaking Curley's Fries for kale chips probably would have caused a justifiable outrage.
Much has been said and written about heroes on the front lines in recent months. First responders, doctors and nurses in hospitals, nursing home attendants…even supermarket employees, who had suddenly found themselves in a high risk occupation.
All of the accolades and appreciation, and accompanying hazard pay, is well-deserved. Yet when a flu virus not only causes double the death count as a typical flu season, but also devastates an economy, sometimes what we need more than anything else is to see something normal again.
As ruffled as South Jersey became at a mere joke suggesting Curley's fries would be replaced in 2019, in 2020 we're grateful for anything we love sticking around. When there isn't even any baseball, things can seem especially bleak. Suddenly, the availability of world class French fries at the beach is appreciably more meaningful.
The celebrated Jersey Shore fixture that is Curley's is still alive. The two-story fry-shaped signs still standing on the boardwalk, an iconic food stand remaining open on the most miserable of May days, is one anchor of hope that on the other side of all of this, our favorite institutions will still be here.
Curley's 1, Covid 0.